Fringe has made numerous comebacks over the past few decades, and the tassel has once again shimmied its way back into the fashion spotlight. Designers such as Elie Saaab, Versace, Rodarte and Bottega Veneta all featured some variation of the tassel in their SS13 collections. Highlights included Rodarte's fringed rock star leathers in jewel tones and Versace's metallic glitzy little tasselled numbers. Looking for something similar? Find some similar styles with this
summer top
and this
vintage dress
Baz Luhrmann's hugely anticipated adaptation of The Great Gatsby hits cinema theatres next month (are you excited? I know we are!), and of course everything tasselled, beaded and feathered is back and bang on trend. One of the most iconic styles of the Gatsbian decade was perhaps the fringed Charleston dress. The garment takes its name from the popular 1920's dance of the same name. Some of the most noted actresses of this period were fans of fringed dresses, from Joan Crawford to Claudette Colbert; tassels were draped, glitzed and decorated to create glamorous 
cocktail dresses
. Check out our edit of
1920's Great Gatsby inspired pieces here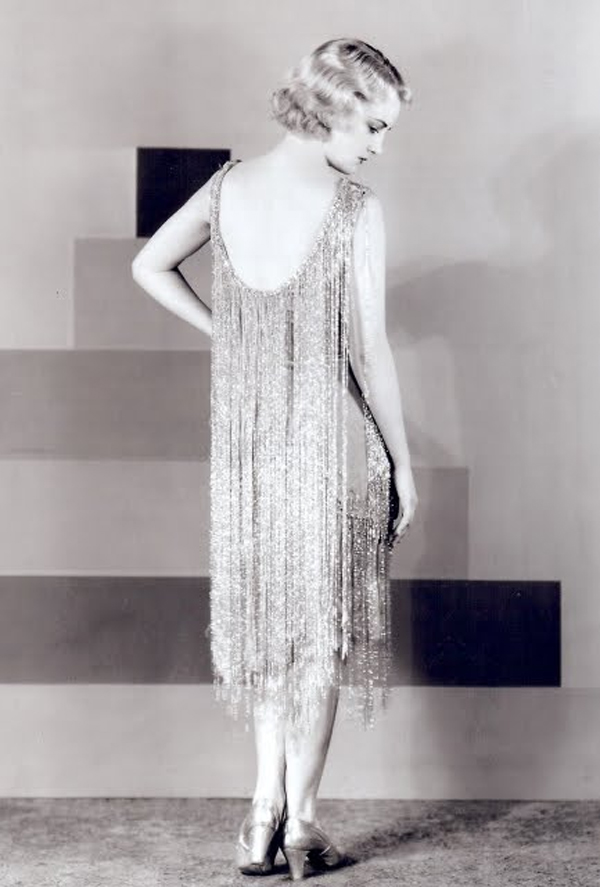 1920's Tasselled Flapper Dress (image courtesy of silverscreenmodiste.com)
Designers of the decade such as Madeleine Vionnet and British designer Charles Worth pioneered the trend. In 1927 Worth created a jazzy little number in fine silvery tasselled tinsel and Vionnet utilized a dramatic floral print and long sweeping fringe into her 1924 designs.   The trend resurfaced again in the 1950's when fringe appeared on none other than the king of rock and roll, Elvis Presley. His 
fringed leather jackets
 attracted a legion of copycat enthusiasts. In the 1960's fringe returned to its original roots and took on a Native American influence. Originally Native Americans put fringing onto the bottom of their sleeves and jackets to help prevent rain droplets from soaking through (well whaddya know). '60s celebs such as Twiggy, Jane Shrimpton, Penelope Tree, Sonny and Cher, were all fans of fringed clothes that had a Native American feel to them.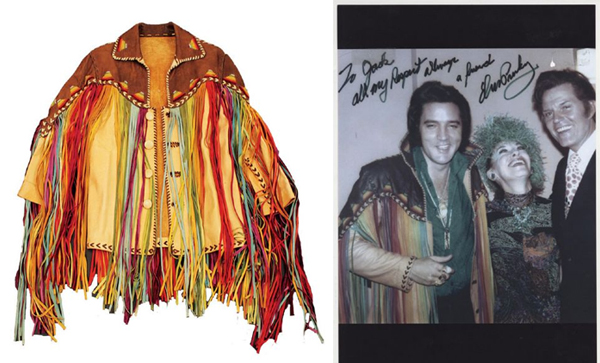 Elvis Presley Fringe Jacket in 1973 (image courtesy of elvis.com.au)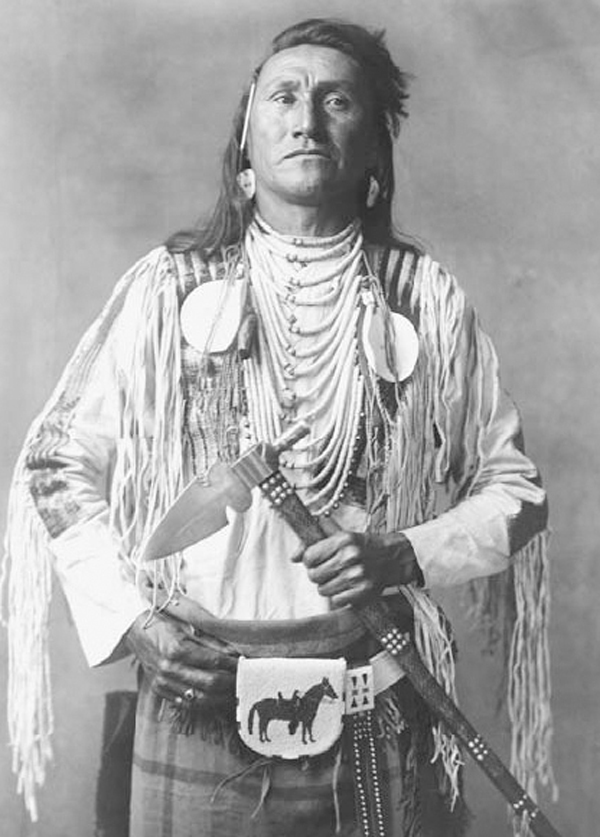 Traditional Native American Jacket (image courtesy of loc.gov)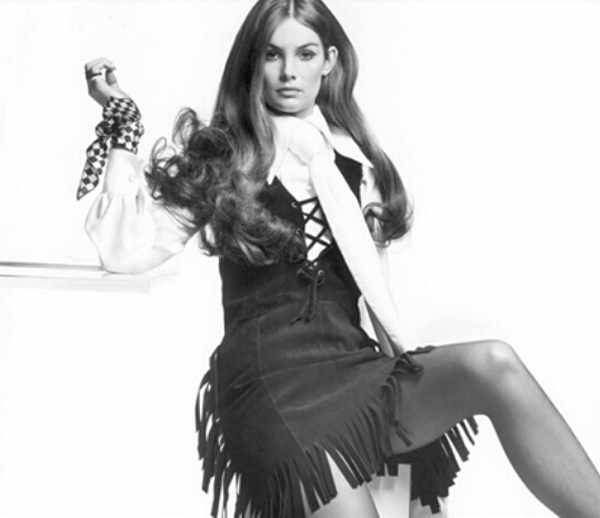 Jean Shrimpton in 1960's Vogue (image courtesy of fashionaddictsla.com)
Bohemian belles and fellas of the 1970's adopted fringed suede to offset gypsy dresses and hippy tie-dyed tees. Looks which are still ubiquitous summer staples and festival favourites. In the 1980's designers such as Azzedine Alaia, Christian Lacroix and Giorgio Armani all championed the tassel in their collections. 
Alaia 
designed a beaded fringe dress for 
Tina Turner
, which she wore for both 
Vogue Italia
 and 
Vogue America
.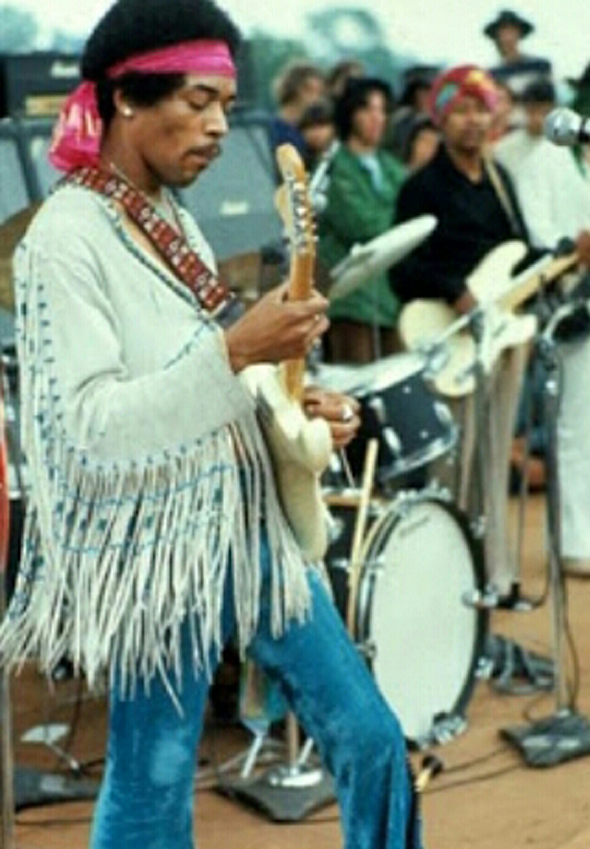 Jimi Hendrix at Woodstock (image by Henry Diltz courtesy of thefestivalist.com)
Tina Turner's Azzedine Alaia Dress for Vogue (image courtesy of bonafidechainblinger.com)
Throughout the mid-nineties both Jean Paul Gaultier and John Galliano experimented with fringing in their collections; finding inspiration from the dress of Native Americans to traditional Chinese garments. The longevity of the tassel is testament to its staying power as a detail of choice among designers, rock stars and festivalgoers alike.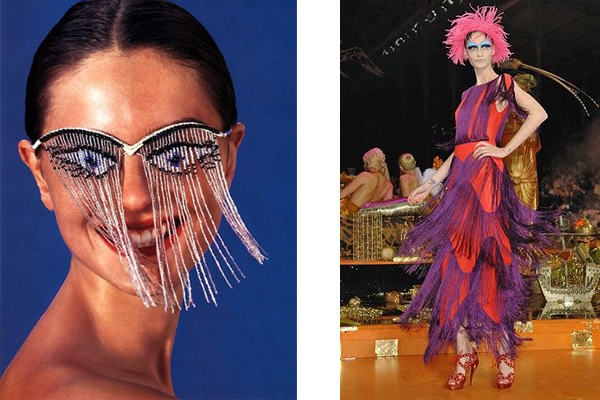 Jean-Paul Gaultier's Fringe Glasses and John Galliano's Fringe Dress (images courtesy of couturecarrie.blogspot.co.uk & tumblr)