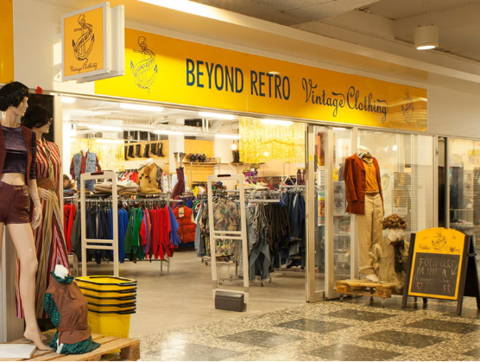 Beyond Retro - Malmö (Outlet)
Mitt i Mitt Möllan, en av de coolaste arkaderna i Malmö, bland lokala designers, pop up-butiker och fantastisk mat, ligger Beyond Retro's Outlet. Butiken är ett vattenhål för alla som älskar att fynda, full av unika vintagepärlor och second hand-fynd till färdigprutade priser från 20 kr. Här har du chansen att göra ditt livs fynd oavsett om du letar efter de perfekta Levisjeansen (250kr), den lilla svarta (170kr) eller färdigslitna boots (150kr). De snällaste stylisterna i stan hjälper dig hitta de perfekta plaggen för just dig!
In the midst of Mitt Möllan, one of the coolest arcades in Malmö, alongside local designers, craft beer, pop ups and incredible food, our Beyond Retro Outlet store is a haven for bargain lovers. Packed with unique vintage and second hand finds, all with slashed prices starting at 20 kr, you can find the one-off wonder of your dreams. Whether you're looking for wardrobe staples like Levis Jeans (250kr), chic dresses (170kr) or a pre-loved pair of boots (150kr), the nicest stylists in town will help you find the perfect items for your look.
Se de otroliga priserna här nedan:
Väskor 20kr
Klänningar 170kr
Jackor 250kr
Jeans Levis / Lee / Wrangler 250kr
Sportswear 150kr
Sneakers 120kr
Opening Hours 
Monday-Friday 11:00 – 19:00
Saturday 12:00 - 17:00
Sunday Closed