Just Launched : Our very own marketplace, allowing you to re-sell your Beyond Retro items ♻️
Introducing : Beyond Retro Marketplace


We know sometimes your wardrobe needs a little refresh, and so Beyond Retro's Marketplace is here for you.

When you are ready to cut ties with a Beyond Retro piece, you can give someone else a chance to love it as much as you did by relisting it easily on our site for someone else to buy. Once your item sells, you will be issued with credit to spend on our site to treat yourself to something new! Learn more about our credit system and payments below!

Here at Beyond Retro, we are always looking at ways to contribute to a circular economy and so this is our way of making it easier for you to not waste old items, and give someone else the opportunity to love your old piece as much as you did!

Don't want to list online? Check out Beyond Retro Exchange in store.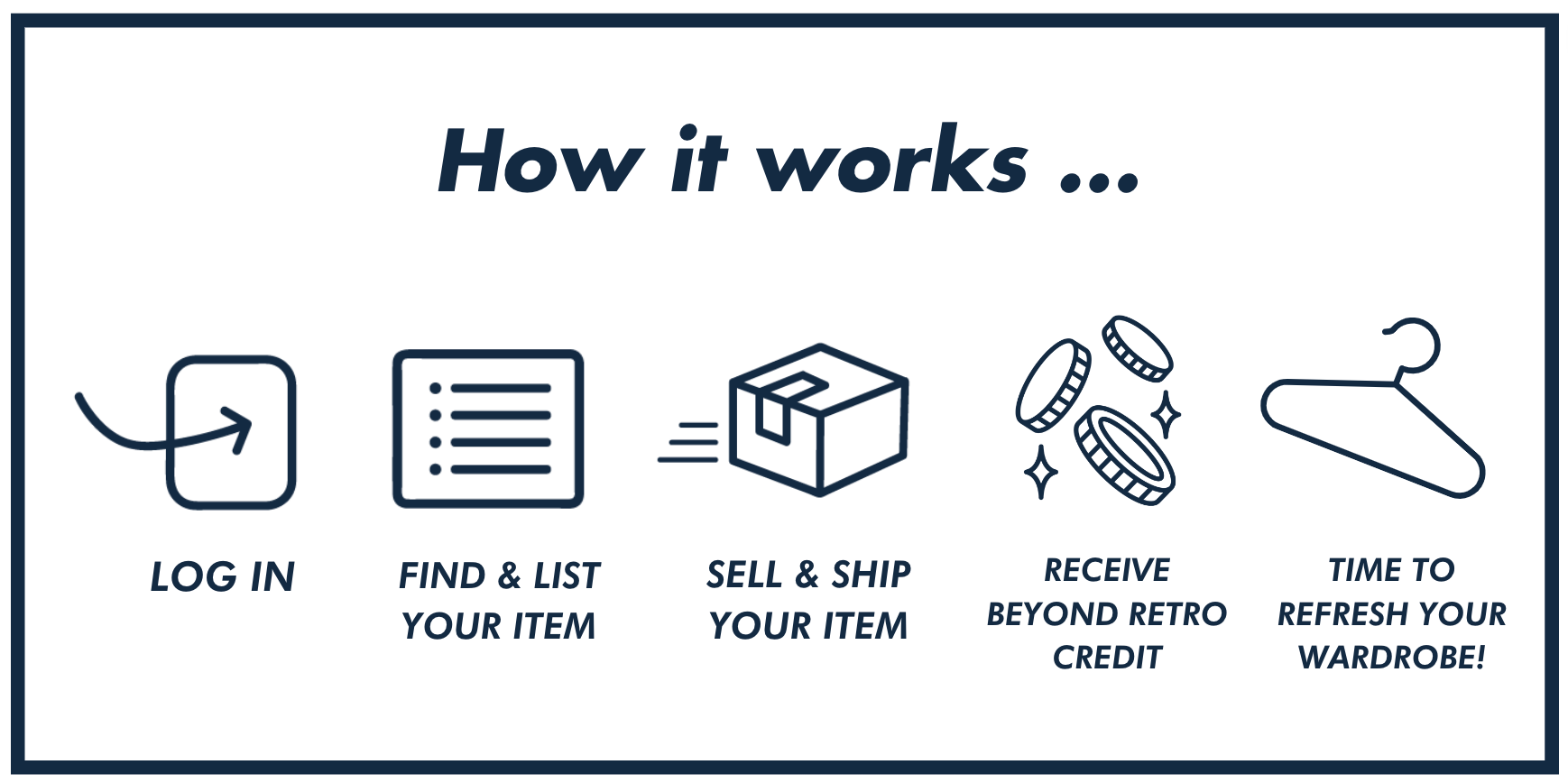 ---
What does Beyond Retro Marketplace sell?
Our marketplace is our dedicated re-sell network for our customers to sell on their vintage items, once they want to refresh their wardrobe, or no longer want their item.
How do I pay for a marketplace item?
You will pay in the same way as with a new item: our secure checkout. Simply "Add to Cart" and proceed through the checkout as usual.
How long does shipping take?
Our sellers will fulfill your order in less than 3 business days. The item will ship with a tracking number, and should typically arrive no more than 4 days after it is shipped.
Can I return my marketplace item?
All purchases through our marketplace are final unless the item is not in the condition described by the seller. If that situation occurs, you can open a dispute process; if we confirm the dispute, we will offer a refund and ask you to return the item.
---
Log into your Beyond Retro account and click "Sell a Pre-Loved Product".
Pick the item you want to sell and follow the prompts on screen. Remember to provide complete and accurate information about the item's condition, since you will only get store credit when the buyer confirms its condition.
Beyond Retro reviews all our marketplace submissions, and has the right to approve or deny listings.
Once approved, we encourage you to share your listing! The more you share, the higher the chance of selling it.
You can sell any product you previously purchased with us. Once approved, we will place it on the Beyond Retro Marketplace Collection for any customer to purchase.
How will my item get approved?
Beyond Retro will view all submissions to the marketplace. In order to have the best possible submission for approval we suggest the following:
Clear and bright images for your item and include key details like tags, sizing, imperfections or anything that shows the key elements of your item.
Key details in descriptions - we suggest adding as much detail as you can to the description. We suggest adding your own flare - let us know how you styled it, how the item fit, or anything else that may feel key for its next owner.
As soon as a customer purchases your item, you will receive instructions to ship your item using a recommended tracked service and must send the item within 3 business days.
Shipping is the sellers responsibility - so please include this within your item pricing.
Please carefully & neatly pack your item, and drop it off with the shipping label at the nearest post office. You can also hand it to your mail-person.
Please reply to the email that you receive prompting you to reply with tracking information.
When the buyer confirms the item arrived in the condition described on your listing, you will receive 70% in Beyond Retro store credit, ready to put towards your next vintage find online!