90s inspired fashion has been having it's inevitable resurgence in the last decade. Platform boots, tiny crop tops and spaghetti straps are everywhere, and as vintage lovers we are absolutely here for it. 
When you think of 90s style, there are some celebrities who immediately come to mind. To nail the look, we've revisited some of the most iconic looks from the decade, along with some tips on how to build the ultimate 90s wardrobe.
Top 10 90s Fashion Icons
 1. Spice Girls (1995)
It wouldn't be a 90s fashion round-up if we didn't mention the Spice Girls. Geri, Emma, Mel C, Mel B and Victoria all had their own distinctive style, but the overall look is the most peak 90s vibe you can get. The mixture of satin, animal print, sportswear and lingerie as outerwear - it captures some of the biggest trends of the decade. With a heavy dose of Girl Power.
 2. Jennifer Aniston 
A woman with style so powerful that she convinced every woman in America to get 'The Rachel' haircut, JenAn was one of the nineties biggest pinup girls. Her 'Friends' character, Rachel Green, was known for her fun and fashion-forward looks, as was Aniston irl. Slip dresses, crop tops and relaxed light-wash denim, her wardrobe consisted of the perfect low-key, cool-girl essentials.
Get the 90s Jennifer Aniston look with a reworked vintage slip dress, complete with skinny straps, perfect for layering over cropped tees.
3. Liv Tyler
One of our fave 90s girl crush's, Liv Tyler, had excellent style. Known for her A-line mini skirts and cropped knits, her look is still iconic today. Paired with over-the-knee socks and chunky shoes, the look is flirty and fun and still works for now.
How to get the look? Our Reworked Vintage suede skirt is the perfect piece to build your Liv Tyler inspired outfit around. Just add a crop tee and your chunkiest preppy shoes and you're good to go.
4. Kate Moss & Naomi Campbell (1999)
A duo that we just can't ever get enough of. Moss and Campbell were seemingly inseparable in the 90s as they both rose to the height of super-stardom together. They're model status ensured they were always in the hottest fashion pieces, but they certainly both had a soft-spot for shiny, strappy dresses and barely-there heels. 
Our silver chainmail halter top is PERFECT for creating a totally 90s inspired look. Whether you pair it with a mini skirt or with baggy mom jeans, it's a surprisingly versatile party top.
5. Brad Pitt & Gwyneth Paltrow (1996)
The white shirts, the sweater vests, the tiny, TINY sunglasses - it just doesn't get more 90s. One of the most iconic trends of the era was when celeb couples started dressing identically, with matching colour palettes and androgynous shapes. Obsessed.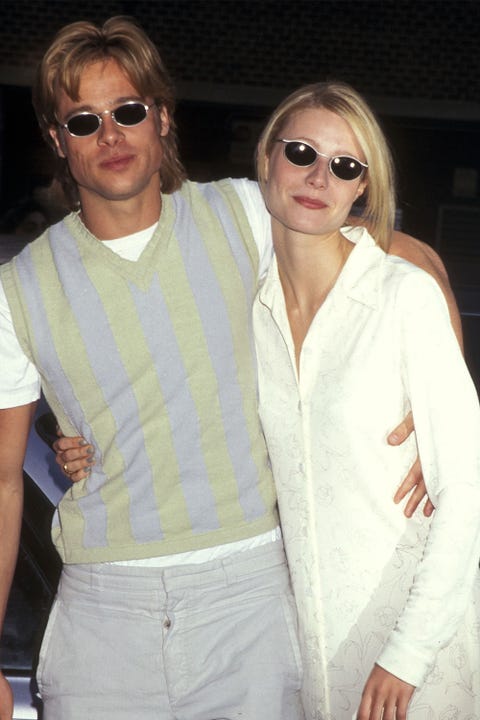 Grab your partner and don these perfectly 90s shirts. 
6. Drew Barrymore 
Grunge goddess Drew Barrymore was known for her gothic but girly looks. With a similar style to Courtney Love, Barrymore's red carpet looks throughout the era often consisted of cutesy baby-doll, lingerie-style dresses worn with thick platform sandals, heavy black chokers and some vampy, dark lipstick. Modernise this look by wearing an oversized crop-top over a lacy slip for an edgy, grunge look. 
Get the look; Easy to wear, versatile and perfect for layering, the humble slip dress will see you through the whole year. With a tee in summer of layered with cosy knits in winter.
7. TLC (1999)
Don't go chasing waterfalls, but do go chasing the perfect baggy track pants to recreate this look. The lo-fi, DIY look of early TLC outfits are truly inspiring and we will never forget those strategically placed letters. The sporty TLC look is still popular now, mixing baggy sportswear with bandeau tops, bralets and cropped vests.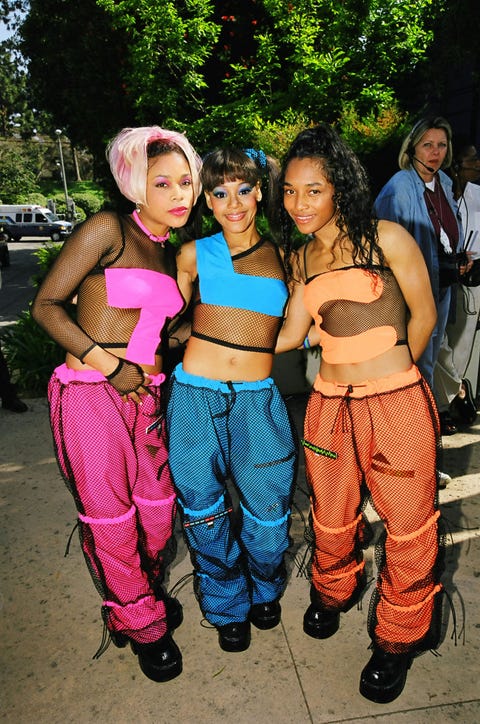 Head to our dedicated sportswear edits to shop the hottest 90s apparel in bright colours and simply add your favourite fitted-vest. Bonus points if you get crafty with needle, thread and your initials.
8. Christina Aguilera (1998)
The girl that made us all want to get chunky low-lights, Xtina was a 90s style sensation. Queen of low-riding, bleached blue denim and super-cropped crop-tops, we can't help but want to emulate every look for this season. There was nothing quite like the leather, biker accessories that topped off her bad-girl look, we're digging out our spiked belts right now.
Get the look: A raunchy, red, latex finishing touch will upgrade any Christina Aguilera inspired look in an instant.
9. Gwen Stefani
There's NO DOUBT that Gwen has always had an individual and iconic style, but the 90s were a particular highlight in the fashion evolution. Her signature quirky style incorporates both edgy punk elements like her checked trousers, with Japanese-inspired quirky pieces like the fluffy puffer jacket.
Get the look: Be as fierce and fiery in a pair of slim-fitting checked trousers from our selection of hand-picked vintage trousers.
10. Tyra Banks
Before she began hosting our FAVE TV show ever, Tyra was one of the biggest names in fashion and the 90s belonged to her. Her classic, fabulous style was often simple and chic - the perfect example of model style. Tyra was so versatile she always looked 100% the part whether she was in outrageous Versace designs or just a simple shift dress.
Get the look: Be a superstar model and recreate this look with a super cute, super versatile shift dress that can be styled in a million different ways and will see you through spring, summer and autumn.
If you're feeling inspired you can shop our expertly curated selection of 90s true vintage gems here or if you want some more style inspo then head over to our blog on 90s inspired ways to wear dungarees.