A Day in the Life of Sustainable Fashion Designer, Lydia Bolton
Introducing Lydia Bolton, who is a sustainable fashion designer, creatively tackling textile waste. Lydia runs her own slow fashion brand where secondhand materials and deadstock fabrics are reused and remade into new pieces of clothing. Everything she creates is a one off piece which makes her collections really special and unique. Lydia has also been hosting upcycling workshops with her online community to empower more people with the skills to tackle fashion waste themselves. Lydia shows that with the right tools, skills and creativity, we can extend the lifetime of each garment so it becomes a treasured wardrobe staple for years to come.  Here's a little snippet from Lydia explaining what goes on behind the scenes at her studio…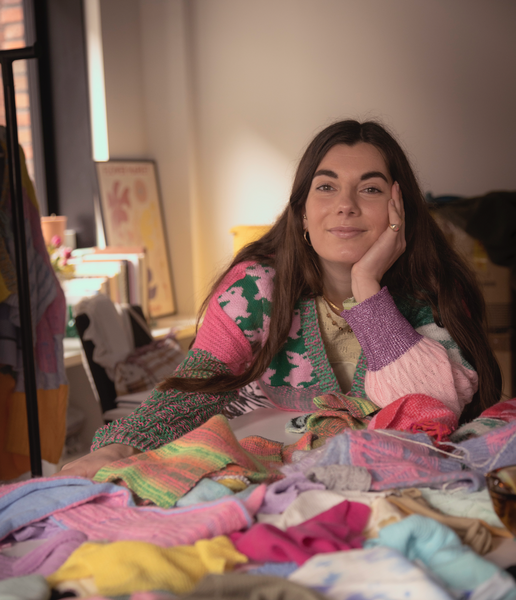 8am - 9am 
Each day is pretty different, depending on what I have going on. I'm a morning person so I usually get up quite early and walk to the studio. I like to be there by 8am then make a coffee and plan out my day. 
9am - Midday
Today I'm doing some admin and emails in the morning. I'm currently prepping for two upcoming pop up shops so most of my day will be sewing. It's also friday and my brain is always tired by the end of the week so generally I leave sewing for the end of the week as I can switch off while I do it.
Midday - 6:30pm 
I have my lunch at 12:30ish then a call with Phie, my manager to catch up on current and future projects. Then back to sewing for the rest of the afternoon and walking home at 6:30ish. 
On other days, my plans are pretty varied and different which I enjoy!  I may be doing brand projects, prepping for workshops, planning and creating content, sourcing fabrics, unpicking fabrics, chatting with people in my community, making orders, or doing design research for new items 
Stay tuned with Lydia's next upcoming workshops and new collections here: 
IG handle: https://www.instagram.com/lydiabolton_/
Website: https://www.lydiabolton.co.uk/