It's the launch of The Great Gatsby DVD and I think we can all agree that this little number will feature on our Christmas lists. 143 minutes worth of swooning over delectable Prada costumes is worth every penny, but hold on to your purses as we are offering five lucky winners the chance of a little Xmas present, with love from Beyond Retro. So here's your opportunity to own this movie masterpiece, just by answering a few simple questions!
The Roaring Twenties are having something of a fashion moment. This was a time of unprecedented prosperity for some or bootlegging and criminal activity for others evoking images of lavish parties, excessive wealth and, lest not forget, the flapper. The era offered a liberating time for women; gone were the restrictive corsets of the early 1900's and in came androgyny brought about by the ending of the war. Along with the right to vote, women began to experiment with their dress and donned masculine shapes and more practical attire (feathered head dresses aside, that is). Sound like your bag? Well then get your hands on this capsule of fashion history and enjoy a brand new DVD! Remember... you have to be in it to win it!
You know the drill... get clicking. Enter in the post on our Facebook page- www.facebook.com/beyondretro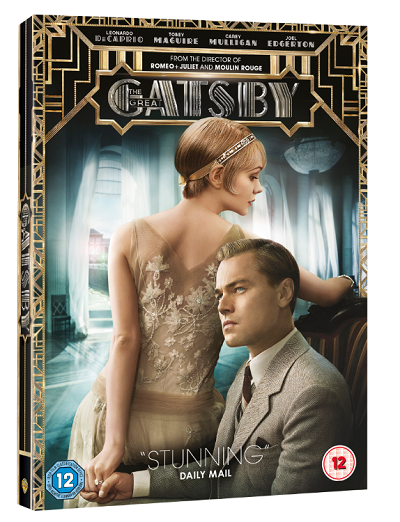 The Great Gatsby is hailed by this uniquely imaginative writer/producer/director, who was nominated for an Academy Award for his directorial work on the acclaimed film Moulin Rouge. Name this director:
A) Baz Luhrmann B) Woody Allen C) Quentin Tarantino For more information on THE GREAT GATSBY visit the official Facebook page at www.facebook.com/TheGreatGatsbyUK © 2013 WARNER BROS. THE GREAT GATSBY is released on Blu-ray 3D, Blu-ray, DVD and Digital Download on 11th November. It's the spring of 1922 in New York City, a decadent playground of shifting morals, glittering jazz, bootleg empires and skyrocketing stocks. Chasing the American dream, would-be writer Nick Callaway (Golden Globe® nominee Tobey Maguire) arrives from the Midwest only to land next door to Jay Gatsby (three-time Oscar® nominee Leonardo DiCaprio), a mysterious millionaire whose estate overflows with endless parties. As Nick's beautiful cousin Daisy (Oscar® nominee Carey Mulligan) and her blue-blooded husband Tom Buchanan (Joel Edgerton) fall into Gatsby's orbit, Nick bears witness to the tragedy of impossible love and incorruptible dreams. Based on F. Scott Fitzgerald's timeless epic, The Great Gatsby mirrors the struggle of modern times in a dazzling visual journey from the mind of Baz Luhrmann, director of the Oscar® -winning Moulin Rouge.
Terms and Conditions
Competition will close on 25th November 2013 Open to UK participants only Prize for the five main winners is a copy of The Great Gatsby on DVD In the unlikely event the prize style has discontinued a similar model to the same value will be provided There is no cash or other alternative to the prize stated and the prize is not transferable and no part or parts of the prize may be substituted for other benefits, items or additions. Winners will be picked at random and contacted by the site. The prize will be delivered to the winner within 28 days of confirmation of delivery address. Winners name, contact number and address will be passed to a third party provider for delivery. The Editor's decision is final and binding on the entrants. No correspondence will be entered into.