April has officially begun and with it as has British summer time. This only means one thing, our wallets are out and we are on the prowl for summer clobber. Out with the old and in with the new, right? Or is it? Well, this month, as part of our ethical fashion initiative, we are encouraging the spread of savvy secondhand shopping and, in the face of mass wastage, saying YES to reusing our old garb! With that in mind, we got to wondering... could we really wear head-to-toe vintage this summer? Well, we put our bloggers to the test with a #WEEKINVINTAGE. 
Enter, Ellie, Rose and Vintage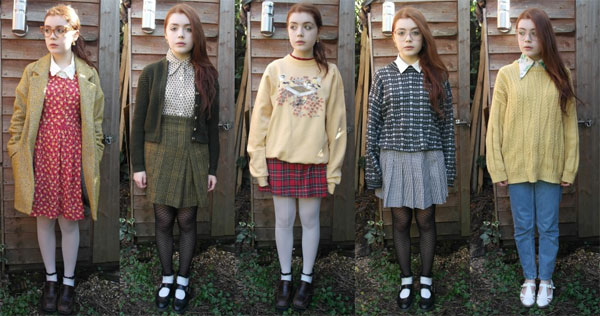 'I loved documenting my daily outfits, and found it quite exciting trying to wear at least one main vintage piece every day. Surprisingly, I didn't find it difficult at all...I found that all of the pieces I wore, no matter how usual or bizarre, seemed to fit in really well with my wardrobe...even looking great when worn with high-street items. It just shows how easy vintage fashion can be to wear...not only is is versatile, but it's a lot cheaper too...and there is usually such a variety of styles in one shop, that there's sure to be something for everyone!'
Day 1
'On Saturday, I went out for dinner with my cousins, and so felt it was a fine opportunity to wear my vintage floral dress from Beyond Retro. I styled it with a white shirt from Blitz, white tights and socks from Topshop, shoes from Rokit and coat from River Island. The light, flowy material and light floral pattern really helped me get into the mood for Spring, and it's versatility has made me suddenly hungry for more cutesy dresses. I can't wait to wear it with sandals and cardigans in the summer, and as shown here is is great layered up for the winter. It was also a real bargain at £16, considering it can be worn in so many ways!'
Day 2
'Sunday was a fairly lazy day of art coursework..and so to fight the urge to stay in my pajamas, I decided to wear my vintage skirt from Beyond Retro. I wanted to go for the sort of 60s/70s schoolgirl vibe, and so paired it with a shirt from Brighton, cardigan from Blitz, tights from H&M, socks from Topshop and shoes from Rokit. They just don't make kilts or school skirts like this anymore, and so if you are after that clueless-esque dream of a skirt I highly recommend you go snooping around your closest vintage or thrift store.'
Day 3
'Monday was a typical school day for me, which of course meant that horrible alarm clock ringing at an ungodly hour. Wearing my vintage sweater really made the morning feel a little less manic...it's cosy shape, calming colour and cute motif kept a smile on my face the whole day. I wore it with a skirt from Beyond Retro, tights and socks from Topshop and shoes from Rokit. This outfit was particularly thrifty...the sweater cost me only £6 in the sale, the skirt £14, tights £4, socks £4 and shoes 15...bringing the whole outfit up to £43 in total...which is cheaper than one pair of shoes in some places!'
Day 4
'On Tuesday I decided to tackle my favourite trend: clashing patterns. The geometric squares on my jumper worked really well with the houndstooth skirt, giving the look that intentionally-clashing appearance which I just love. It's a fairly simple outfit that can quickly be thrown together if you have a few patterned skirts or tops lying around. The skirt is from Beyond Retro, the jumper from Urban Outfitters, shirt from Blitz, tights from H&M, socks from Topshop and shoes from Rokit.'
Day 5
'Wednesday was a relaxing day for me - I've just finished my Textiles coursework, and so feel as though a huge weight has been lifted from my shoulders. Wearing bright colours like yellow really reflects my current good mood...this jumper in particular being a new favourite of mine as it is incredibly comfy, and cost me on £5! I wore it with a shirt from Pop Boutique, jeans and shoes from Topshop.'
Blog: www.roseandvintage.blogspot.co.uk  
Twitter: @Elliecp
Get the low-down on Fashion Revolution Day and our ethical initiative in the wake on Rana Plaza- HERE!
Do you dare to take the challenge? Stay tuned for plenty more where this came from and plenty of nifty thrifty ideas from us! Join our #WEEKINVINTAGE and spread the love for vintage treasures!