April has officially begun and with it as has British summer time. This only means one thing, our wallets are out and we are on the prowl for summer clobber. Out with the old and in with the new, right? Or is it? Well, this month, as part of our ethical fashion initiative, we are encouraging the spread of savvy secondhand shopping and, in the face of mass wastage, saying YES to reusing our old garb!  With that in mind, we got to wondering... could we really wear head-to-toe vintage this summer? Well, we put our bloggers to the test with a #WEEKINVINTAGE. 
Enter, Charlotte Goodayle, The GoodOwl! 
'I've always been one for bringing new life to my clothing and I like to wear it in as many styles as I can, to really get my moneys worth! So, I couldn't be more excited for this challenge. I'm definitely something of a virgin when it comes to vintage styling. Naively, it always conjured up the image of garish jumpers and neon tracksuits...but how wrong was I! I couldn't believe how many beautiful items I came across at the Beyond Retro Cheshire street store... and for great prices (all items worn below!) Not to mention its a much more ethical way of shopping and you can bag yourself a cheeky one off; its a win win!
So here it is, my #weekinvintage; a fully fledged vintage chick!'
DAY 1 
'I immediately loved the cut of this dress with its front completely buttoned; I've been after a dress just like it for a while but haven't had much luck on the high-street. Putting on the dress felt strange at first as I'm not used to wearing much of a print and the dress didn't have much shape to it, but after teaming it up with a skinny belt and my beloved black boots it felt much more like my style.
I can't get enough of the denim jacket, the intricate suede detail is what caught my eye in the first place, definitely love at first sight!
I felt ready for a music festival in this get up, but unfortunately as its only March! My whole outfit was incredibly comfortable and has to be one of my favourite outfit posts I've ever done. One of the buttons has fallen off, luckily this is where my fashion degree comes in handy...
I have to say wearing all vintage for a day has been a massive eye opener for me, why on earth haven't I worn it before! I can honestly say I have never received as many compliments than I have today'
Day 2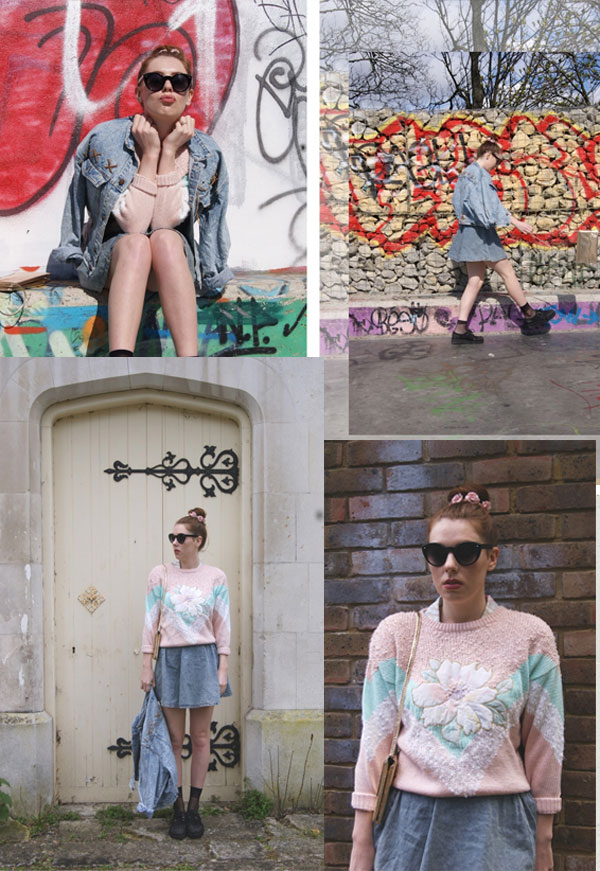 'I was in a nostalgic mood today, maybe something to do with this 'Clueless' revival, so I was channelling the 90's with this cheeky double denim combination paired with a gorgeous floral shirt and a pink jumper! Let's just take a moment to appreciate this beauty, I just fell in love with it as soon as I saw it, I absolutely love the bead work on the front, you just don't get things like this on the high street.
I can't help feel like I'm wearing something special when I put a vintage piece on, each piece can bring a different story and conjure up different memories, this look takes me way back to when I was younger and I was trying on my mums outfits, the padded shoulders in the jumper reminds me of a certain floral number I found in my mums wardrobe back in the day!
It's definitely forcing me to get more creative with my looks and to keep pushing the boundaries of what styles suit me, sometimes when you shop purely on the high street you can feel like you're stuck in a rut and that your outfit is only good if a current trend dictates it, but there is so much more freedom when you shop vintage, you're in control of what trends you want to follow, definitely a refreshing way to shop!'
Day 3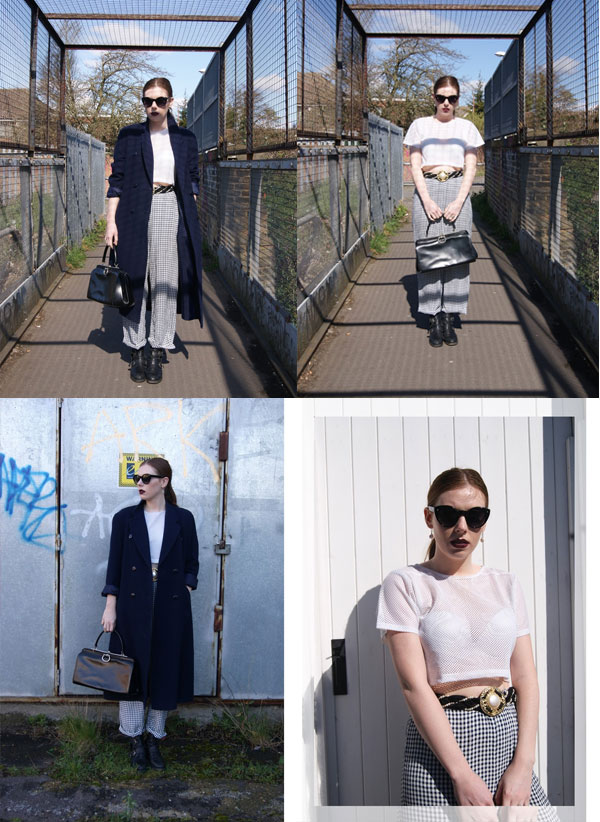 'This is definitely a 'me' look; a slightly boyish outfit muted in colour, something I've used as a safety blanket over the years. It's the outfit I've felt the most comfortable in so far. Absolutely love these trousers and there a size 6, something I can safely say I've never been, the thing about vintage is that the sizing is a lot different to nowadays so make sure you try before you buy! The legs were slightly too short, however I'm currently loving awkward ankle length trousers, so I exaggerated this by rolling up the legs. Tip: If you don't have a sewing kit to hand to tack the hem, use bobby pins!
This was my "get things done" look and I definitely felt empowered by my navy vintage coat that I remembered I owned after browsing through my old blog posts *Yay I do own VTG* I found it again after searching my loft, I bought it for the bargain price of £12 at my local charity store, It's so warm and has a gorgeous belt detail on the back pairs so well with lots of different outfits.'
Day 4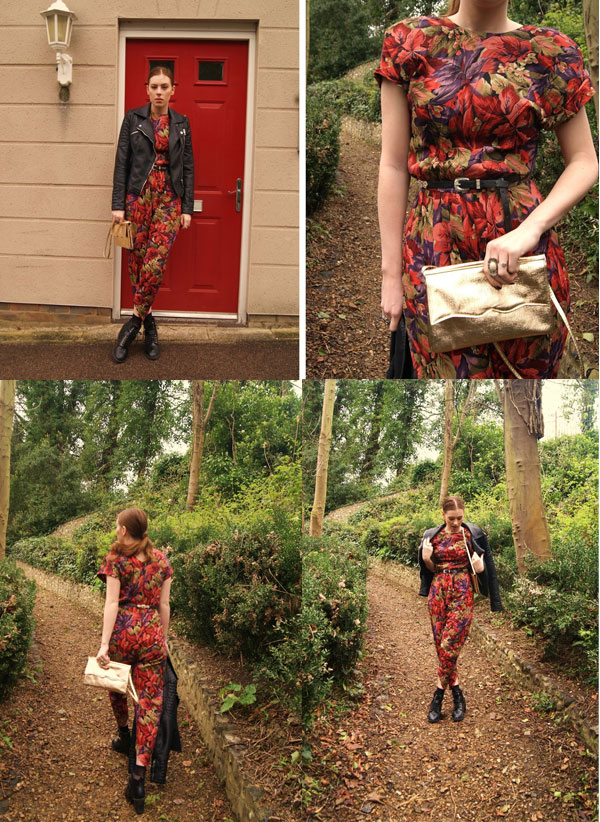 'How gorgeous is this jumpsuit? This was my risky pick. It's not something I'd usually buy, but what d'ya know, I love it! I think it looks great paired with boots but could equally look amazing with a pair of heels for a night out. That's what I like, an outfit that can easily go from day to night, PERFECT!
Day 5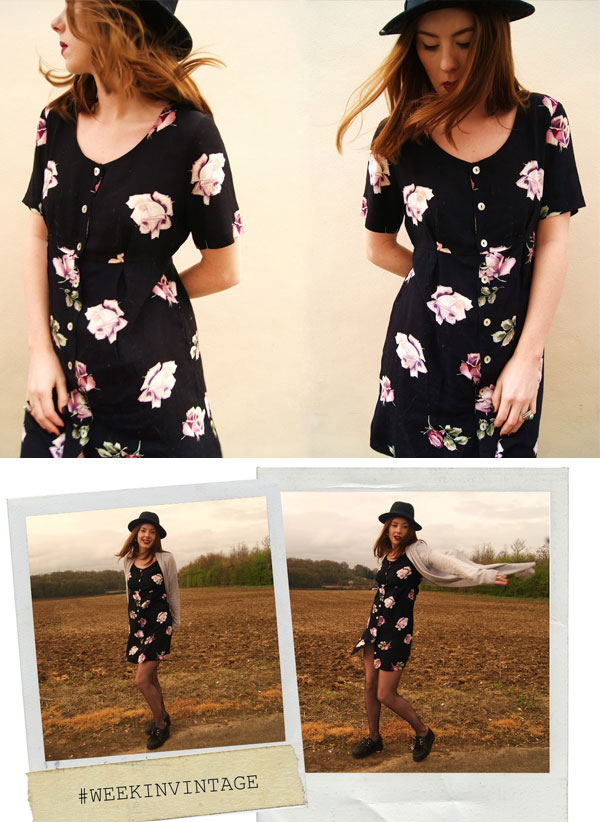 'My last day of the challenge and it's been a real eye opener for me. I'll definitely be buying more vintage than high street from now on *Scouts honour*.
I love this dress so much; the fit, the colours and the buttons on the front are perfect! I could think of so many ways to style it but decided to keep it simple. I styled it up a bit for an event I went to later in the day by adding a shirt to go underneath the dress.
It's been really fun trying something new; definitely a game changer!'
Blog: Thegoodowl.co.uk
Twitter: @goodayle
Do you dare to take the challenge? Stay tuned for plenty more where this came from and plenty of nifty thrifty ideas from us! Join our #weekinvintage and spread the love for vintage treasures!