April is in full swing. This only means one thing, our wallets are out and we are on the prowl for summer clobber. Out with the old and in with the new, right? Or is it? Well, this month, as part of our ethical fashion initiative, we are encouraging the spread of savvy secondhand shopping and, in the face of mass wastage, saying YES to reusing our old garb! With that in mind, we got to wondering... could we really wear head-to-toe vintage this summer? Well, we put our bloggers to the test with a #WEEKINVINTAGE. 
Enter, Abbie, Fashion Tatt!
Being involved in the Week in Vintage Challenge was a relatively easy task for me as my wardrobe is such an eclectic mix of high street, vintage and thrifted fashion. Incorporating vintage items into my daily outfits was a fun but manageable challenge! The only problem I have is that my work attire does have to be smart and fairly sensible (boooo) however some days I do find myself accidently throwing on one of my thrifted shirts, vintage silk scarfs or some beads from my local charity shop. These pieces, funny enough get more interest than my high street picks mainly accompanied with the question of 'where did you get that from'!
Over the course of 5 days (2 of these days being a weekend) I picked out some of my favourite vintage and retro pieces and styled them with my high street basics. I can also let you into a little secret; none of these items came to more than £50- if I am honest quite a lot less actually!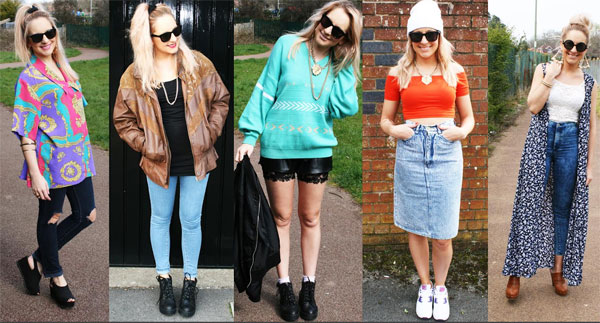 Outfit 1 – Vintage shirt
This was a simple and easy look, I mixed a bright vintage shirt with on trend DIY ripped jeans. The shirt does all the talking in this outfit as it is so bright and eye-catching!
Outfit 2 – Vintage Coat
A statement coat is always a winner and this brown leather number is one of my faves. It's pretty heavy so I just teamed it with a classic black vest and Topshop Joni jeans for a casual evening outfit for dinner.
Outfit 3 – Retro Jumper
This jumper is so cool, and brings the whole sportsluxe vibe. I kept the theme running throughout this outfit as I wore it with leather look gym style shorts and layered them with cycling shorts.
Outfit 4 – Thrifted Acid Wash Denim Skirt
One of my top thrifted finds, this skirt is perfect for night or day but I choose to follow the trainer trend and style it with a cute crop top and my Nikes and of course my signature gold accessories.
Outfit 5 – Thrifted Max dress worn in a Kimono Style
Definitely a cool way to style a maxi dress, unbuttoned with another pair of Topshop Joni jeans (yes I am addicted) and a pair of the shoes of the moment some tan mules.
This was such a fun challenge and just goes to show how vintage pieces can be incorporated into your daily look with minimal effort. Vintage is fun, easily styled and can be on trend!
Website: Fashion Tatt
Twitter: @atanner23
Spread the love for reusing your old clothes! Get the low-down on Fashion Revolution Day and our ethical initiative in the wake on Rana Plaza- HERE!
Do you dare to take the challenge? Stay tuned for plenty more where this came from and plenty of nifty thrifty ideas from us! Join our #WEEKINVINTAGE and spread the love for vintage treasures!