With many of us jetting off far and wide on our summer holidays we sometimes forget how amazing Great Britain is and what fabulous seaside town are on our home turf, Brighton is definitely one of these places and we LOVE it there.

We love Brighton, so much so we opened a
store
in the
North Laines
where our local staff are as crazy about their hometown as they are about vintage! So we thought we would ask them what they really love about this magical place dubbed 'London on the sea' and why everyone should pay a visit.

'Brighton is like a mini London but less hectic. With a fun and friendly atmosphere everyone that comes to Brighton is sure to fall in love with the place. A great place to shop, Beyond Retro being one of the highlights of course! Some amazing restaurants and bars and of course the beach with one of the best piers for a good old fashioned British summer day out.'
Davey Coles- Tattoo fanatic and Beyond Retro Brighton Assistant Manager.
'Brighton has everything you could wish for, with 2 pubs on every corner you never go thirsty! You can walk everywhere and do as much or as little as you please, its as much a chill out town as it is a place to party. The Pavillion is a 'must see' the architecture is out of this world.'- 
Helen Johnson- Amazing Hypnotherapist and Beyond Retro Brighton Store Manager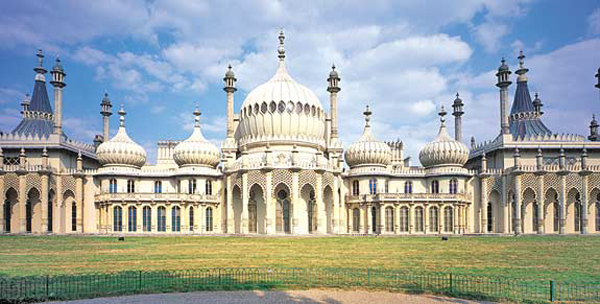 Here's our alternative guide to a few of Brighton's hidden gems:
Across the Tracks
- The oldest record shop in Brighton, really good for old soul and funk.(Sydney St)
Dave's Comics
- A fun shop full to the brim with vintage comics that will have you reminiscing of day trips to the seasi
de when you were a kid. (Sydney St)
Wax Factor
- The legendary record shop which sells second hand vinyl and music books. Attached to
Wax Factor
at the back of the shop is the cafe
The Rock Ola
serving delicious American cuisine in cool  '50s  diner-style, where you'll find  heaps of  music memorabilia as well as retro furniture to buy. (Trafalgar St)
The Brighton Sausage Company
- Serving the most delicious  sausage rolls, Brightoners love this food hotspot and has become a local legend. (Tidy St)
La Chosa
- Decorated in Day of the Dead paraphernalia and serving  delicious Margharitas and Mexican food, this is a great place to stop for a cheap lunch! (Kensington Palace)
Upper Gardner Street Flea Market
- Open on Saturdays, specialising in fantastic old costume jewellery and furniture.
Snooper's Paradise
- A cavernous warehouse selling hundreds of  amazing things taxidermy to furniture and clothes. It also has an old B/W photo booth, so make sure you have your photo taken for a great bit of Brighton memorabilia! (North Rd)
Ditto Fabric
- An amazing place selling old Versace and Burberry fabric, a definite place to check out for all budding fashionistas and seamstresses.
Kensignton St
- Is home to some of the best graffiti in Brighton including a bit of Banksy!
Komedia
- If all this walking has made you tired why not visit this fab cinema which houses the famous
Duke of York Cinema
, showing art house and independent films. (Gardner St)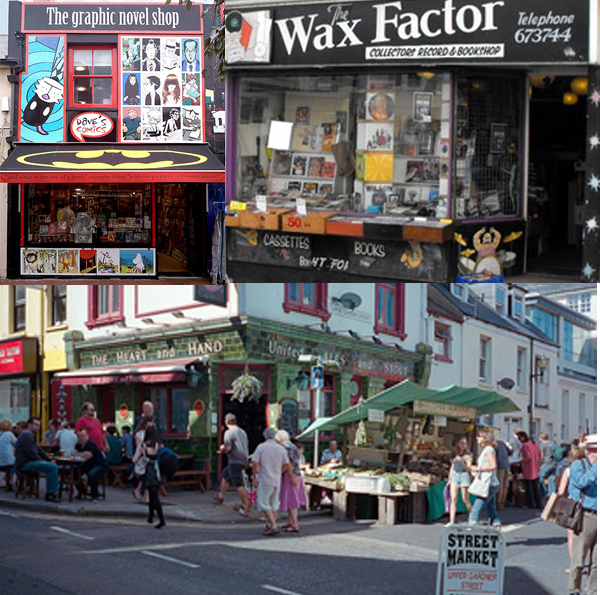 So if you wondering what to do this weekend or perhaps looking for an alternative summer holiday break, leave your passport at home and come to BRIGHTON!! Brighton is the metropolitan town on the south coast of the UK with a fantastic train link system , only 51 minutes from London Victoria, about the same time it will take you to read your copy of the metro cover to cover! We welcome you to Brighton and please do pop in to see us,
we are giving 15% off all summer essentials
at the moment to just by showing the below voucher in store so there is no better reason than now to come say hi and see what this wonderful town has to offer!
I
f you do come to Brigton why not snap yourself and your friends on instagram and use the hashtags #weheartbrighton #beyondretro? We might even post them on the website!
Beyond Retro Brighton:  42 Vine Street, North Laines, Brighton BN1 4AG