The weather has been gorgeous this week and to celebrate the approach of the sunny season it's time to introduce our hottest headwear accessory for Spring/Summer 2011; the headscarf!
How To Style a Vintage Headscarf:
Taking inspiration from the iconic image fostered by Rosie the Riveter during the Second World War, this trend will play an essential role in our wardrobes over the next few months and lend a head-turning touch of femininity to your outfit. Team your headscarf with a jumpsuit to recreate Rosie's original vibe or pair it with a gingham blouse and denim shorts to lend an update to that classic 40s look!
Aside from the effortlessness with which they inject a dose of summer cool into your wardrobe, what we love about our headscarves is that there are so many ways you can tie them to adapt to your outfit and suit your own individual style. Our full range of head scarves will be hitting stores in the East End, Soho and Brighton over the next few days.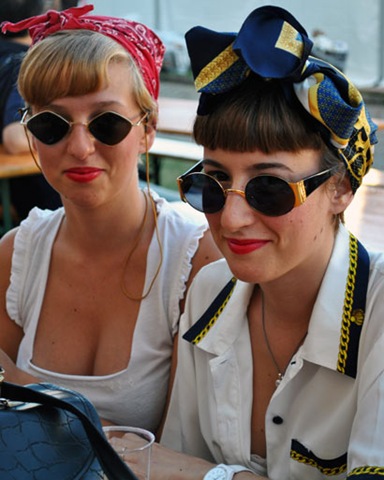 How to tie a 1940s head scarf:
1. Fold scarf in half diagonally so
you have a triangle.
2. Place the scarf over your
shoulders, shawl style, with the
point facing down.
3. Take the two ends on your
shoulders and tie them once
on top of your head.
4. Pull the point of the scarf up to
the top of your hair in the little
pouch created.
5. Lay the point over the tied
area.
6. Tie a knot over the point.
7. Tuck the open sections in.
Now you know how to tie it all you need is a little more style inspo and you're ready to get on board with one of the most practical trends around!
If you want some more fashion history then check out our guide to vintage lingerie, or if you're feeling inspired shop our silk headscarves here.