After the romance of Christmas, New Year and more recently Valentines, there is a lot of bling being flung around. It would seem that quite a few of you guys 'put a ring on it'.
A brides wedding day is said to be the best day of her life, a day that is so special that everyone remembers it for the right reasons, the venue, the vows, the cake but most importantly...the DRESS.
Beyond Retro have travelled the world over for the creme de la creme of vintage bridal gowns to bring our first  Vintage Fair to Dalston this March. We understand that every bride wants to feel like the most special girl on the planet on the day she weds her prince, and what better way to say 'I do' than in stunning vintage, a piece that has lasted the test of time.
Over 300 gowns will be showcased at our Dalston store, whether you are a first time bride that wants to wear a piece of history, unlike anything she could find new or a second timer that wants something more understated, we will have every style to suite every princesses desire and bank balance. Starting at under £100 finding 'The One' (the dress, yes we realise no 'that one'!) doesn't have to cost a fortune, it just needs to make you feel a million dollars, not cost it.
As well as the biggest selection of vintage wedding dresses, we will also be helping with some of the finer details, flower garlands, head dresses, vintage lingerie and we will even give our helping hand with Mother of the Bride and the all important Bridesmaids.
Over the next few weeks let us help you with handy suggestions and quirky ideas to make your big day a personal and special event you will never forget.
Whether you have that ring on your finger, have your fingers crossed or just want to enjoy being a princesses for a day, join us for this FREE event, with your mother, mother-in-law or your best friends.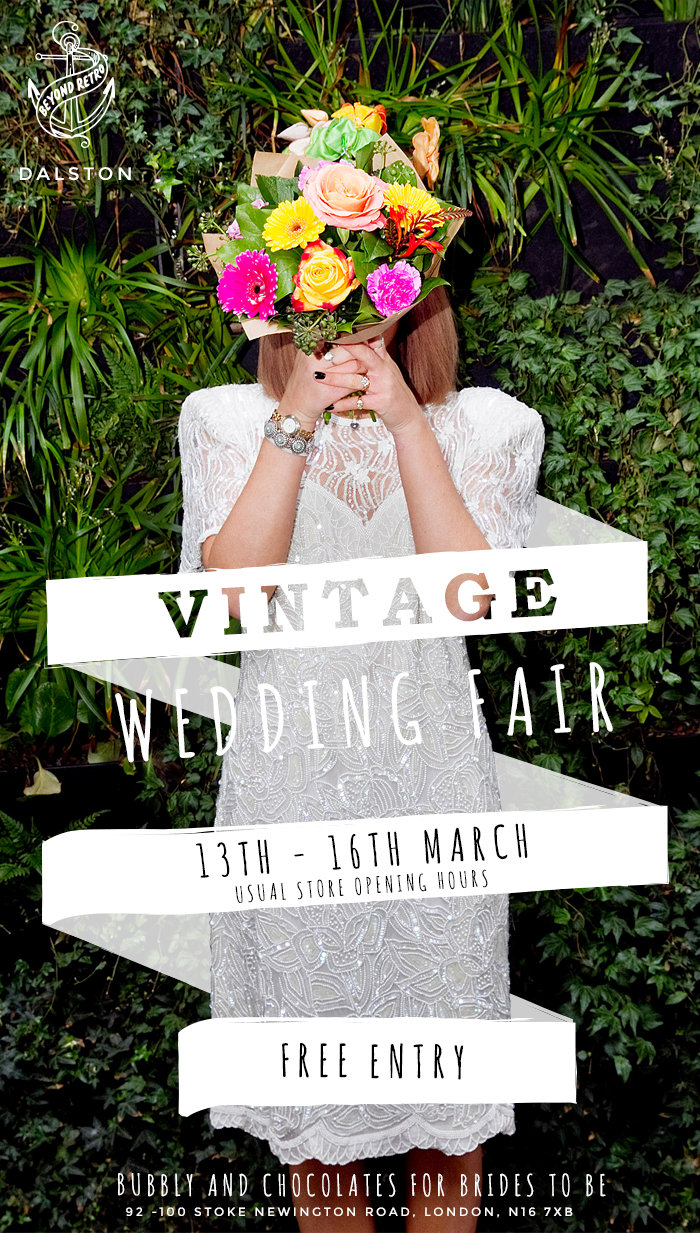 Thursday 13th- Sunday 16th March 2014
Beyond Retro Dalston: 92 -100 Stoke Newington Road, London, N16 7XB
Let us know you are coming and leave us a comment of what you might be looking for and we will endeavour to help! https://www.facebook.com/events/269426936549671/
The event will also be in our Zinkensdamm store in Sweden 27th-30th March. 
Brännkyrkagatan 82 118 23 Stockholm