The classic satin  souvenir jacket is a highly collectible item in the vintage world that beautifully combines the shape and style of the American Letterman jacket with traditional Japanese motifs. They should in fact be referred to as 'Sukajans', an abbreviation of the original name "Yokusuka Jumper", which was given to the jackets after they were first produced by Japanese craftsmen around the Yokosuka Air Force Base following the Second World War. US military personnel would commission the designs as a souvenir of their time spent in far off lands. This 1960s reversible version is a fine example of the craft, featuring the typical dragon and eagle motifs as well as a map of Japan, suggesting its owner was a well-travelled man.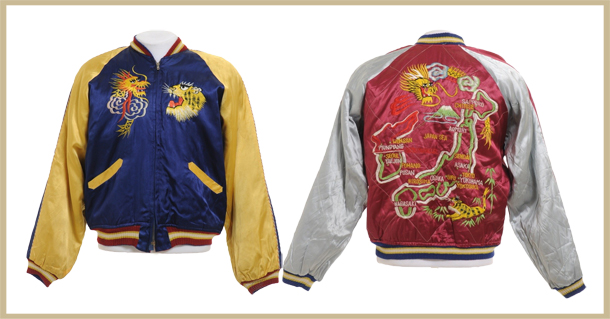 1960s Japanese Souvenir Jacket | £250
___________________
This 1960s version breaks the traditional rules of the Sukajan in that it started life as a bowling shirt and was embroidered to signify its owner's affiliation with the Peace Officers Shrine Club, a unit of The Ancient Arabic Order of the Nobles of the Mystic Shrine (or 'Shriners'), an appendant body to Freemasonry established in late 19th Century America. The Peace Officers Shrine Club  received its charter in 1962 and was populated by California's peace officers, which over there includes just about any public sector employee whose job in some way involves the law. This jacket is rich in history, beautiful in colour, perfect in condition and waiting for you in Soho.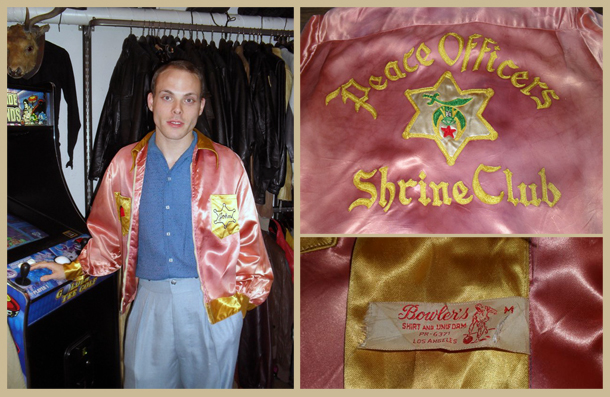 1960s Satin Shrine Club Souvenir Jacket | £150 | Available at our Soho store
___________________