Inspired by This Old Thing, where Dawn O'Porter revamps the unwanted and the unworn, we thought we would provide some nifty tips that can breath new life into your beloved wears. Stay tuned for weekly upcycling posts, so you can start doin' in yourself.
Read about the C4 show and the newly released book, plus check out our special vintage edit approved by Dawn herself- HERE.
Want distressed denim, no stress required? Look no further than your humble cheese grater. 
Step 1: Dig out some old denim.
Step 2: For holes in the knee, find your placement by folding each leg to the zipper. Mark with a pencil and place a piece of card in the leg to protect behind the knee. Now slice.  Beware: the bigger the hole the more it can sag, so go smaller and let it grow naturally.
Step 3: For the worn effect, use a razor/sharp side of a pair of scissors to scrape horizontal lines against the grain of the fabric. Leave 1/4" between each cut and pull at the denim. Make small slice cuts near the base of the pockets to look like natural wear.
Step 4: Shred with the smallest edge of a cheese grater until you reach the desired effect. Focus on pockets and belt loops for a natural disintegrated effect. Use a parmesan grater with a handle for the easiest application.
Step 5: Hot-wash two or three times for perfectly frayed jeans. If bleaching, this step is essential so as not to weaken or deteriorate the fabric.
Time: 5 mins for a simple upcycle. 30 mins for a full rework.
Result: A rockin pair of pins. 
Handy Tips: 
-  You can achieve several looks with distressing so get stuck in and experiment.
-  If you want frayed jeans, steer clear of elasticated pairs as this will show through.
-  Focus on the areas of fabric which naturally wear. Think pockets, hems and knees.
-  Less is sometimes more. Wear patterns are the natural lines and creases which are worn in by each individual. Take your jeans off to highlight the wrinkles and rub sandpaper over them.
-  To avoid holes becoming much larger, turn inside out and iron on patches either side. To reinforce it, stitch around the sides.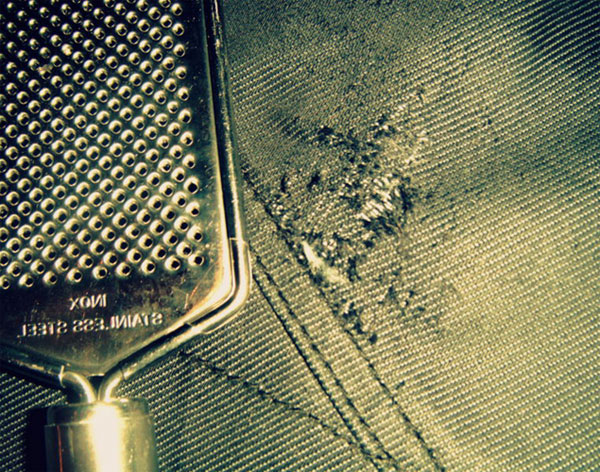 OR... We do the hard work, so you don't have to. Shop Beyond Retro own Label- HERE.