TRUE SUMMER ROMANCE: Free invite to Dazed&Confused Private screening TONIGHT!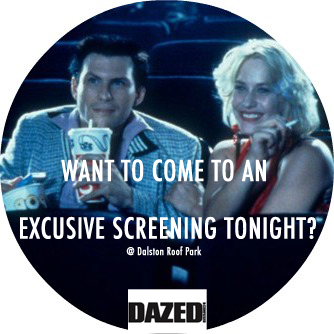 We have an exciting offer for all shoppers at our Dalston store TODAY! We have exclusive invites for Dazed&Confused in association with MUBI's 90s summer party and film screening of all time cult classic and personal favourite of the beyond Retro team Tony Scott's 1993 'TRUE ROMANCE' written by Quentin Tarantino starring Christian Slater, Patricia Arquette, Val Kilmer, Dennis Hopper with appearances from Brad Pitt, Christopher Walken, James Gandolfini and Gary Oldman. One of the most incredible casts ever, even 'Elvis' has a cameo!
There is no competition or question to answer, all you need to do is take your Beyond Retro receipt you receive from your purchase today to the venue. This must be a receipt from a purchase TODAY 7/8/13. You will receive a days membership for The Dalston Roof Park where we have kitted out the place with the coolest 90s gear to give you that 'throw-back' feeling.
The event will take place tonight 5pm-11pm with the film starting ay 8.45pm, the sun is shining and its set to be a great relaxed night, so get yourself down to Beyond Retro Dalston, snap up some cool 90s pieces and hurry on down to:
DRP The Print House,  The Dalston Roof Park 18-22 Ashwin St London
If your diggin' Alabama& Clarence's style we got it covered for you; After all 'We love you Clarence, always have...always will' !!

HER: Dress, Shirt, Glasses, Bag  HIM: Jacket, Shirt, T-shirt, Jeans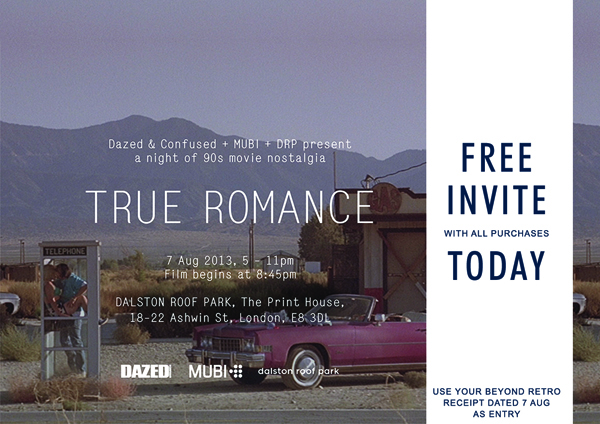 SIT, WATCH, RELAX AND MAYBE EVEN ENJOY SOME PIE AFTER?!!