The perfect dream dress is a rare find but once you've found it, it's a long lasting love until death (or red wine spillage/stealing sibling/ lost in your wardrobe's black hole) do you part. We have dedicated this month to help you discover your
#dreamvintagedress
. To get you in the hunting mood we've chosen some of our all-time favourite dream dress moments.
Dorothy's Gingham Dream 1939
Starting us off is Dorothy Gale's unforgettable gingham number from the 1939 adaption of The Wizard of Oz. The film was a startling success partly due to it being a pioneer of technicolour filming, but we think those ruby slippers played a hand in it too. It's believed that ten dresses were made for Dorothy, each one cheaply made on a trundle sewing machine to make it appear as Auntie Em had hand stitched them. There's no place like home (to get a dream, hand stitched dress).

Photo credits from left to right:
Tumblr
,
Daily Mail
,
Tumblr
Marilyn Monroe Blows Up 1955
An unforgettable dress moment we had to add to our line-up is Marilyn Monroe's grate moment (get it?). Whilst on set filming the Seven Year Itch, Monroe was directed to step onto a subway grate and hold a pose whilst air from a passing train blew up her skirt. The scene, which last for all of 60 seconds, took hours to film and about 14 takes to get right, but once the film was released it quickly became a main fixture in the Hollywood Hall of Fame.
In fact the scene's popularity has never faltered, and the iconic dress was sold in an auction in 2011 for $4.6 million dollars! If only someone would pay us that much when our dress blows up over our heads in the wind instead of pointing and laughing.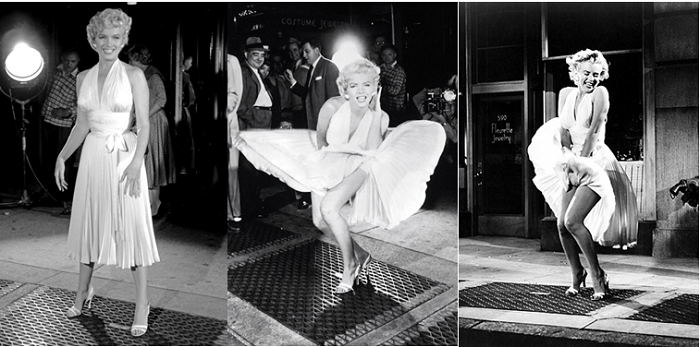 Photo credits from left to right:
Pinterest
,
Vogue
,
Virgin Media
Holly Golighlty's Dior Debut 1961
A dream dress line-up wouldn't be complete without a LBD, and arguably the most famous of all was worn by Texas born beauty, Holly Golightly. Audrey Hepburn's eccentric character spurred generations of people to fall head over heels in love with Tiffany's and unnamed cats, but mostly fans have lusted after her incredible wardrobe, designed by one Hubert de Givenchy in 1961.
A little known fact about Breakfast at Tiffany's is that Truman Capote was not happy about Hepburn being cast as the leading lady, he had wanted Marilyn Monroe to be cast in the part. We are huge Monroe fans (see above), however we don't think anyone but Audrey could pull off the original LBD with such style and grace (and an extra-long cigarette holder).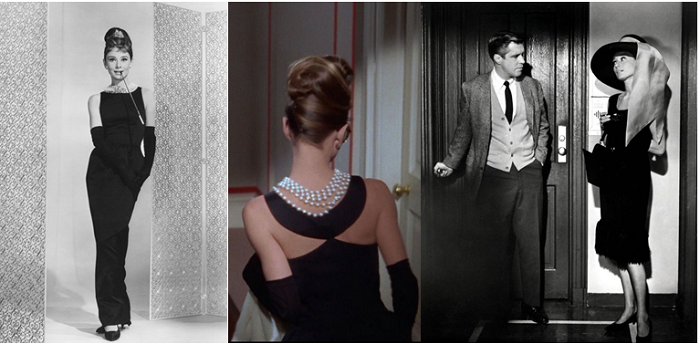 Photo credits from left to right:
Vogue
,
Tumblr
,
Donna Vrou
Liz Hurley Safety First 1994
In 1994, a small time actress stepped out onto the red carpet accompanying Hugh Grant at the Four Weddings and a Funeral premiere. A moment later a media storm had erupted. Liz Hurley's neo-punk safety pinned Versace dress became one of the most famous red carpet outfits of the century, and catapulted Hurley into stardom.
Hurley later said that the Versace number, often referred to as 'THAT dress', "was a favour from Versace because I couldn't afford to buy one. His [Grant's] people told me they didn't have any evening wear, but there was one item left in their press office. So I tried it on and that was it." If it's that easy to become famous someone pass us some scissors and safety pins, STAT!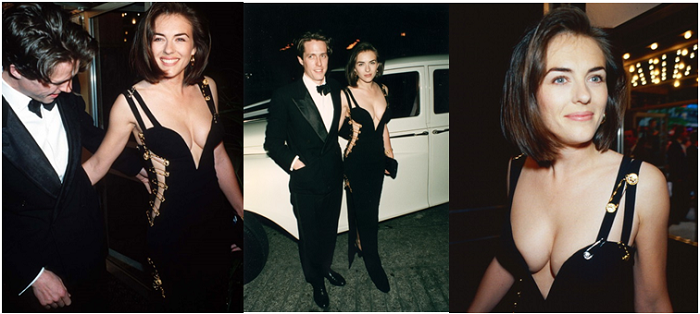 Photo credit from left to right:
Telegraph
,
Huffington Post
,
Dark Pony Designs
Love Rips Kate Moss 2007
Kate Moss has been a superstar style icon, and a rock and roll goddess since stepping onto the catwalk in the early 90s. So what happened when Courtney Love stepped on the back of her vintage Christian Dior dress at the Met Gala? She acted like fashion royalty, and with dignity, grace and a whole load of innate style she hitched up her dress, tied it up around her hips in a cool bow, and carried on partying into the night. Kate Moss, we salute your insatiable desire to carry on the party.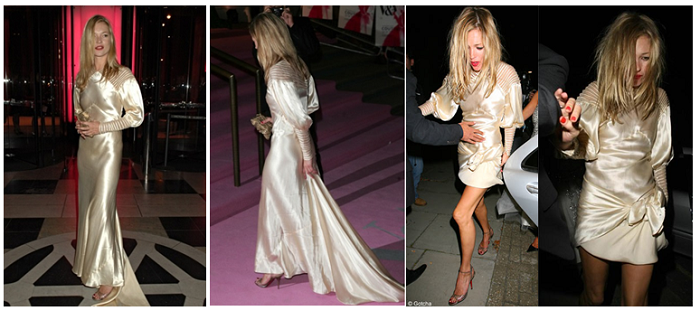 Photo credit from left to right:
Guardian
,
Entertainment Wise
,
Daily Mail
To help you find your dream dress moment, we have found plenty of desirable frocks to take your fancy, just take a peek
here
and share with us
#mydreamvintagedress
.
Words by: Francesca Wright