For any of you who have been in our Cheshire street location this is a familiar sight: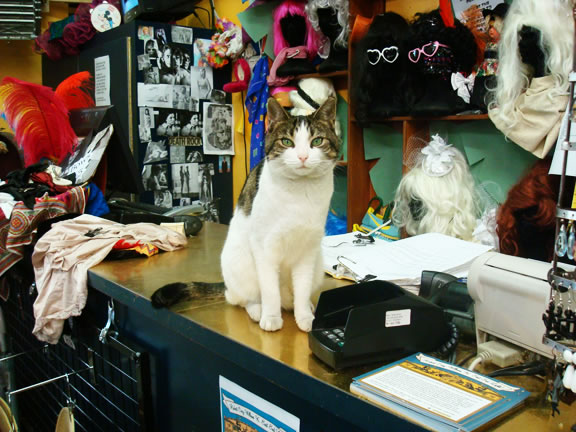 For those of you who haven't, allow me to introduce Tiny. Tiny is our beloved in store cat. She wandered into the shop 6 years back and has never left. She was born just down the road at another fabulous shop,
Lik Neon
, where she shared her home with her siblings. Determined to strike out on her own she packed her bag and wondered on down the street. She stopped (as most Shoreditch kids do) at Beyond Retro where she quickly became our, and your, favorite (seriously, you would not believe the amount of mail we get about her!). She even has her own
MySpace page
. Over the years our little trouper has been through a lot, she's even shown up completely yellow after spending the day playing in a spice factory! She's come through it all unscathed, well mostly; she does have the worst sense of balance of any cat we have ever seen. Seriously, she never lands on her feet. She loves catnip, sleeping, and all the attention she can get! So next time your in be sure to give her a little love.