The Ultimate Guide To Denim
Who doesn't love denim? We definitely do. It's pretty much a staple in every closet, whether you live in freezing conditions or sunnier climes - denim is versatile and perfect for almost any look. Channelled by our style icons through the eras, from Elvis in the 50s to Drew Barrymore in the 90s, denim represents nostalgia, durability and effortless style. A good pair of vintage jeans are like a great friend that you've known forever. From dungarees to shorts to a pair of perfectly fitting jeans - we're obsessed with denim, so here's our ultimate guide.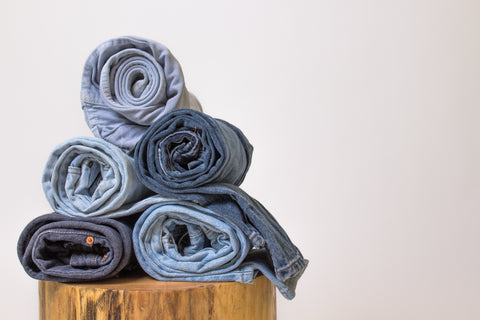 What is denim?
So here's the science behind your favourite material… Denim is a durable cotton twill which is created when we weave dense threads together, giving it that thick texture. The material is then dyed - traditionally indigo, but any colour works - and worn in many different ways. Denim originates from Nimes, in France, but it's been adopted by many countries including America over the years and has now become a fashion classic. In the Gold Rush era in America, gold miners needed durable clothes and Levi Strauss saw a gap in the market. Check out the History of Levi's Jeans for more info on how they came to be.
Denim was born and it was a cultural hit. This blending of the old and the new, the practical and the stylish and the classic vs the trend makes denim the timeless wonder it is. Lynn Downey picks out possibly THE best quote about denim in her Levi & Strauss essay: 'In 1969 a writer for American Fabrics magazine declared, "Denim is one of the world's oldest fabrics, yet it remains eternally young."' We agree Lynn.
How do I wash denim?
Although it does remain eternally young, denim needs a good scrub from time to time. But how do you wash denim without losing the colour or shrinking them? The tips below should help keep your denim fresh for longer, plus are better for the planet! 
Use a mild detergent
Any detergent with bleach or harsh chemicals could change the colour of the denim or harden the fabric. Use a gentle wash and mild detergent to avoid your denim looking old and worn.
Use a fabric softener
To avoid that crispy denim feel, be sure to use a mild fabric softener to keep your jeans soft.
Wash in cold water
Hot water causes a loss of colour in jeans and can also shrink them, so make sure your wash is cold. This is especially true for tougher denim that shrinks easily or darker denim that fades quickly.
Turn them inside out
To keep the colour, zippers and buttons intact, turn your denim inside out for protection.
Avoid the tumble dryer
Always dry your jeans on the line. We know it's a pain and seems to take years, but if you pop them in the tumble dryer they'll most likely shrink, AND it's the more green option. Win-win.
Can you wear matching denim?
Something about double denim feels scary, but it shouldn't be. The Canadian Tuxedo was immortalised by our fave Justin & Britney red carpet moment but is actually a look that when done well, is a classic. Take Brad Pitt in this snap for example:
If you're still concerned, a good tip is to pair dark denim with light when you first try it out. A pair of black jeans with a lighter denim jacket is an easy way to try out the look without standing out dramatically. That being said, a statement outfit of two pieces of paired light denim can definitely work - go with what you feel comfortable in.
Denim: the staples 
A denim shirt
No wardrobe is complete without a classic denim shirt, and this Button Front Indigo shirt is a must-have. It's a 1970's Levi Strauss denim shirt with buttoned pockets and a great shape to flatter any figure.
Black denim jeans
Of course, indigo jeans are a classic, but black jeans are more versatile and better for those who are looking for denim that's easy to pair with anything. These straight leg Levi's jeans are straight out of the 90s and come in a 505's fit with black details and pockets. Dreamy.
Denim Jacket
There's no way you can't be into denim, and not have a denim jacket. A casual, staple item in anyone wardrobe. A go to is the oversized denim jacket, like this 1980s stone wash Levis jacket, perfectly paired with a pair of DM's.
Denim shorts
A holiday essential that works all summer long too. Denim shorts are casual, comfy and cool, and work with pretty much ANY look in the heat. These Lee denim shorts are a 1990's design with multiple pockets and in a medium, indigo wash.