Let's take a moment to appreciate THE ONSESIE! Fear not the jumpsuit. It's the perfect item for this topsy-turvy weather and as we're all itching to get summer-ready, what better way to jump into the new season other than in a jumpsuit? So, we're thinking let's celebrate this masterful piece of clothing with an in store event; the sun is out and we like any ol' excuse for a bit of a do. 
From humble beginnings in manual labour to pilots and skydivers, the jumpsuit made a turn around and rose to fashion stardom in the 1930's when Elsa Shiaparelli designed a sassy silk number. Hitting the fashion industry again in the 1950's as part of the pin-up trend, by the 60s and early 70s the jumpsuit was a staple of the psychedelic hippie movement and also made some rather impacting appearances on stage- think Elvis, Bowie and Mercury!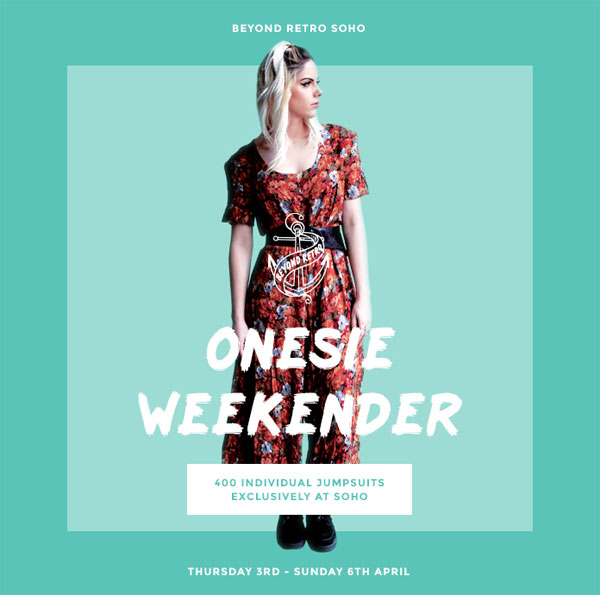 But the onesie often divides opinion. For some it has been seen as an easy throw-on piece hiding a multitude of sins whilst creating an enviably svelte physique, whilst for others it's been a pesky nuisance when it comes to lavatory moments. But it's ever so chic and simple ease is undeniable and once paired with a cropped leather jacket, platform sandals and a wide-brimmed fedora hat, the cynics are definitely converted. So let's unite in our love for this all-in-one gem of piece!
We are spreading the love by holding a Onesie Weekend from Thursday 3rd April to Sunday 6th April at our Soho store with 400 retro jumpsuits winging their way there as we type. So there is no doubt you will find the onesie of your dreams, starting from as little as £18!
This is a four day event only so grab them whilst you can!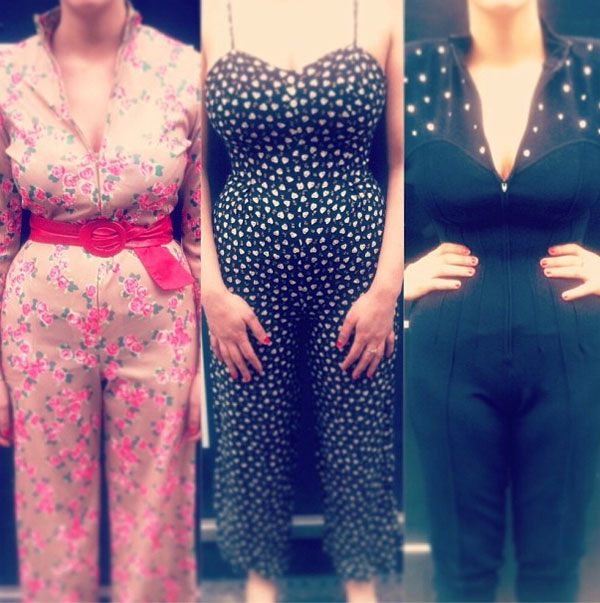 From fun florals for day to chic chiffon for after-dark, our punchy playsuits are easy-to-wear and figure-flattering too. Beyond Retro have pretty playsuits and jumpsuits in check, patterned or plain styles. Choose from ditsy-print shorts or '70s disco style numbers.
Shop Playsuits VS. Dresses- HERE!
Featuring stylist and blogger, Sophie Richardson- www.sophiehannahrichardson.com, @SHRstyling