The leather jacket has become a symbol of youthful rebellion. However, like many other fashion favourites, it was born out of functionality and practicality before it adopted its Rock n' Roll reputation.
Leather jackets were first created for aviators in the First World War. Often bulky in design and featuring thick shearling lined collars to protect pilots from harsh weather and rough flights. With this idea of protection and durability in mind, in 1928, outerwear designer Irving Schott created a leather jacket with motorcyclists in mind. The aim was to design something that was strong enough to protect the motorcyclists in the event of an accident. Schott's design was cut in thick leather, featured wide snap-buttoned lapels and was named the 'Perfecto' after his favourite cigar. It quickly became a popular choice among biker gangs of the 1930s, and soon the 'Perfecto' became as infamous as the bikers that wore it, gaining a reputation through brands like Harley Davidson, the jacket's first distributor.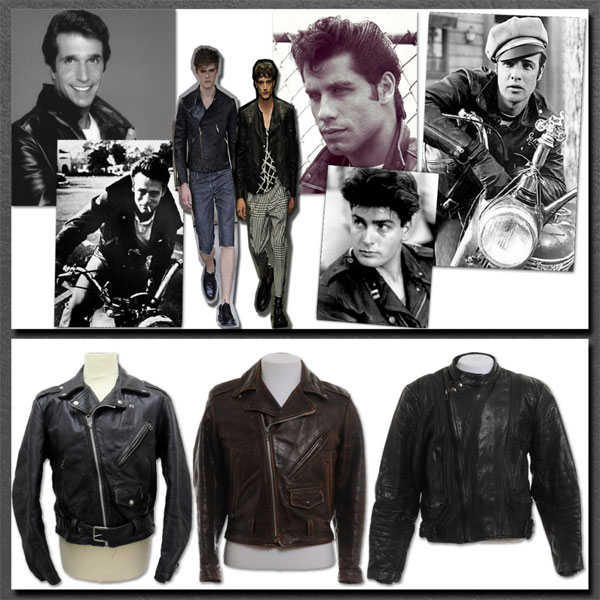 The rebellious reputation of the leather jacket was immortalised via Hollywood's influence in 1953 when Marlon Brando starred in 'The Wild One', and his 'Perfecto' became a symbol his wild boy behaviour.
Two years later in 1955, James Dean's leather jacket practically became his second skin, and no one can deny that the look was key to his overall image. With his cool air of nonchalance, cigarette handing from the corner of his mouth, the leather jacket cemented Dean as an icon of modern masculinity.
In 1960, Yves Saint Laurent was the first to show a 'Perfecto'inspired jacket on the runway, which resulted in a sleeker distillation of the stereotypical American biker look.
Meanwhile, across the pond here in Britain, it was the Mods that were working the leather jacket, with a similar anti-establishment aim. But unlike their biker cousins over in the States, Mod boys and girls rode Mopeds and sported trim silhouettes and clean, cropped hair. It was then that leather jackets became a uniform for girls as well as boys. In 1970 Debbie Harry's sleeveless version made her a bonafide badass, and possibly inspired Alexander Wang's many takes on the motorcycle vest.
With the 70s also came the punk movement, which saw oversized leathers defaced with graffiti and covered in studs, to match the pierced and tattooed youths crowding the streets. In 1974, when 'The Ramones' hit the stage, Punk magazine founder Legs McNeil described them like this: "They were all wearing these black leather jackets…They looked so striking. These guys were not hippies. This was something completely new." And just like that the fashion paradigm had shifted!
By the 80s the leather jacket was being re-designed and sent down the runway of high end fashion labels such as Versace and Chanel.
We have countless leather jackets in store for all the rebellious leather lovers out there!  Whether you prefer the slick Mod look, or want to go all out hard core biker, we are bound to have a retro leather to fit your fancy.