The King & Queen of Grunge
Audrey Hepburn, Jackie Kennedy and James Dean. What do these three people have in common? As well as being good looking, successful and talented, they are part of an exclusive clique whose cultural impact has extended far beyond their own celebrity. Only a few times in every generation will a person truly earn the title of 'Style Icon'. Style is difficult to define, but when someone has it, you just know.
There is no better example of this than Kurt Cobain and Courtney Love. During the early 90's, these two hell-raisers were not only breaking boundaries in music, but also setting the fashion world alight with their unconventional brand of F-you style. Although they had distinctly different looks, Kurt and Courtney both built their fashion following by rejecting the status quo.
In an era where most celebrities appeared pristine and put together, Kurt Cobain countered the glitzy aesthetic of the 80's in every possible way. In scruffy
jeans
and
floral dresses
, he presented a softer and more approachable version of the classic rock rebel. This new style of androgyny was a welcome change from the hyper-masculine rock stars that people were used to idolising.
Cobain's grunge style
became one of the signature looks of the 1990's, and almost 20 years later, his impact as a style icon is clear to see.
Let's take a look back at some of his most influential looks…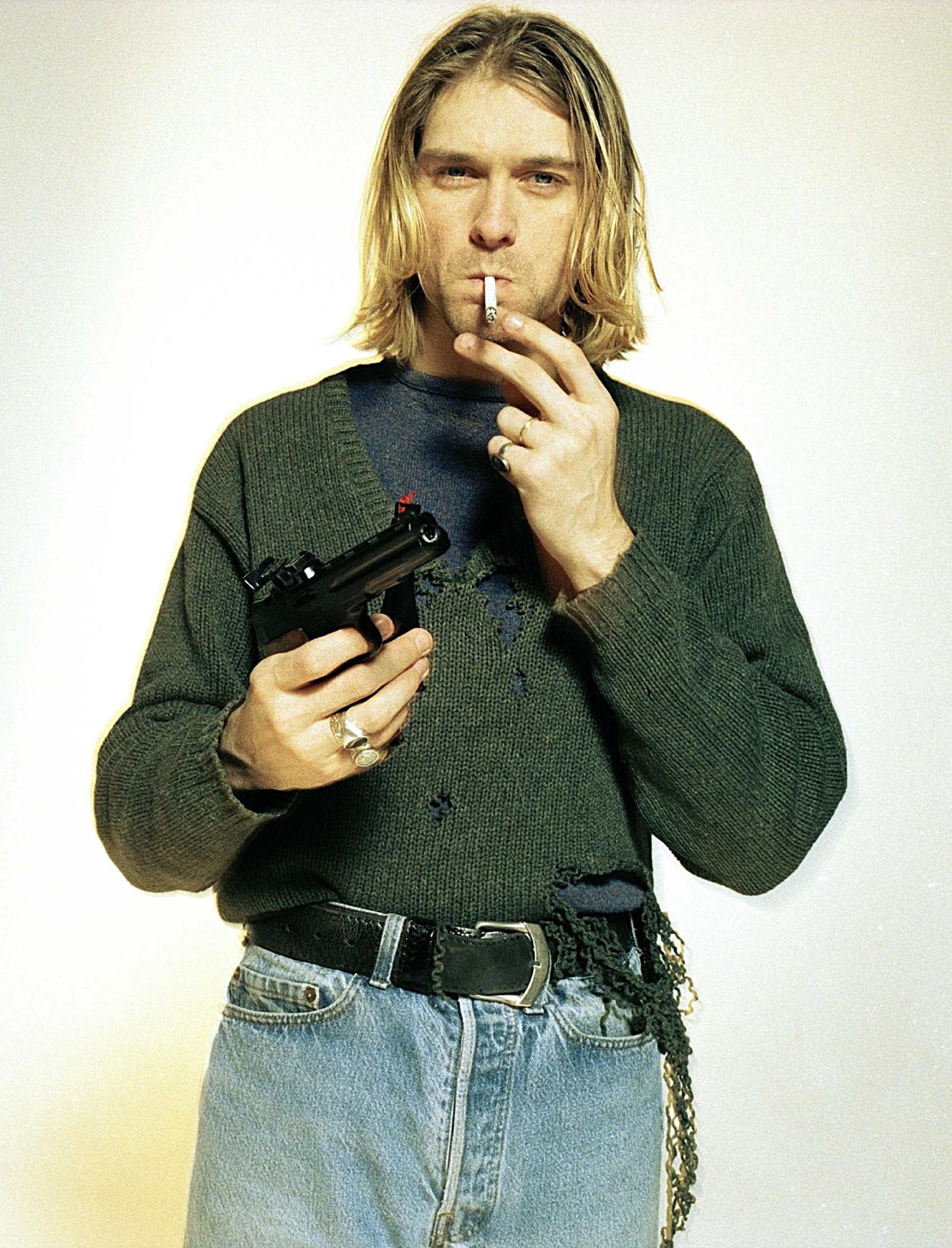 Kurt Cobain, 1994. Photograph by Youri Lenquette
This picture was one of the last taken of Cobain before his suicide. With this tattered
jumper
, Cobain gives us one of the most enduring examples of grunge style. Similarly to hippie and punk, the essence of grunge is a rejection of the establishment. Sticking two fingers up to conventional ideas of style, clothes were often unbranded, ill-fitting, and, in this case, falling apart completely. Fast forward 20 years, and a baggy shirt and jeans has become the off-duty uniform for models such as Cara Delevingne.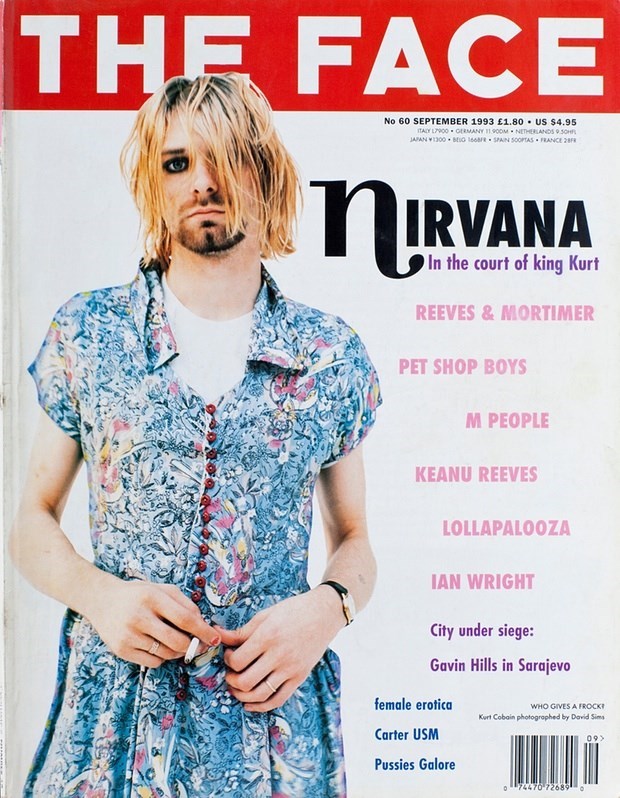 Kurt Cobain wears a floral dress on the cover of The Face Magazine, September 1993. Shot by David Sims
Cobain sent shockwaves through the world of fashion when he appeared on the cover of the September 1993 issue of The Face. Photographed by David Sims, he is pictured with messy hair, smudged eyeliner and chipped red nail polish. On anyone else this seems like a recipe for disaster, but Cobain still manages to look cool a floral dress that looks as though it was stolen from your nan's closet. This amalgamation of masculinity and femininity defied the traditional gender norms that were represented by most celebrities of the time, and set the ball in motion for a new form of androgyny that ran through the 90's and beyond.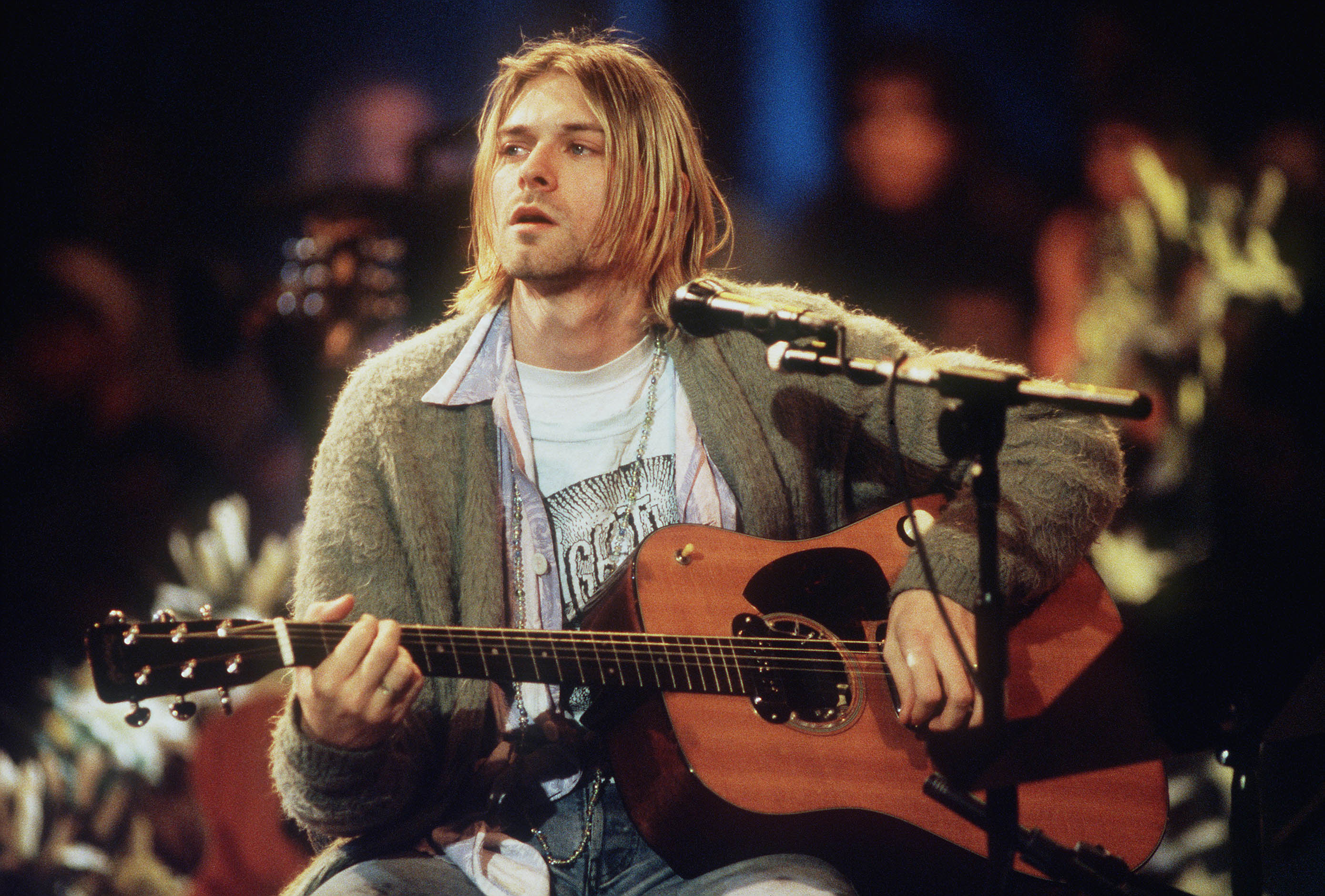 Cobain during the taping of MTV Unplugged at Sony Studios in New York City, 11/18/93. Photo by Frank Micelotta
Although it may not seem like anything special now, this fuzzy green
cardigan
- worn in a November 1993 appearance on MTV Unplugged- is one of Cobain's most iconic items of clothing. Epitomising his relaxed attitude to fashion, the cardigan recently sold for $137,000 at auction.
As the godmother of grunge, Courtney Love has also created an impressive fashion legacy. Although Love was more of a polarising figure than Cobain, it is impossible to deny her impact on culture and style. Like Cobain, Love redefined people's ideas of masculinity and femininity with her androgynous looks. Rebelling against the impossible expectation for women in the public eye to be flawless, Love was the ultimate anti-pop princess. With black on black, shredded couture dresses and plenty of red lipstick, this shockingly defiant version of 'who gives a damn?' style inspired a generation.
Let's take a look back at some of Courtney's most iconic style moments…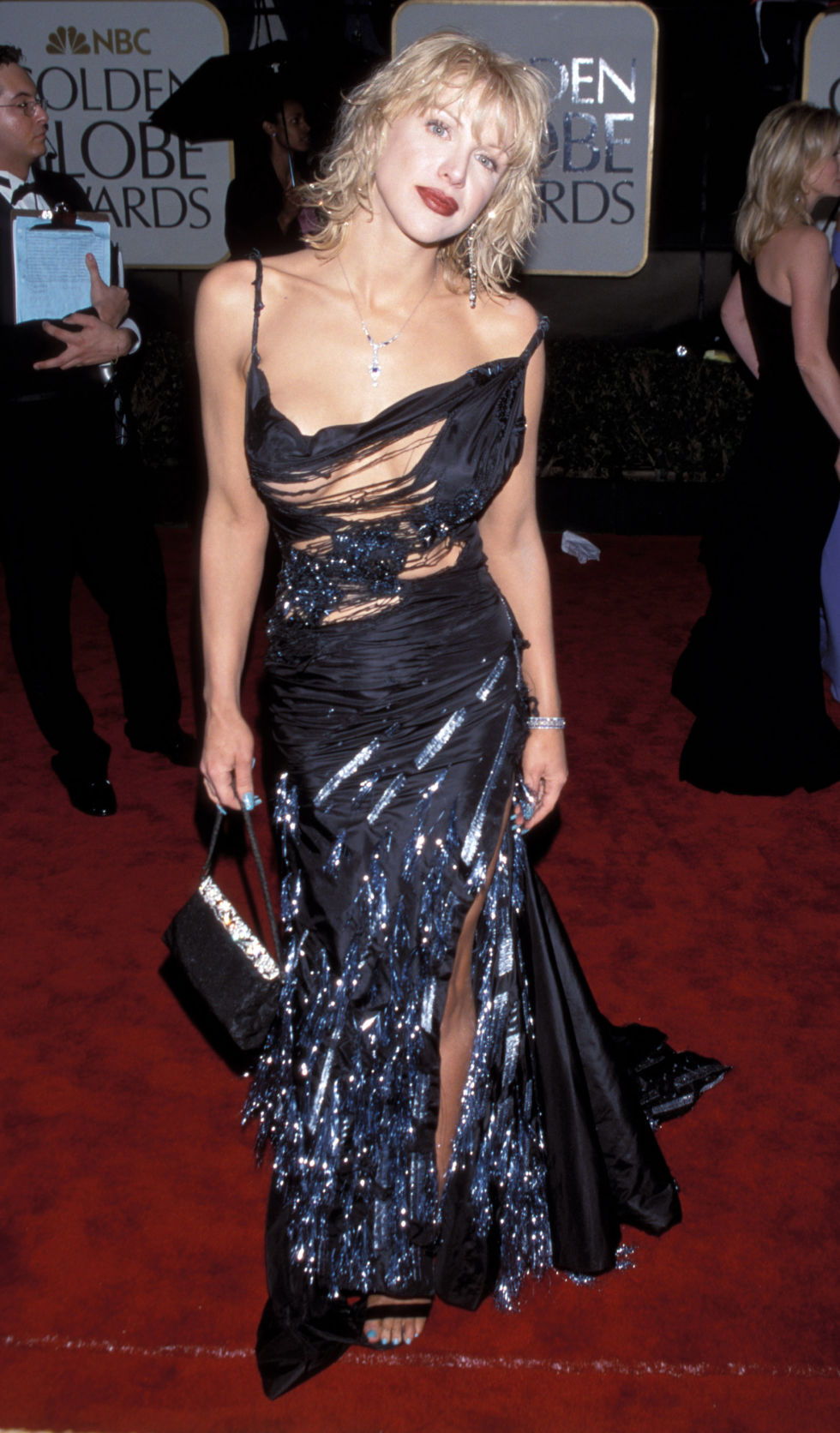 Courtney Love at the 1990 Golden Globe Awards
Worn at the 1990 Golden Globes, this outfit perfectly exemplifies Love's attitude to fashion. If she had go to an award show in a fancy
dress
, she was going to do it showing more skin than most are comfortable with. Messy hair and her signature red lip complete this laid-back red carpet look.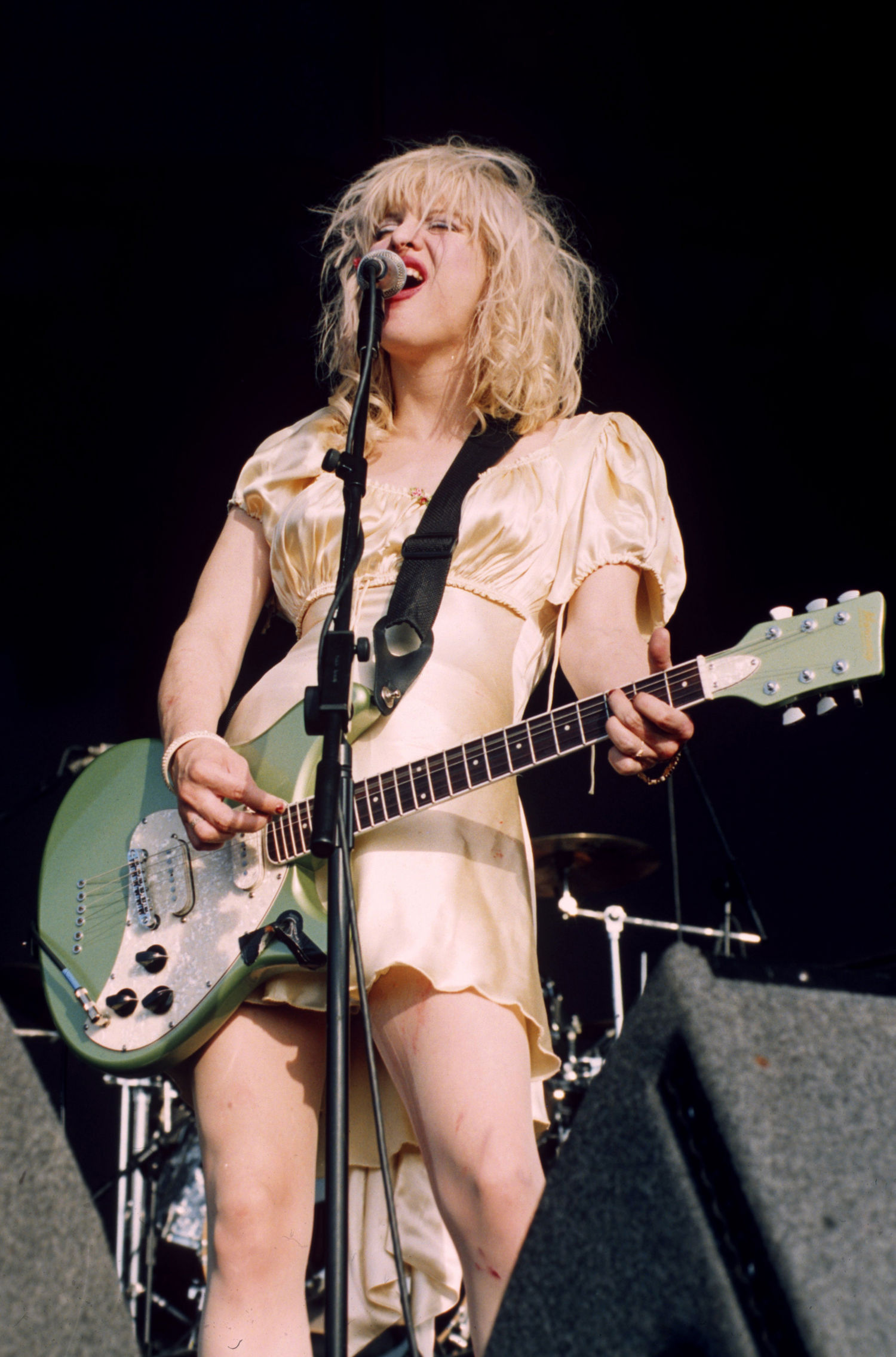 Love wears a babydoll dress during a performance in the mid-90's
On stage, Love contrasted opposing extremes. Here, we have a crème silk babydoll dress that you would expect to see on a Sunday school teacher, perhaps accessorised with a pink hair ribbon and or a pretty brooch shaped like a butterfly. On Love, this cute dress collides with messy hair, smudged eyeliner, scuffed knees and an electric guitar.
If you fancy re-creating any of these iconic looks, then
shop Kurt and Courtney's grunge style
.
Words: Louis Staples