The Best Vintage Inspired Looks of 2019
As we head into the summer and approach the halfway mark of 2019 it's a good time to look back and celebrate our favourite vintage-inspired looks of the year. Whether your wardrobe looks like it was brought straight from the 60's or you like to experiment with era-themed styling there is something to inspire you all.
1. The Shell Suit Of Your Dreams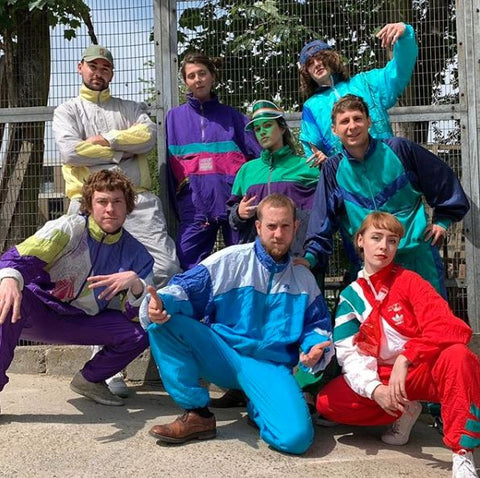 Starting strong... our warehouse team showing you how to rock an 80s shell suit. Go hard or go home right?
2. Sassy Seventies 
 A dreamy, bohemian, vintage inspired look perfect for summer. Grab yourself a patterned mini dress from our huge selection! 
3. The Perfect Season Transition Outfit
Leandra Medine is a bonafide style guru and this 70s inspired look has us swoooooning. If you're looking for a way to jazz up your denim why not try a statement jacket.
 4. Flares With Friends
The fitting rooms in our Bristol store are perfect for an impromptu catwalk to strut around in your new vintage finds.
 5. Sorbet Pink Perfection
We just can't get enough of seventies inspired dressing for summer, another of our favourite looks- so chic and flattering for all.
 6. Berlin Street-style Inspiration
Vintage-inspired normcore dressing isn't going anywhere, so get on board!
 7. Dad On Holiday But Make It Fashion
Talking of normcore, dad-style, a member of our Brighton store shoes you how to make the trend work for warmer days! Shop our men's city break edit here.
 8. Dramatic Glamour
One of our favourite Met Gala looks of this year, Lily Collins pulled out all the stops in this vintage-inspired frilled gown with 60s bouffant and makeup. Definitely one to recreate asap!
 9. Rock 'n' Rolla
Coloured vintage jeans styled two ways. A simple but effective way to work your vintage pieces.
 10. Suave Seventies
A superb 70s throwback look and so simple to create- you probably have a vintage roll neck and pinstripe trousers in your wardrobe already!
 11. Disney Dreaming
We absolutely love this fun 90s style- the Mickey Mouse patch is just the icing on the cake. You can shop our selection of vintage Disney clothing here!
 12. Denim Chic
Kendall Jenner rocking both the work-wear and double denim trends all in one go. We love this simple and chic 70s inspired look.
 13. Mint Madness
A swingin' 60s look by one of our Dalston store team. Minty perfection! Don't forget you can shop all of our true vintage pieces by decade online! 
 14. Classic Cowboy
Last but by no means least, Lil Nas X has us all embracing yeehaw culture with his vintage-looking Western outfits. Even if you don't have a cowboy hat from Gucci you can still get some Wrangler on your booty by shopping our branded denim selection here.
Feeling inspired? Head over to our online store to find the freshest selection of vintage pieces hand-picked just for us; or if you want a little bit more style inspiration why not check out our blog where you can see how to wear double denim, how to do monochromatic dressing or read up on what fashion in the 1970s was like.
Words by Eloise Gendry