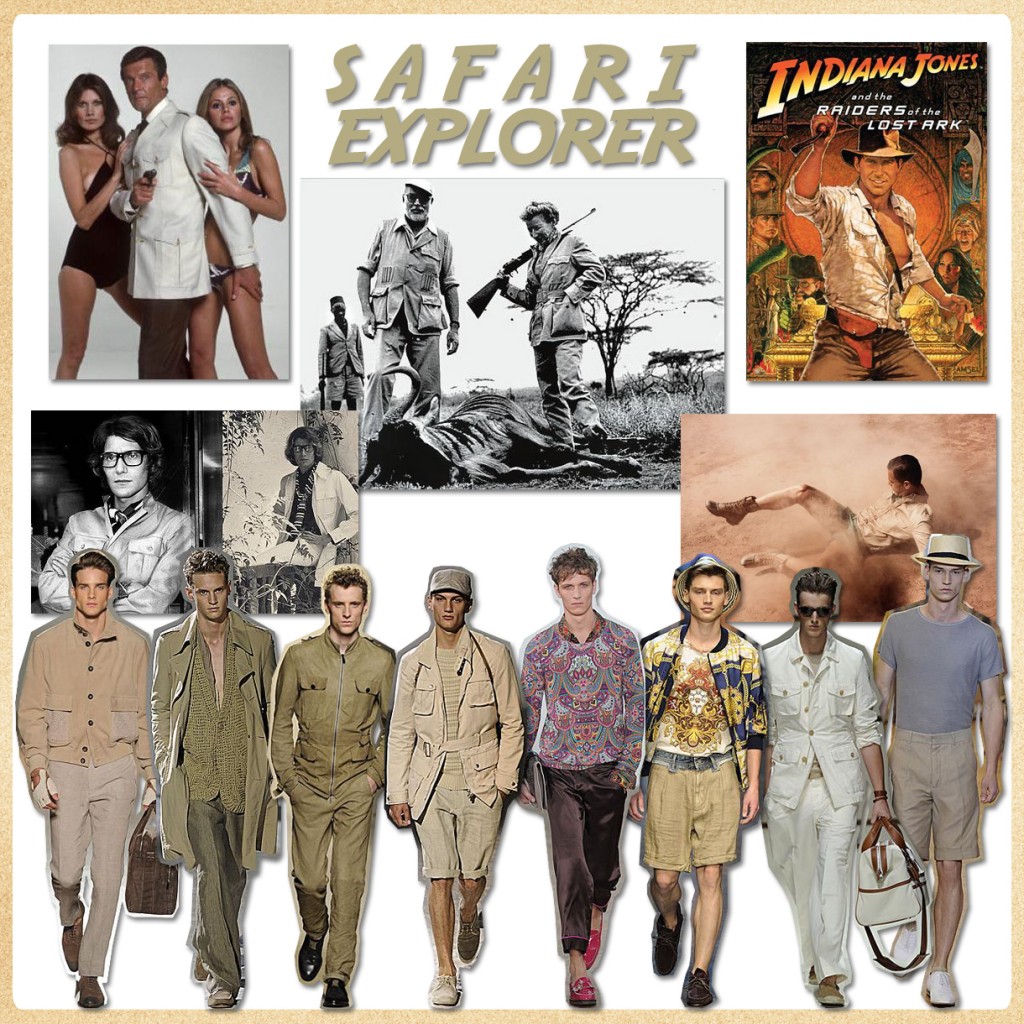 Our third
Spring/Summer '12
menswear story depicts an international jet setter and agent of world travel. The style is influenced by time spent exploring sparse deserts and barren landscapes, made up of safari pieces accompanied by army surplus, military details and statement prints to complete the look...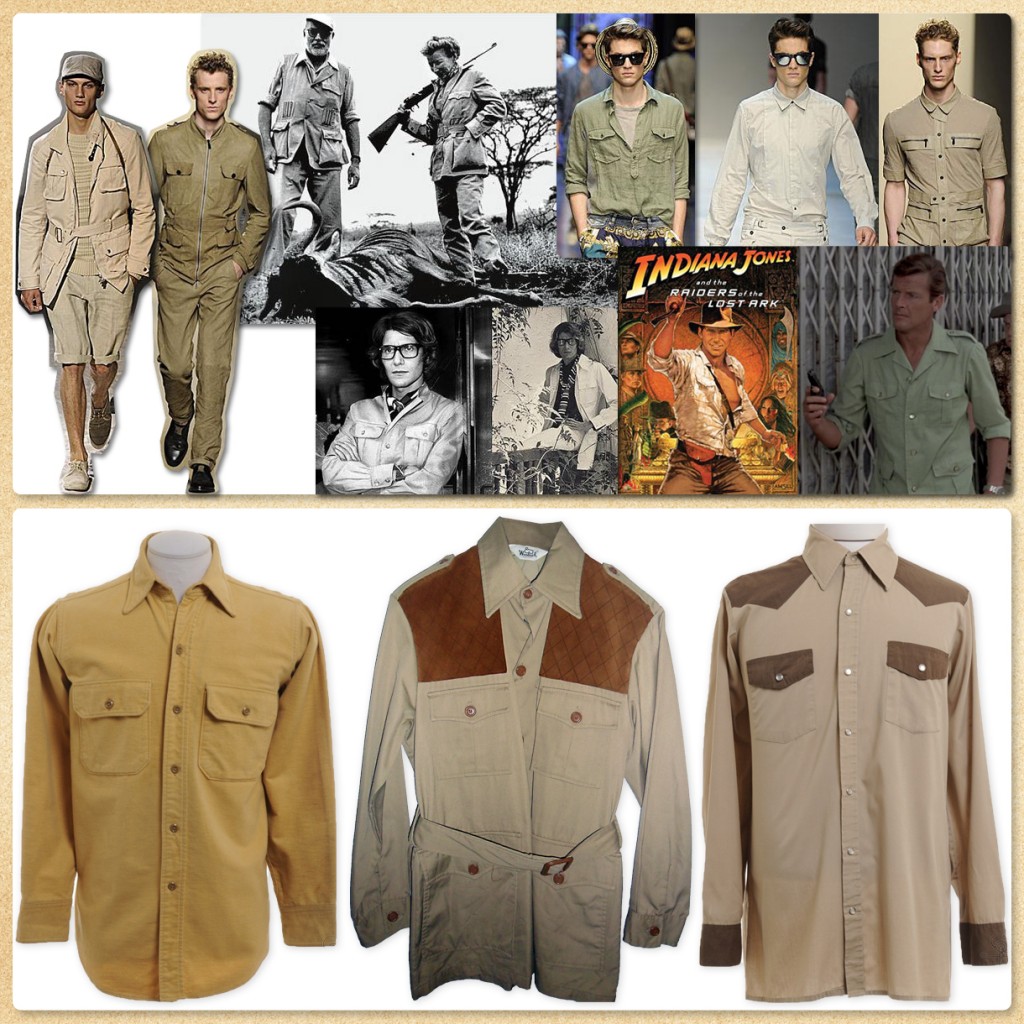 Safari jackets littered the plains of the S/S '12 runways and form the cornerstone of this style. Adopted by turn-of-the-century adventurers, they were launched into the mainstream by Ernest Hemingway's penchant for them in the '50s and further popularised by Yves Saint Laurent throughout the '70s. The traditional structure of a self-buckle belt with four bellows pockets remains strong this year, with khaki, black or navy providing your key colours. Safari-style shirts play an equally important role; military detailing like front pockets and epaulettes make it easy to pull off, while some Western and '70s shirts also lend themselves to the look.
Click to see more: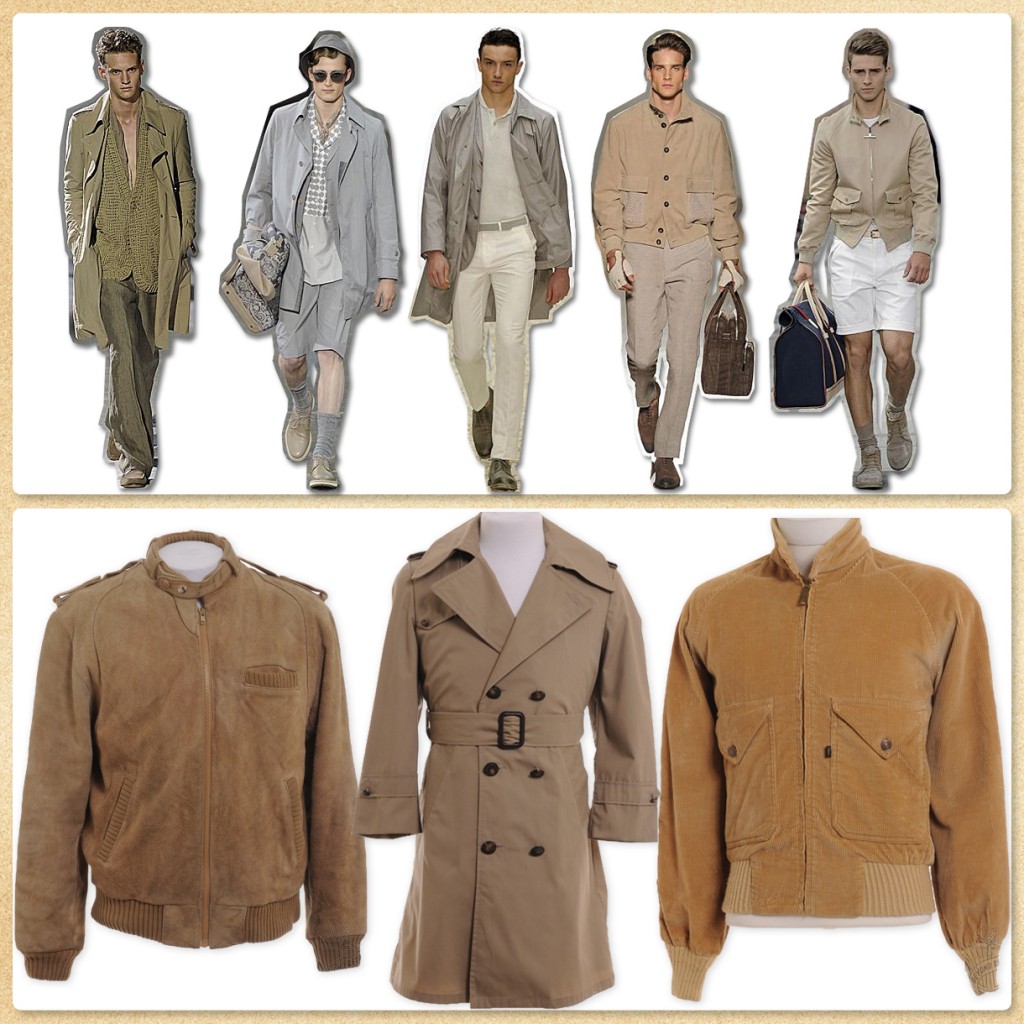 Bomber jackets are a key piece that run throughout each of our menswear themes and it's no different for Safari Explorer. Along with trench coats in safari palettes they're an ideal alternative to the safari jacket, providing a smarter, less themed option for outer wear.
Click to see more jackets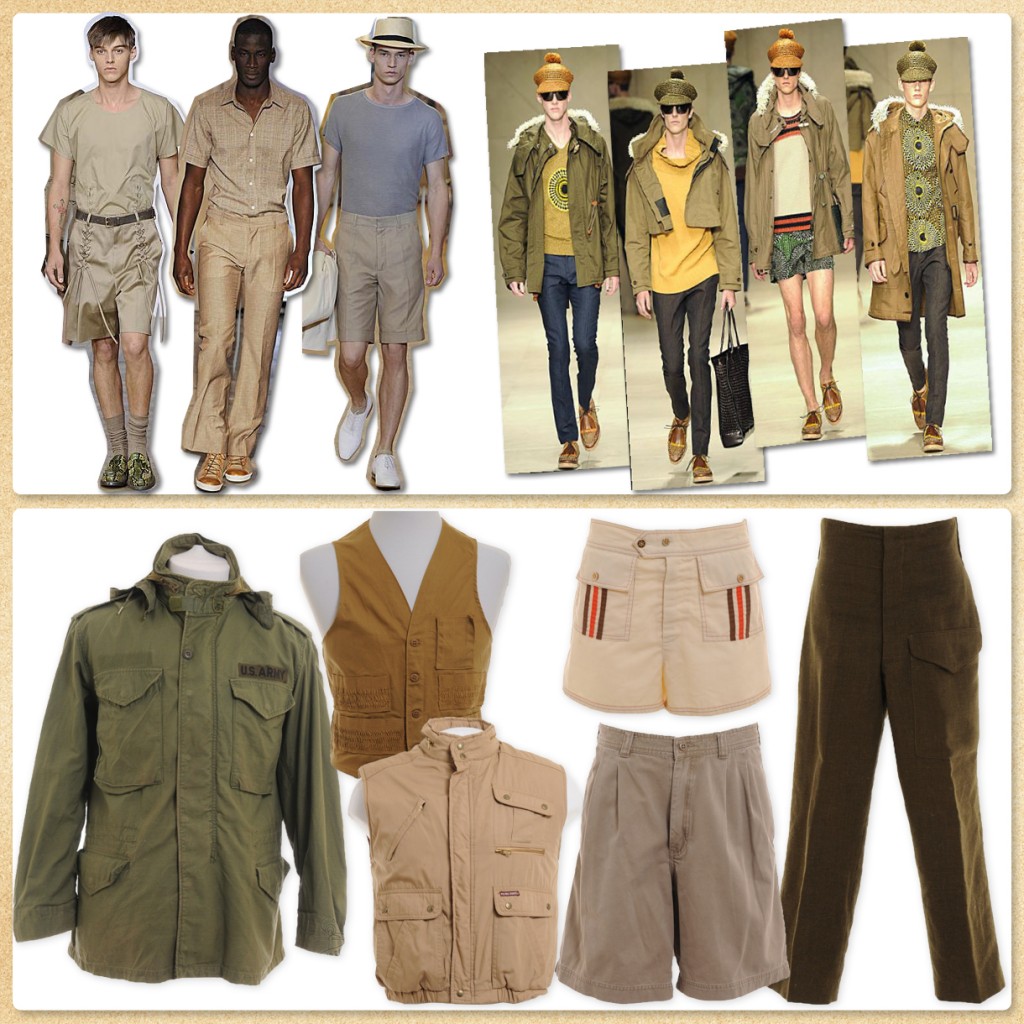 Essential extras include short or long sleeved khaki tops, cargo shorts and front-pleated trousers. A military vibe appears again in vests and waistcoats with military detailing, along with army parkas to add a rugged, survival quality to the look.
Click to see more:
Jackets | Waistcoats | Trousers | Shorts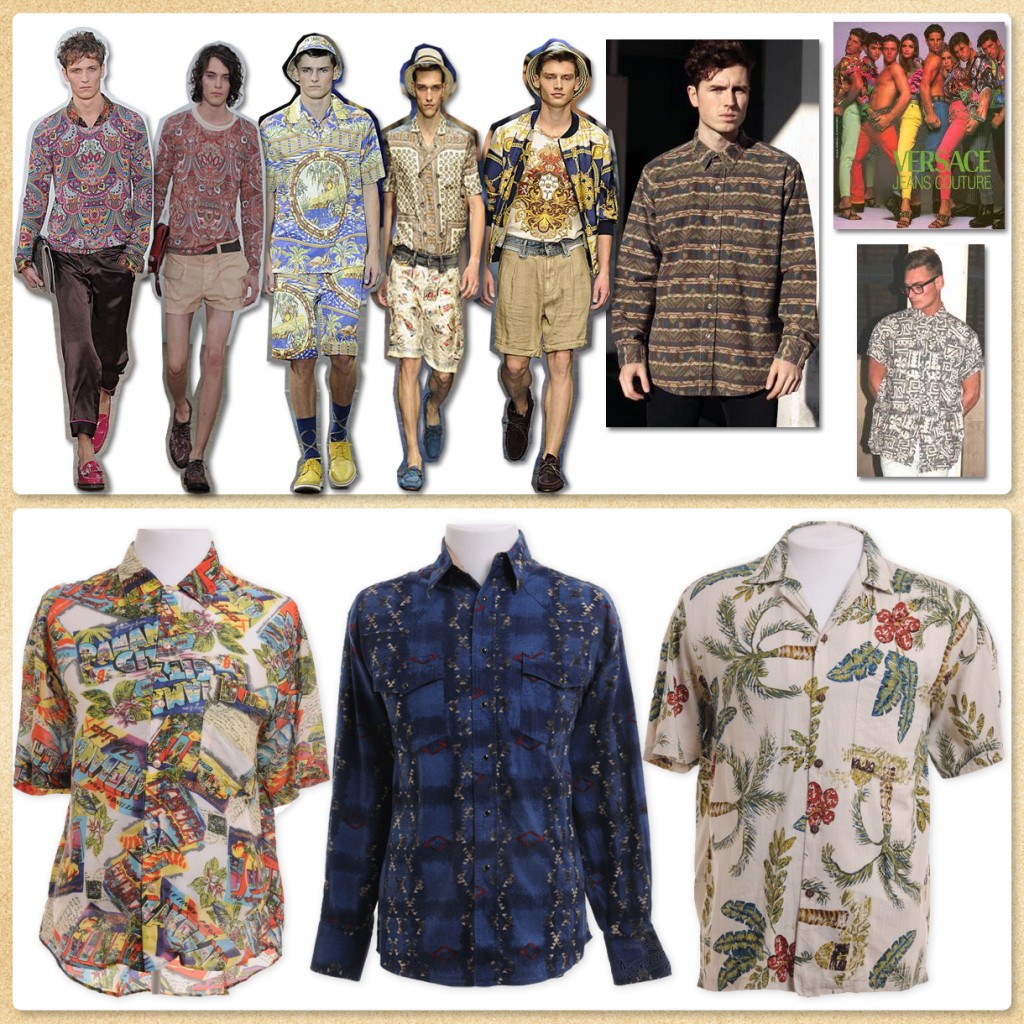 A look inspired by adventurers seems at odds with a wholly unadventurous tonal range of khaki and brown, so add some fun to the mix with loud conversational prints. Aztec patterns compliment you on your quest for ancient ruins, while baroque prints add a luxurious and rich feel to the traveller's wardrobe. Pair paisley shirts with khaki shorts for a young take on the look, or pull out your trusty Hawaiian palm tree print for an added holiday hue.
Click to see more shirts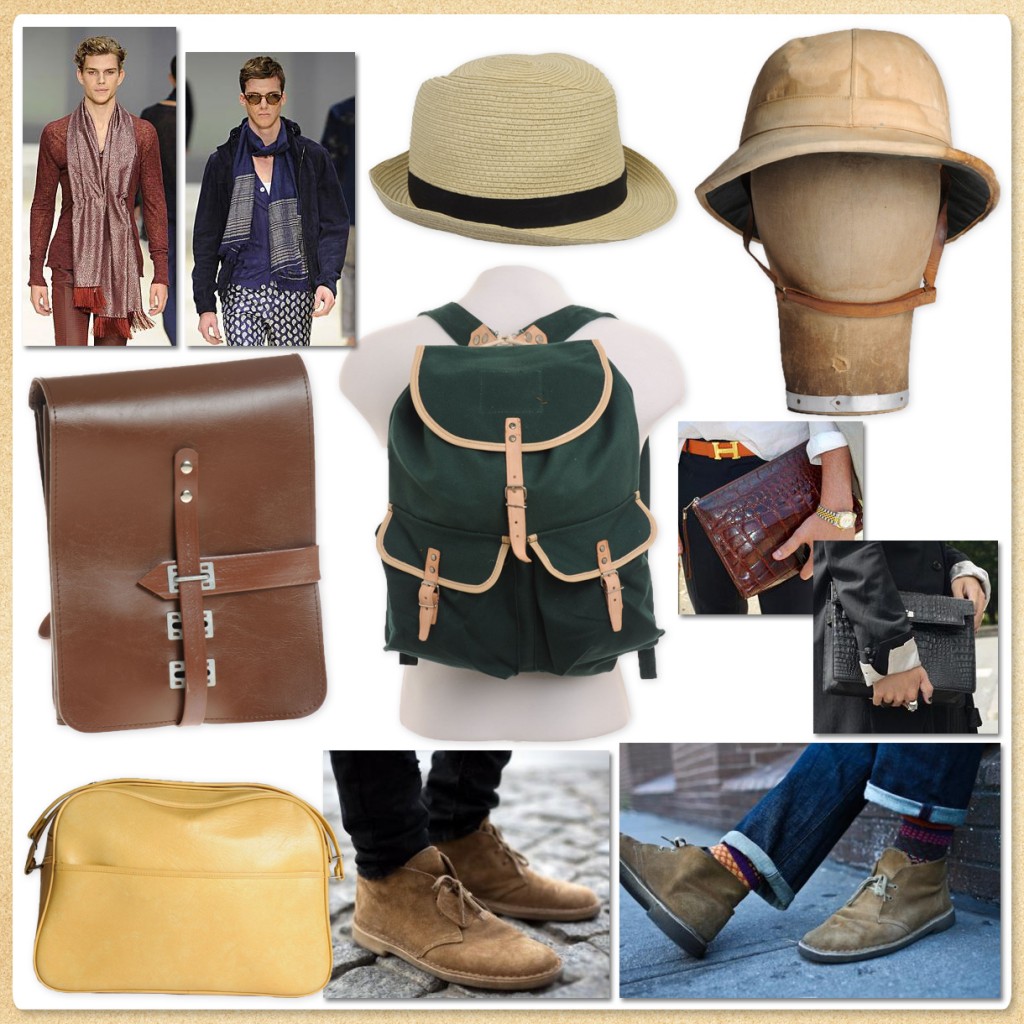 Complete the adventure with snake skin man clutches, messenger bags and backpacks, long paisley silk scarves, safari hats and straw wide-brimmed fedoras or trilbies, desert boots and suede mocaasins.
Click to see more: