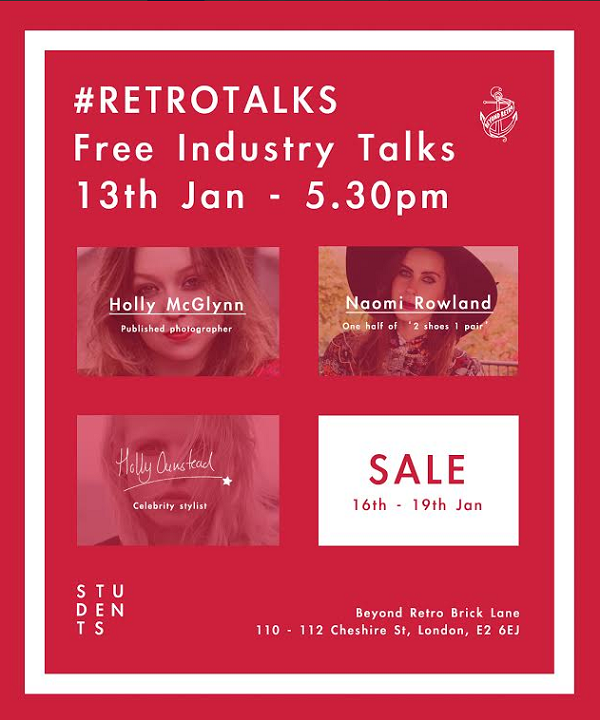 With January comes so many resolutions, promises we hope to keep and things we will do better, right? Well if one of yours is to learn more, and get that job you always dreamed of then we may have something perfect for you! As a welcome back to all our students (and non-students!) we are inviting some of the industries hot young things to give an insight of what its like to work in the fashion industry, how they got their dream jobs and what you need to do to achieve your dreams. Sounds pretty good hey!
Monday 13th January at 5:30pm
will see 'Student Week' kick off to a flying start with our first session at our Cheshire Street store with the gorgeous and talented Naomi Rowland, Holly McGlynn and Holly Ounstead;
Holly Glynn
is a well renowned and published photographer with many amazing projects and brands captured by her lens. A regular snapper for Company street style and dedicated contributor to the blogging community, Holly is also used to working with high-end brands such as Louis Vuitton, Coach and Tiffany. Blogger, Naomi Rowland is one half of super duo
'Two Shoes, One Pair'
, who have been recognised and shortlisted for both The Company and Cosmo Magazine Blogger Awards. Naomi is a dedicated fashion follower and trend setting blogger who knows her stuff, working with brands such as ASOS, Debenhams and Boohoo, as well as a full time job making sure the TOPSHOP mannequins look hot to trot as a creative designer. Last but by no means least, celebrity stylist
Holly Ounstead
, this is the lady who had a hand in the amazing transformation Little Mix undertook last year. A young rising star, Holly has an impressive portfolio already working not only with the Xfactor girls but with actress Tamsin Egerton, continuous projects with 1883, wonderland and many other very cool fashion publications. Holly has a great eye and is set for very big things since assisting Magda Bryk in her early days. This will be an informal but very engaging session, attendees will have the opportunity to listen to these three inspirational speakers, ask questions and learn what it takes to make it. Entry is FREE and everyone is welcome! So pop in and say hi, listen to our fabulous speakers and have a good old rummage around our flagship warehouse! See you there!