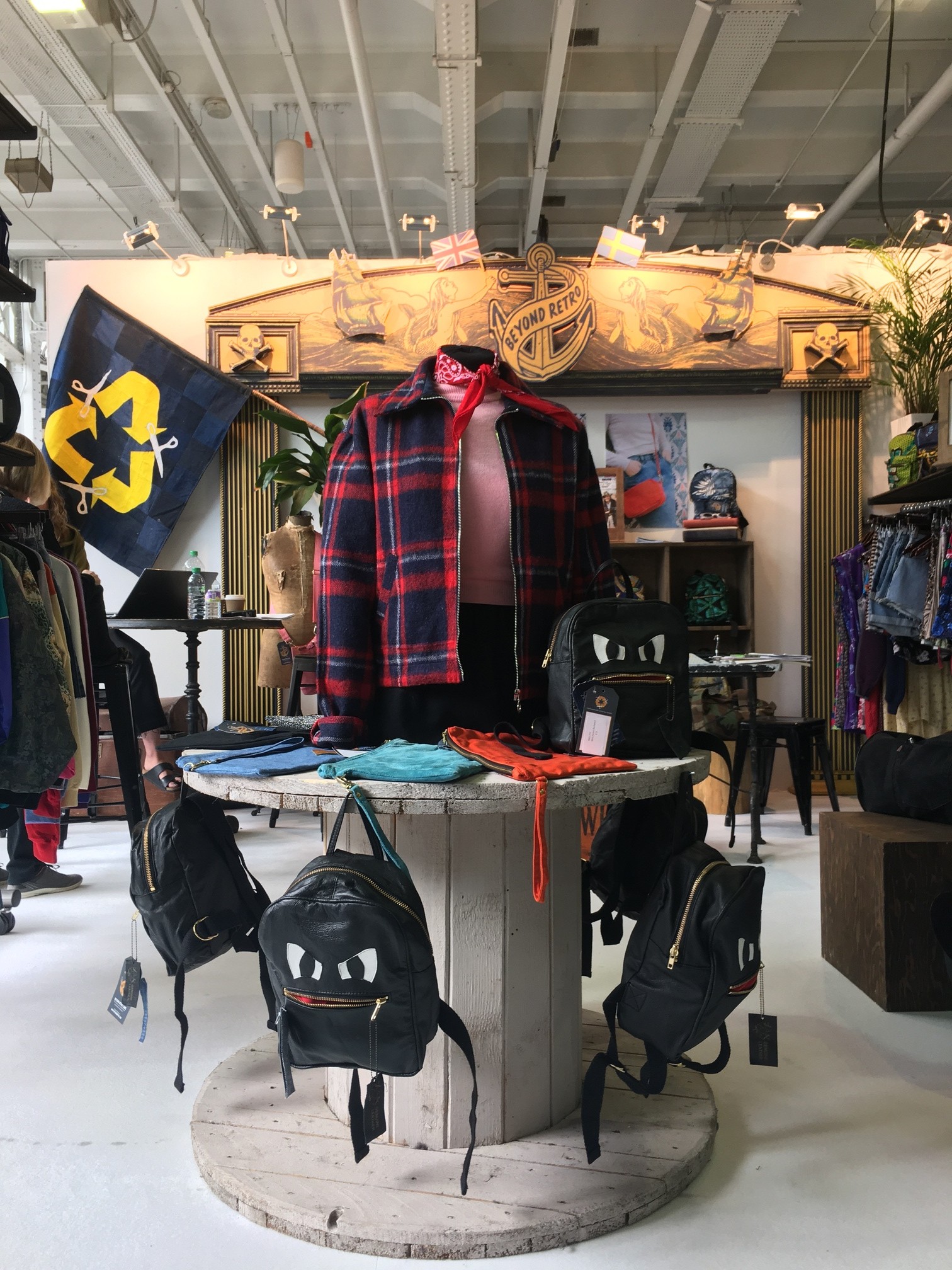 Hello everyone!
It's been another hectic week at Beyond Retro HQ as we exhibited our newest collection of upcycled clothing and accessories at PURE London. If you haven't heard of PURE - don't worry - you can still sit with us. In a nutshell, it's one of the biggest clothing and footwear showcases in the world. PURE is a place where fashion companies gather to show off their newest creations and forge new relationships within the industry.
Our Beyond Retro LABEL range went down a storm, and we're so happy with the feedback that we received on our AW collection. Out of 383 exhibitors our stand was one of three to be nominated for 'Best Menswear Stand', check us out!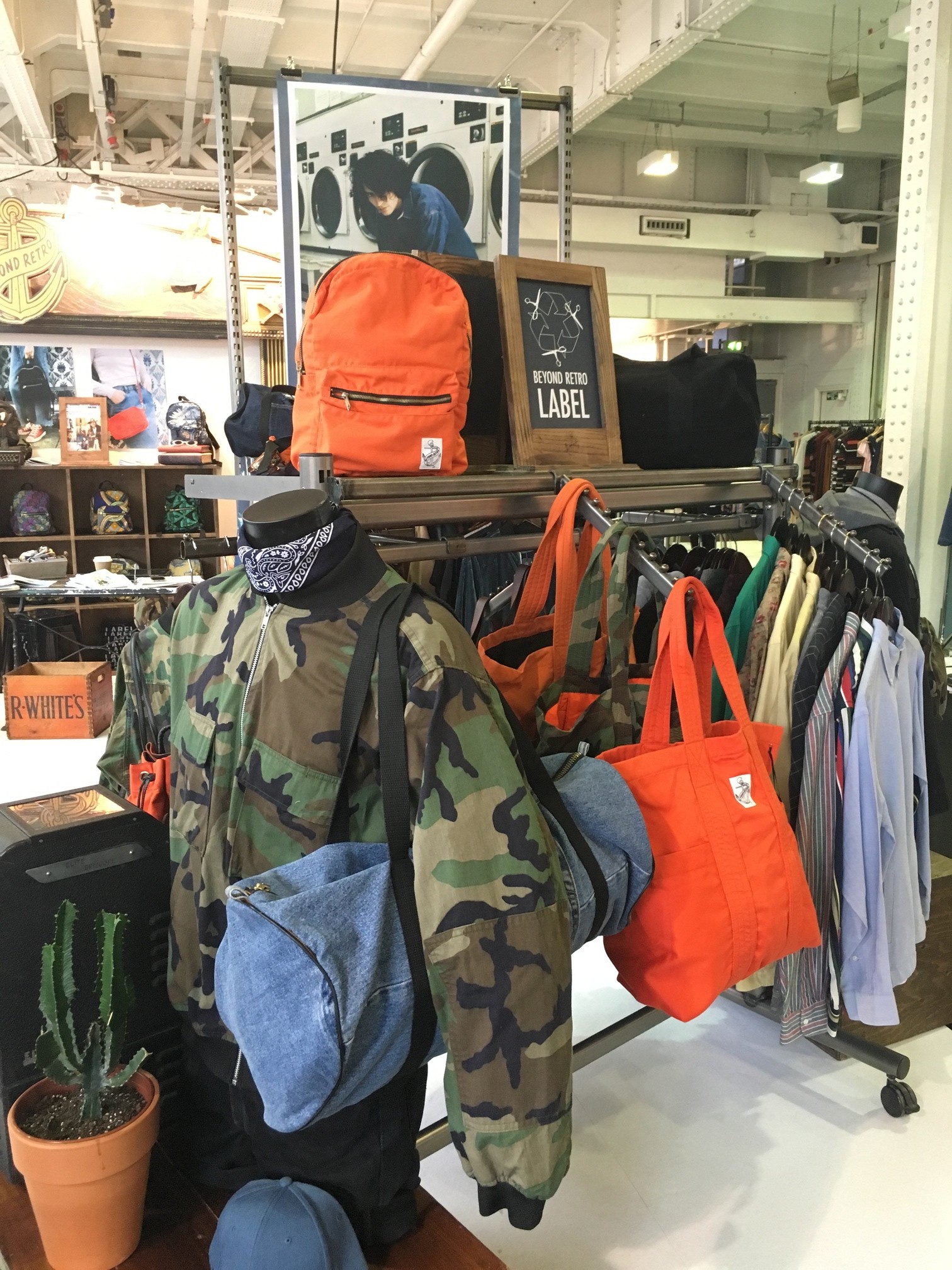 So why were we there? At the start of 2016 we decided to embark on wholesaling our product so that it can be available to buy in more places. We see this development as an exciting way to reuse more of the world's second hand product and grow our pre-loved network.
Our wholesale service allows buyers to purchase 50 to 50,000 pieces from different eras, styles and trends, and also includes our LABEL collection of upcycled designs. Our fantastic rang of LABEL bags are currently available in TOPSHOP Oxford Street. We've loved collaborating with TOPSHOP and hope to continue working together. Stay tuned for more exciting announcements!
And who is steering our wholesale ship? Well, this is the job of our Label Wholesale Coordinator Nicholas Rogers. After graduating from London College of Fashion with a BA in Womenswear Design, Nikki joined team Beyond Retro as a Supervisor in our Dalston Store. After a few months on the job, it was clear to everyone that she had the vision and drive to bring this idea to fruition.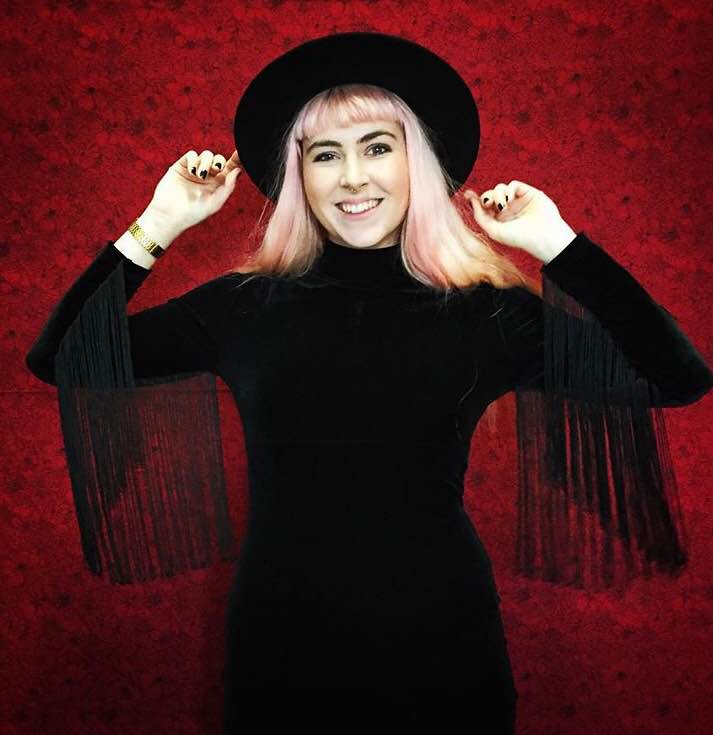 So Nikki, have you always liked vintage clothing?
When I was younger, my mum used to pass her old clothes down to me. Like a lot of people, that was my first experience of wearing vintage garments. I have an amazing pair of Versace trousers that I still wear now. I really like how vintage garments can be such high quality and last for generations. Nowadays clothes aren't meant to last and I find that sad.
Do you think that studying womenswear was beneficial to you?
I think it's really good to have background knowledge in making clothes so that you can explain to people the effort that has gone into making our LABEL garments. It's also handy because I can discuss things with our LABEL designers throughout the design process. It's also easier to gauge the quality of vintage clothing if you have a background in making things.
What's your favourite part of your role?
I like to see how everyone else utilises our vintage stock. We sell to so many people who each have their own character and vision. Everyone photographs our clothing differently merchandises them differently in store and I think that's interesting.
Have you got a favourite era or garment?
I mix up a lot of different era's in my day-to-day style. I started wearing a lot more 70's stuff when I started working in Beyond Retro Dalston, although I'm not quite sure why. My all-time favourite garment that I own is a red suede western shirt. I'm a huge fan of western shirts – they have such amazing pockets!
If you'd like to hear more about our wholesale service or need advice on selling vintage clothing, then please visit
Beyondretrowholesale.com
Words: Louis Staples