Our Boss is Away, so We're GIVING STUFF AWAY'
Big news! While the boss is on the other side of the world, we have decided to hold our biggest giveaway yet!  While the cats away and all that jazz... so fill your boots while you can! A FREE gift to our dedicated lovers of all things retro... you're most welcome.
Come and rummage in our Cheshire Street store this Saturday 1st March (yes you could say we are as mad as a March Hare) to bag yourself a one off FREE item! With over 1,000 pieces of our own label and vintage gems to give away, you can choose from skirts, dresses, sweatshirts, military jackets and woven sandals... the list is endless!
Just remember... these treasures ain't hangin' around for long, so get here quick to get the pick of the bunch. As a very wise man once said- you snooze you loose!
Ready, set, rummage! No pennies required, No purchase necessary, it's FREE, yep totally and utterly FREE. Just pick your favourite item, take it to the till to be bagged and give your email address. Shopping has never felt so fun!
They may say that there is no such thing as a free lunch, but least you can enjoy it knowing you didn't have to pay for your new threads!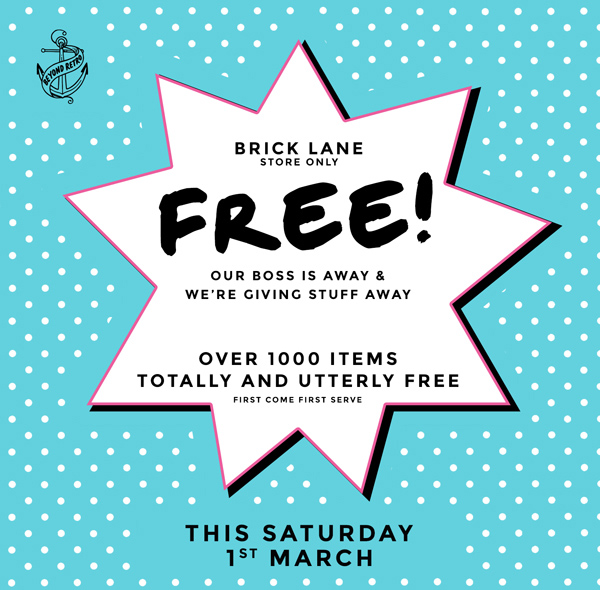 SATURDAY 1ST MARCH: 10am@ BEYOND RETRO 110-112 CHESHIRE STREET E2 6EJ