Now that our fantastic new website is up and running we just want to say a huge THANK YOU to the people who dreamt it up and made it possible!
The brilliant illustrations were actually done by Beyond Retro's very own Head Pricer Rob Flowers! When he's not busy pricing, Rob is an award winning illustrator and film maker. He has worked with DJs the Broken Hearts on various projects including making the video and sleeve for their first single 'Black Cat':
and for their new one 'Count Those Freaks!' :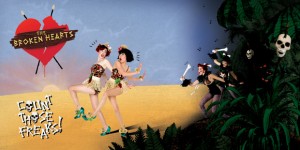 His work has been exhibited all over London and the US and he also works for various publications including the children's magazine Anorak.
Some of his favourite things are: early 20th century cinema and animation, moustaches, the circus and sideshows, Halloween and various assorted miscellany that help him to make things from stuff and stuff from things. This all becomes clearer when you look at his work: www.robflowers.co.uk
Currently he is working on a collaboration with Beyond The Valley for the London Design Festival: http://www.londondesignfestival.com/
But of course there also had to be someone behind the scenes turning Rob's illustrations into a working website, and that was the wonderful people at SilenceIT (www.silenceit.ca) who did an absolutely amazing job and were incredibly patient when dealing with all of our ridiculous demands! They even created idiot-proof training videos for us, with step by step instructions on how to do almost anything web-related. So we have no excuses now! SilenceIT, we salute you!
THANK YOU!! We love our new website! x