No Stress! Free relaxation massage in the Dalston Cafe.
We know that Christmas time is a time of love and joy, but it can also be a tad bit stressful, rushing round finding gifts, so many parties and of course the thought of a whole day with the family avoiding arguments, so.. how about this for a very special treat....?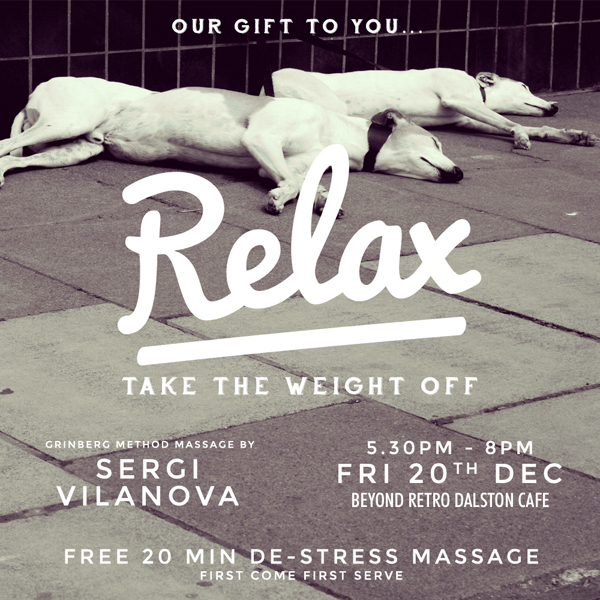 This Friday 20th December
in the
Dalston Cafe from 5.30pm
we are inviting you in to
unwind
and
relax
from it all with a helping and very healing hands of Sergi Vilanova a practitioner of the
International association of Grinberg methods
. The Grinberg method is a recgonised relaxation therapy that is designed through massage and awareness of the body increasing energy levels, reducing pain and chronic ailments as well as relieving stress to create total relaxation... Sounds good to us! Sergi is offering customers a
FREE 20 minute session
this week just in time for the festivities ahead, after all with all the thought of others you have been doing there has to be a bit of 'me time' to be had, has'nt there?! So come along to the Dalston Cafe this Friday, indulge in a relaxing massage and sip on some yummy coffee, or hey its Christmas, a glass or two of wine!
This is a first come first served basis
open until 8pm
, so make sure you get in quick and feel the weight of 2013 be lifted off of those aching shoulders,  
www.facebook.com/sergivilanovamolas