Friday: Suno
Suno has already made a big splash on the fashion circuit as the brand's other-worldly prints and simple tailoring has been celebrated world over. And their AW12 collection does not disappoint. The design duo plays with a myriad of colours, exploring the malleable quality in altering an ensembles style almost instantly. The preppy blazers in candy stripes are reminiscent of early 20th century cricket jackets, but when the same striped print saunters down the runway in a contrasting monochrome palette, the good girl facade is ruptured with a jailhouse punk in skintight trousers.  Conversation prints clash with geometric shapes whilst lucid fabrics juxtapose with cocoon shaped structures.  We're drooling over silk pyjama bottoms and sheer boyish blouses for luxury comfort gear. Oh, and the shoes. THE SHOES.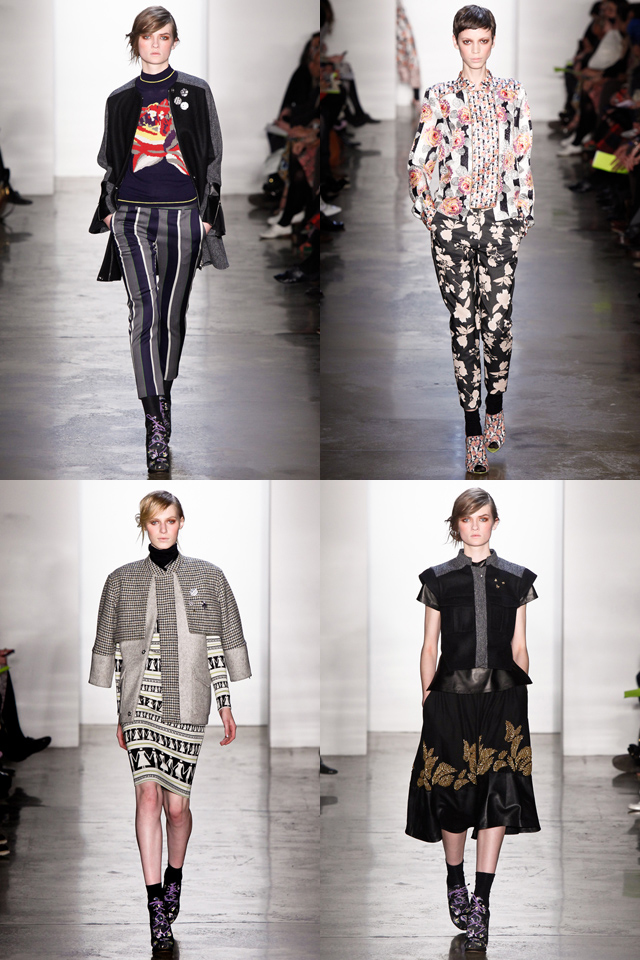 Saturday: Monique Lhullier
Saturday was a much more conservative affair with our lusts switching from androgyny of the previous days to the ultimate in feminine chic of Monique Lhullier's show.  With pieces that are desirable as Monique Lhullier's name (it really does just roll off the tongue), this Phillippino's designs are more often found on the red carpet and down the aisle rather than daywear.  But this season saw covetable dresses, with vintage cocktail party influences and silver screen siren shapes as well as the usual glamorous show stoppers.  Classic designs of Forties and Fifties fashion are clear with full skirts, corseted bustiers, high necks and pencil shapes all in colours that scream with sultriness and soft textures are sexed up with leather panels.  Prissy this aint, nor is it girly.  This collection is allll woman, so wall flowers need not apply.

Sunday: DKNY
Now for the quintessential show of New Yoik City; DKNY.  The younger line of designer Donna Karen's legacy is similar to the higher end collection in its simplicity, yet differs with a fresh use of colour and print.  Ms Karen channelled her inner rock chick and went hell bent on leather for this season, using the fabric in some form for every look.  Her long leather coats are less matrix, more classic, and were teamed with pleated miniskirts that had '60s undertones.  Military coats saw leather sleeves and collars, whilst floral dresses were bound up with leather obi belts.  All in all, a pretty awesome look for the winter.