Pop Blocking
Fashion has always been, is, and always will be fun, but how better to express yourself than wearing a bold, statement colour dress, skirt, or coat? Seen all over the New York and London shows, colour blocking is a trend which is sure to burst into spring/summer next year. Tone your look down by wearing white or black, but why not be brave and wear two bright colours together? Team your coral dress with a jade skinny belt and just be you! Take inspiration from some of the best shows of the season; pop colour blocking was spotted across an amazing array of shows from designers like Peter Som, Marc By Marc Jacobs, Araks, Creatures of the Wind, Burberry Prorsum, Matthew Williamson and many more.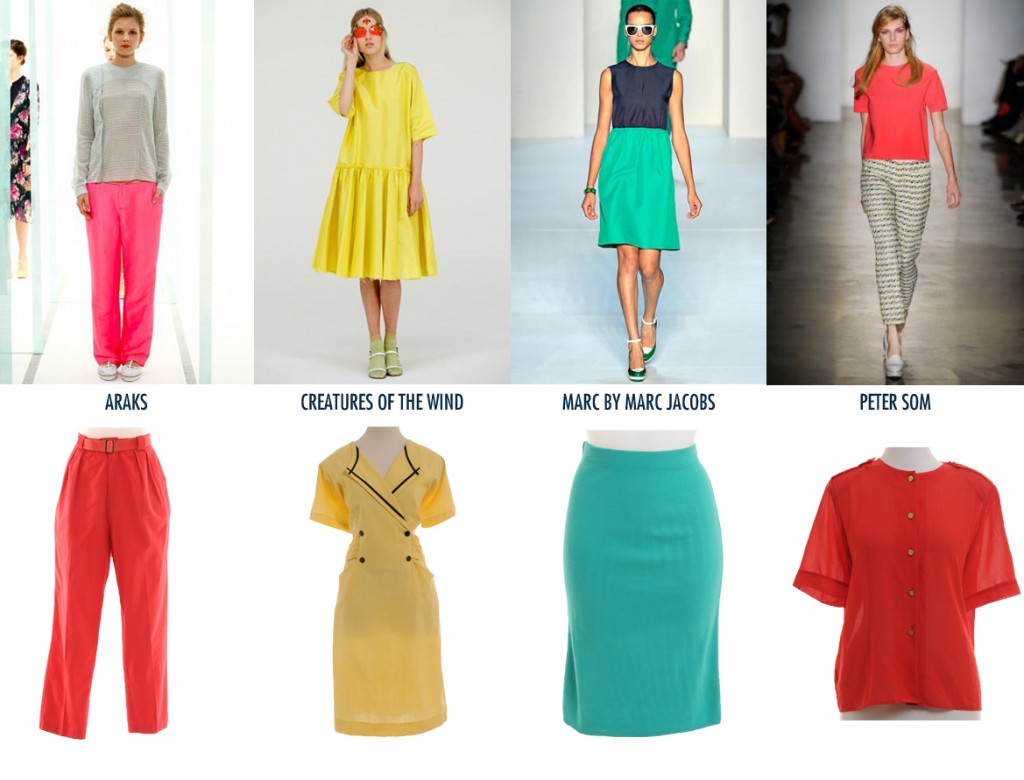 Beyond Retro Product:
Red Trousers | Yellow Dress | Tube Skirt | Red Blouse
Western
Welcome to the wonderful world of western-inspired fashion. Rip the edges of your shorts, go back to original western roots and make it new, fashionable, stylish and totally wearable! We love it, and so do many designers who showed their love of cow prints, washed denim, dunagrees, denim shorts, shirts, and jackets. Many of the collections included fringing, ruffles, tribal and authentic appliqué detailing, which were used by top designers like Jeremy Scott and PPQ at Fashion Week for spring/summer 2012. The western look is sure to be a popular trend, and with pieces you can get which are on-trend now, its effortlessely fashion-forward and so easy to wear!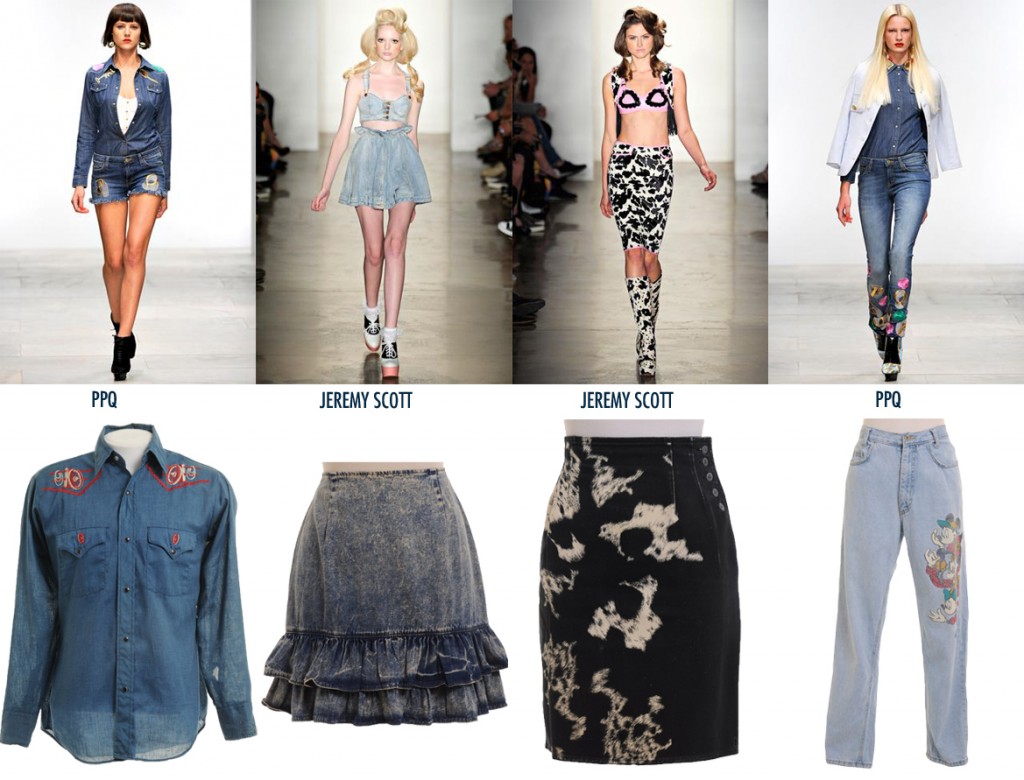 Beyond Retro Products:
Denim Shirt | Denim Skirt | Cow Print Skirt | Jeans
Feeling Floral
If fashion week is making one print larger it's florals. Floral is big, and as far as those in the know are concerned, the bigger the better. Many shows were like stepping into an English garden, with roses, poppies, peonies and violas scattered across dresses, playsuits, trousers, blouses and just about everywhere else! What better time  for florals to bloom and burst into season than when things are bright and beautiful? Florals were bright and sometimes clashing, while Peter Som featured the most beautiful photographic prints in vivid shades across trousers, tops, and dresses. Ashish wowed with their exquisite sequined collection, showing sunflowers, peonies, roses, poppies, daisies, and dandelions, keeping flora and fauna firmly at the front of their show. Other designers who had the floral feeling going down their runways were Ralph Lauren, Diane Von Furstenburg and Richard Chai Love.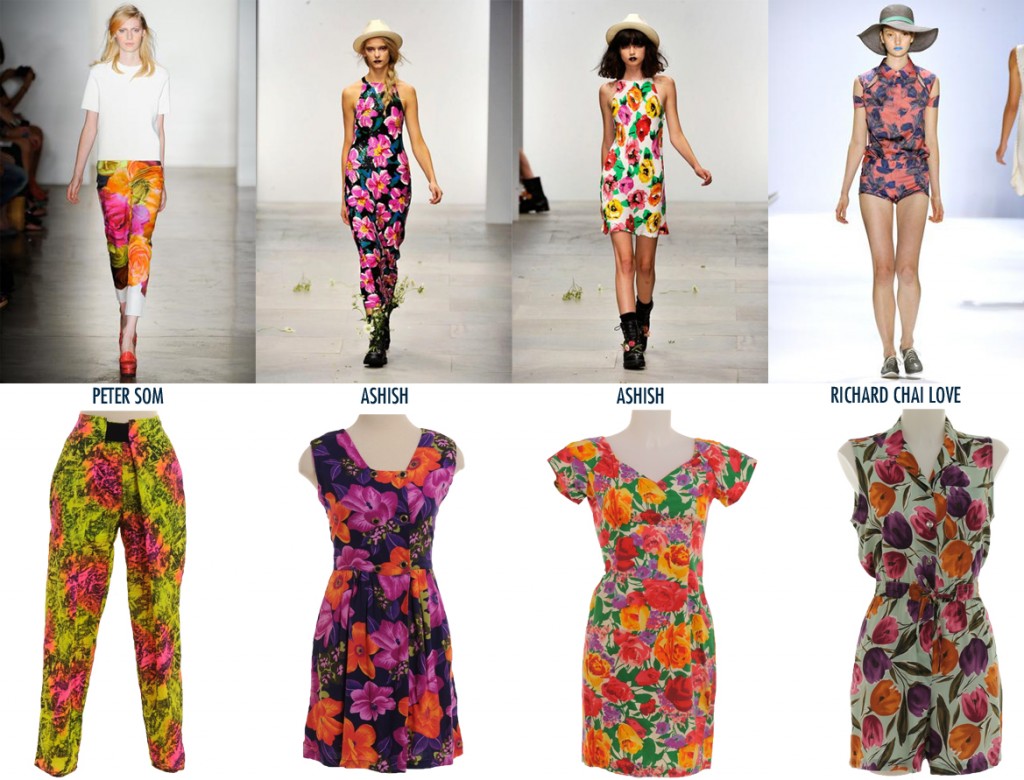 Beyond Retro Products:
Floral Trousers | Sleeveless Jumpsuit | Short Sleeved Dress | Playsuit
Stripes
Seeing stripes? Stripes were a trend completely dominating some of the major fashion shows and we love the themes! Humbug (get thinking the winter mints) in black and white stripes are striking and create the ultimate tailored finish to any shirt or chic pair of trousers. Stripes were both narrow and wide, seen horizontal and vertical, so take your pick. Or, if you fancy a trip to Brighton (don't forget to pop into
Beyond Retro
), go and bask in the beauty of the 'Brighton Toffee Rock' theme, which features '60s and '70s psychedelic colour schemes or candy shades for a full-on colour bonanza. Seen across the hottest catwalk shows for spring/summer, Charlotte Ronson, Marc by Marc Jacobs, Thomas Browne, Karen Walker, Mulberry, and Burberry Prorsum are clearly obsessing with stripes this season, so get ready to see those bands of colour soon!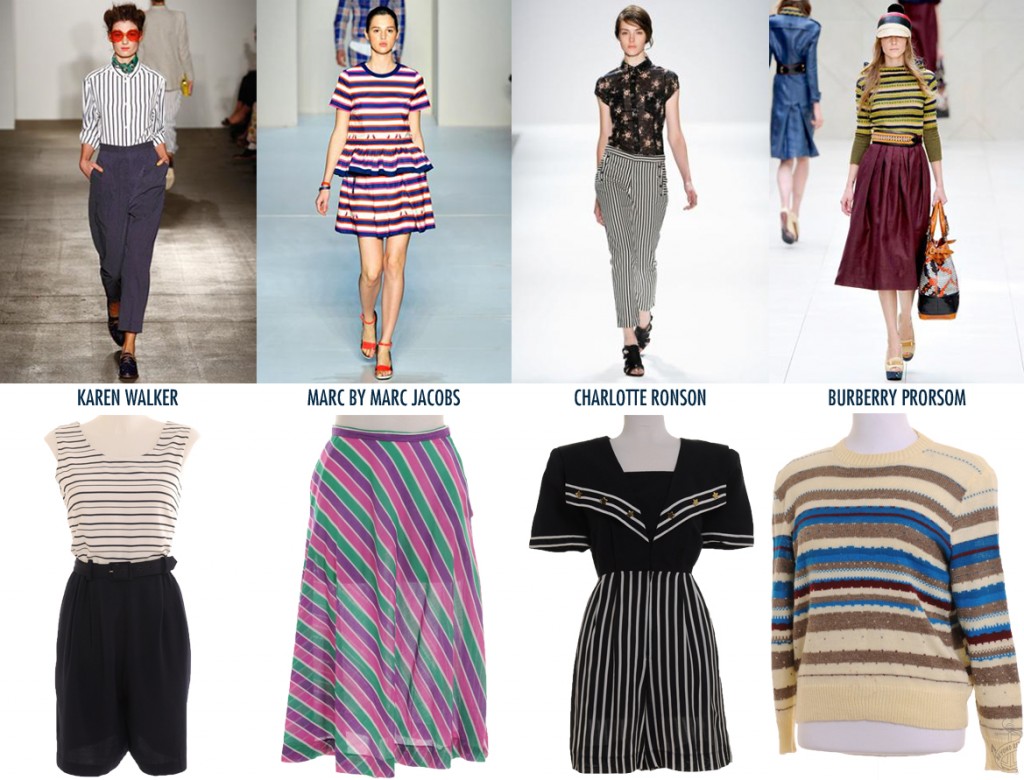 Beyond Retro Products:
Playsuit | Skirt | Short Sleeved Playsuit | Jumper
Lace & Crochet
Be inspired by Grandma's sewing cupboards - her lace and crochet hooks are all part of a major spring/summer 2012 trend. Beautifully elegant and perfect for evening wear, be the belle of the ball and make an entrance in truly spectacular fashion. Our vintage lace and crochet are perfect for this look, so you too can be the ultimate lace and crochet queen! Black, white, or peach, anything goes. One of Diane Von Furstenberg's models went down the runway in a pale aqua lace jumpsuit creating a real spring/summer vibe, while other designers who showed lace and crochet included Derek Lam, Rachel Roy, Jenny Packham and Preen, whose collection included the more classical crisp white and black.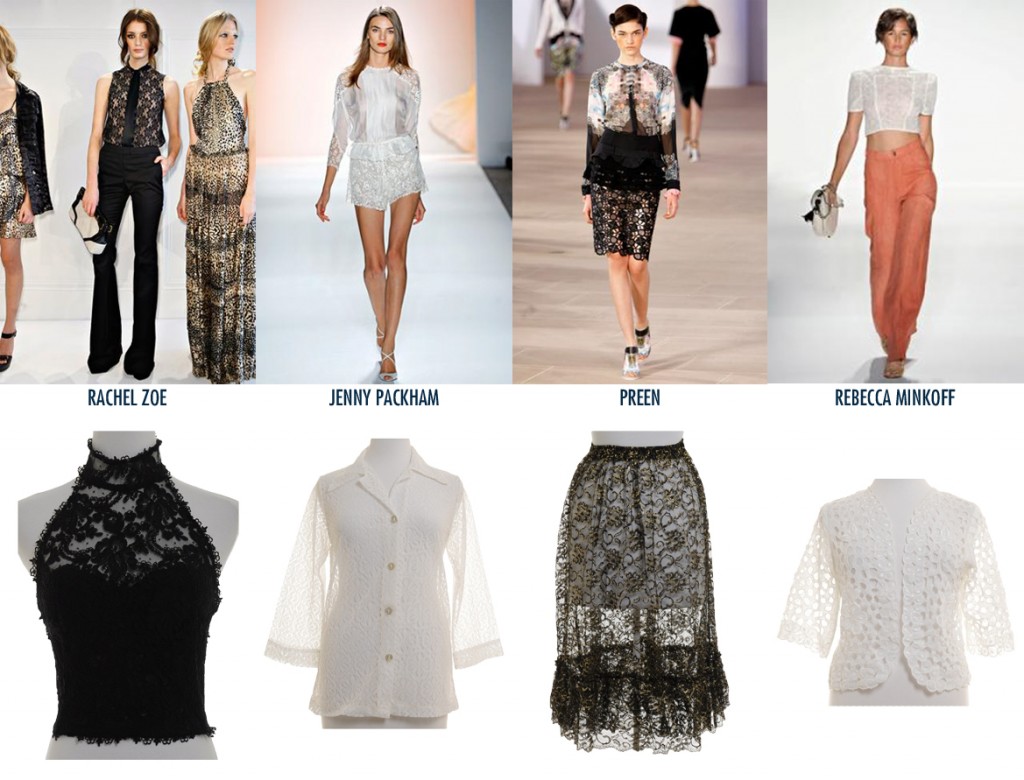 Beyond Retro Products:
Black Lace Bustier | White Blouse | Lace Skirt | Lace Evening Jacket
Leather
Leather: the fashion world can't get enough of it, and many of the major season's shows have shown leather in all of its wearable brilliance. Shorts, jackets, trousers and skirts - in fact nearly all of the essential pieces of your wardrobe - can include it, and you won't be disappointed to hear of the choice of designs that have been shown on some of the best couture shows at fashion week for SS 12. House of Holland had a beautiful collection which too showed snakeskin prints in spectacular style. However, it was Michael Kors to show the best of leather, nearly his entire collection consisting of it and being accompanied by tribal themes throughout. Some of the most eye-catching pieces featured his red dyed snakeskin print leather dresses, as well as zebra, leopard and tiger prints.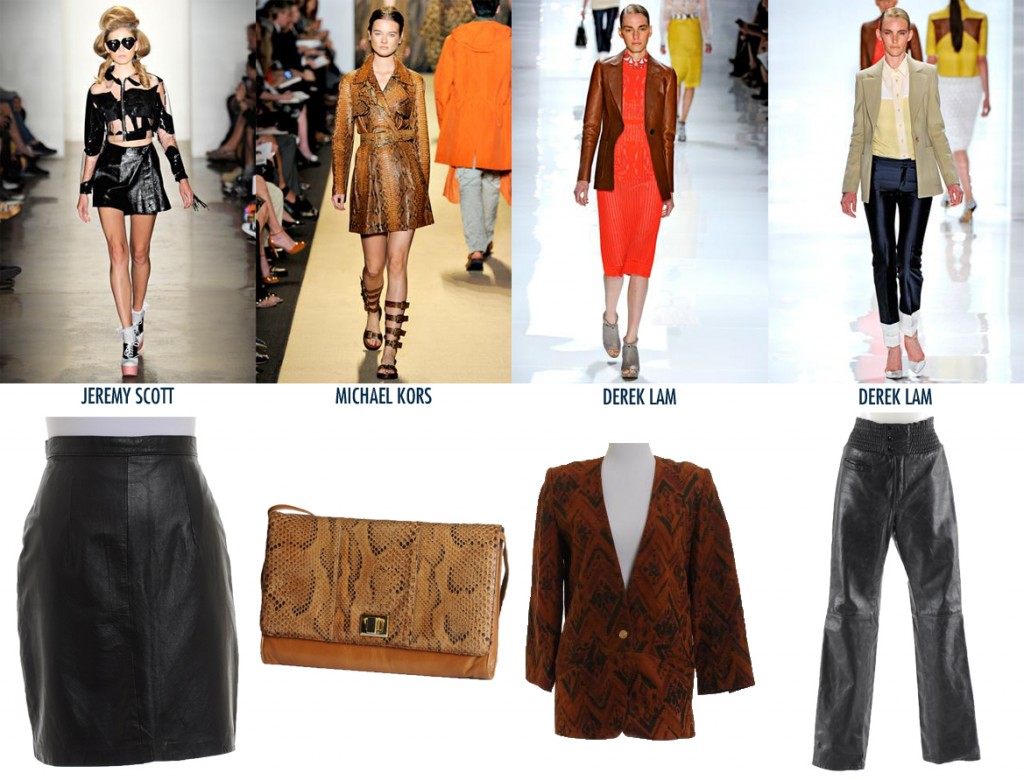 Beyond Retro Products:
Mini Skirt | Snakeskin Clutch | Leather Jacket | Black Trousers