Ahoy! We've collaborated with notable fashion historian and vintage aficionado Amber Jane Butchart to bring you The Nautical Chic Collection! To celebrate the launch we have one hella cool prize! Remember... you gotta be in it to win it.   
Get the goss on our 'Nautical Chic' collaboration with Amber Jane Butchart> Here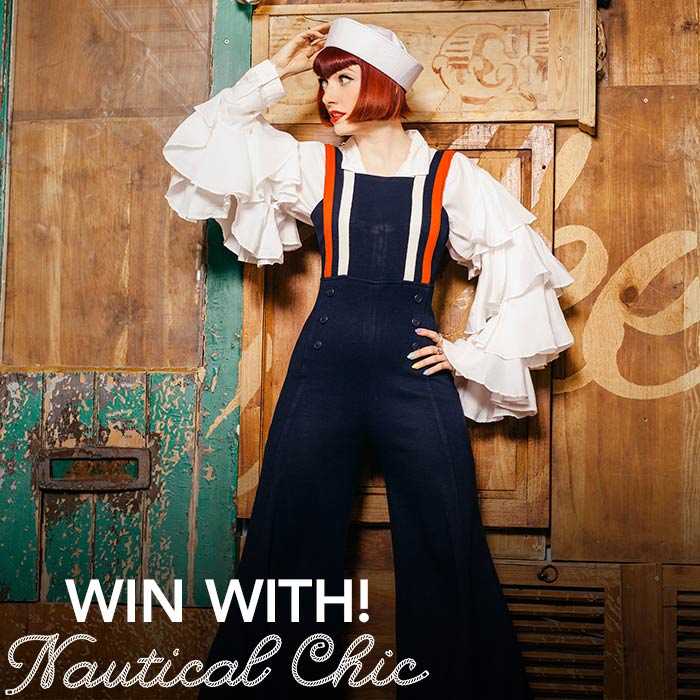 Fancy winning this?
- Signed copy of Nautical Chic by Amber Jane Butchart, Thames and Hudson
- Pair of ferry tickets with Red Funnel to the Isle of Wight
- Weekend accommodation with Vintage Vacations worth up to £285
- Bottle of Sailor Jerry rum
- Nautical-themed Beyond Retro goody bag
For your chance to win just answer the following question:
What's the name of the popular horizontal stripe inspired by sailors?
A) Britain stripe
 B) French stripe
C) Breton stripe
Please email your answer to competition@beyondretro.com with 'Nautical Chic' in the subject header and your answer in the body of the email.
The 'Nautical Chic competition is open from Monday 6th April. All entries must be received by Tuesday 14th April at 11:59pm.
 For  full terms and conditions please click here > http://goo.gl/YKrupc