Naomi, Kate, Claudia, Cindy, Giselle, Cara and….YOU?? Could you be the next international modeling superstar? We certainly think so and we have the picture perfect competition for all aspiring catwalk queens.
We have joined forces with one of the biggest modeling agencies in the UK, M+P and crimpers to the stars Headmasters, scouting nationwide for new talent to find that one special girl to become the 'New Face ' of both brands and a contract with the agency (sorry boys, your turn will come).
We want you, the public to send in your selfies and snapshots to us at www.catwalkclub.co.uk a head shot and a full length is that is needed, nothing professional, we want to see the real you, be individual and show us who you are and why you should be snapped up by an amazing agency and become the new face of two incredible brands.
Committed to their close one-on-one development, career management & ethical industry approach, M+P are really excited to hold this special event for young women to get a taste of the world of fashion, and we are super excited to be part of it.
From all the entries the team will decide on 40 finalists who will be invited to a very special day in London's west-end celeb hot spot, The Drury Club on Saturday 26th July 2014. The day will focus on catwalk & photographic model training with some of the industry's most exciting talents including models, photographers and booking agents.
The winner of the competition and the 'New Face' of both brands will be announced at the end of the day, shoots for both Beyond Retro and Headmasters will be arranged and contract with M+P awarded!
Open casting calls are taking place throughout Headmasters Salons & Beyond Retro Stores nationwide, the M+P scouting team will be sneaking into all stores to cast their eagle eyes over shoppers, so be sure to pop in for a chance to be 'spotted', keep an eye on Twitter for announcements.
This is a nationwide search so we are also inviting you to apply via social media casting campaign under the hashtag #MandPose – So  ladies practice those pouts and spread the word, get your friends to share your photos and support your campaign!
Sound good? Well what are you waiting for? enter here NOW.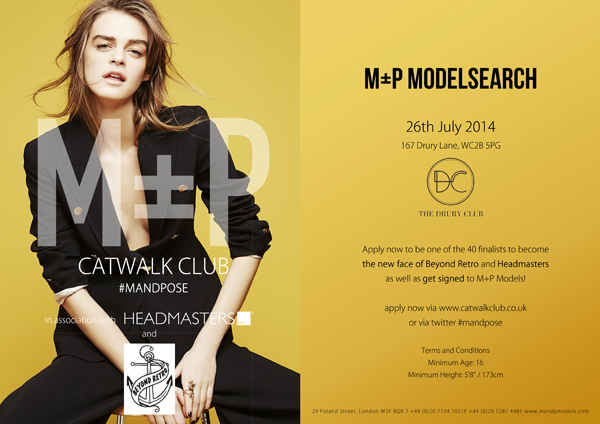 M+P has just celebrated 24 successful years in the modelling industry. Founded by Mignon Matthews in 1990, who brings with her over 30 years of experience in the business. Currently representing this year's hottest British newcomer Brogan Loftus alongside the season's breakthrough talents Iana Godnia, Dasha Denisenko, Taya Ermoshkina and a board of incredibly talented British new faces!
T&C
-        Competition open to girls over 16 years old
-        Travel & accommodation will not be provided, this will be the responsibility of finalists
-        Judges decision is final
-        No cash alternative will be given
-        Shoot dates will be arranged at the convenience of all Parties.