Following on from our
New York and London Fashion Week trend report
, today we bring you the most spectacular ready to wear collections that Milan and Paris showed to the world for Spring/Summer 2012. Tuesday brought us Chanel, the collection every fashion-lover eagerly awaits, and expectations were exceeded more than ever for SS '12. Karl Lagerfeld launched his showcase in a wonderland including a bleached White Sea bed with giant shells, sea horses and sea weed climbing up towards the huge, glimmering shower curtain from where models almost appeared to glide down the runway, in a truly glamorous French style.
Soft & Delicate
We've spotted a trend we like to call
Soft and Delicate
, and just as it sounds, its precious and beautiful. This trend sports beading, crocheting, little sweet polka pots or floral prints, soft fabrics, silky materials and exquisite embellishments. Chanel, Prada, Chloe, Christian Dior, Dolce & Gabbana and Nina Ricci were just some of the many designers head-over-heels with the finer detailing. Just take a look at the pieces we've found for you online at beyondretro.com - how perfect? Don't get left behind with the trends, as fashion moves fas. Get your favourite, most essential wardrobe must-have now, before every other fashionsta does!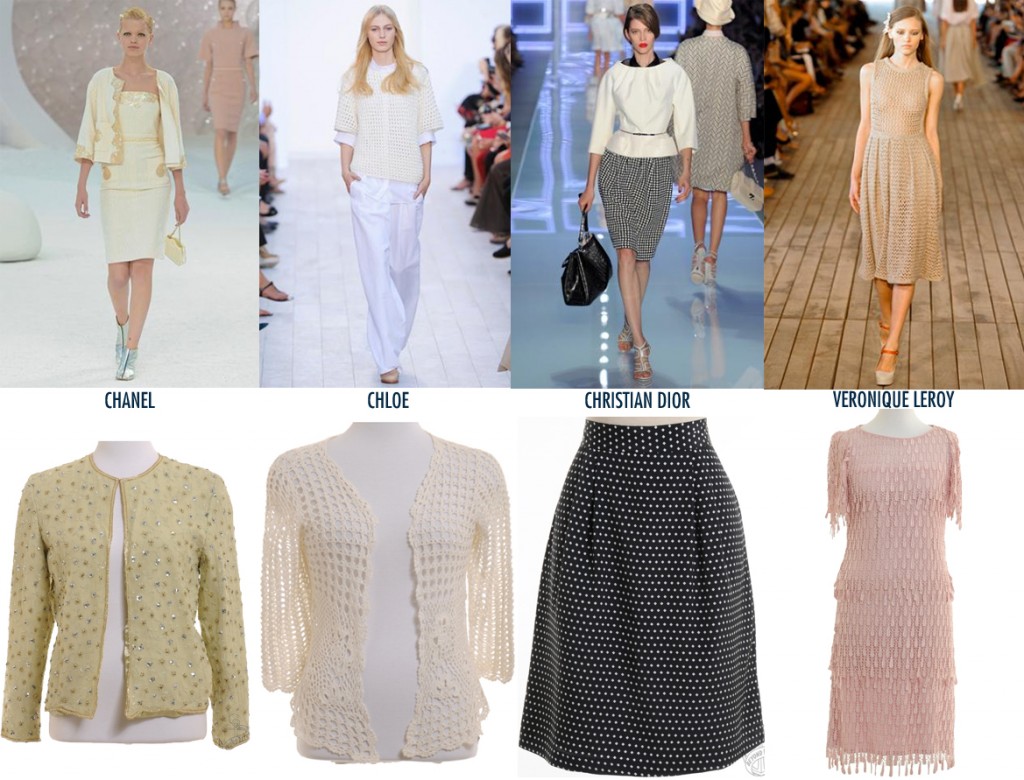 Beyond Retro Product:
Floral Print Jacket | Crochet Cardigan | Knee Length Skirt | Lace Dress
Leather
Leather, leather, leather!  Spotted in New York and London, this classic, wearable fabric is definitely going to be a must-have for every single one of us come Spring/Summer 2012. Again, it was top designers like Celine, Loewe, Nina Ricci, and Hermes who showed leather as an essential aspect of their collection. Costume National took a fresh approach and showed leather in aqua and white, while other shows contained more classical shades of black, navy, beige, and chocolate brown. Garments made were skirts, waistcoats, jackets and trousers; Celine even created an amazing panelled multi-colour vest in forest-like shades of green and brown.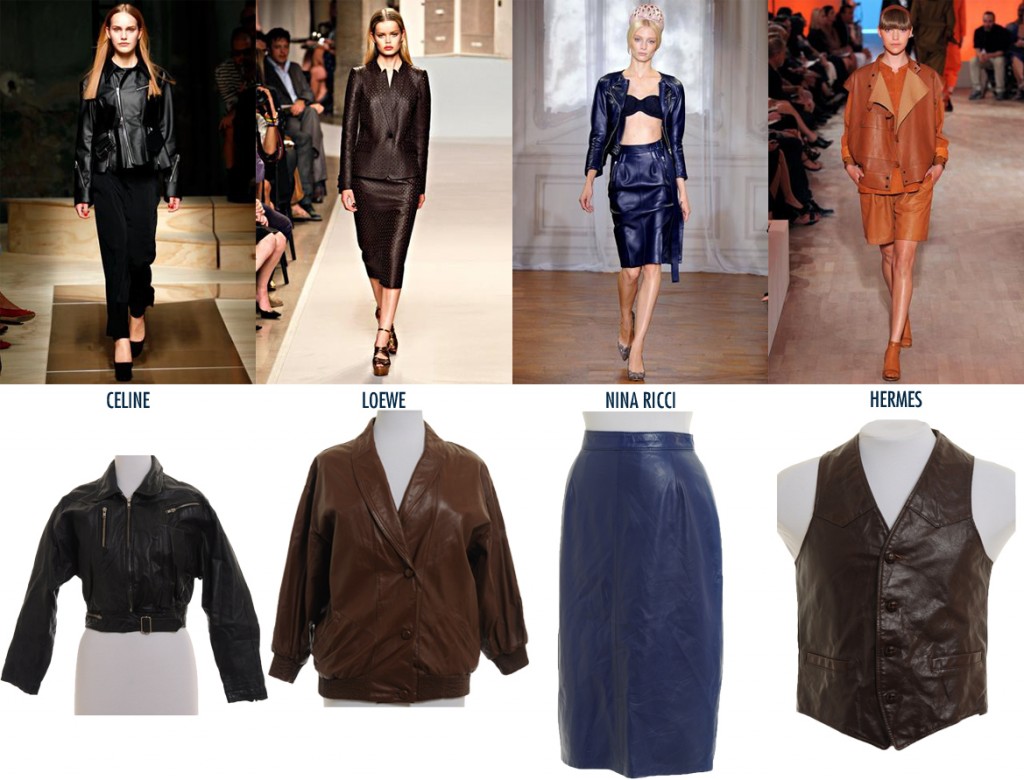 Beyond Retro Product:
Biker Jacket | Leather Jacket | Knee Length Skirt | 1980s Waistcoat
Sheer
Sheer is everywhere! Everyone loves that sheer touch, seen in the form of  billowing see-through skirts, cut out sheer blouses, cardigans and a seemingly endless list of other garments at Christian Dior, Sacai, and Fendi's Spring/Summer 2012 shows to name just a few. Sheer has been beautifully showcased in the most spectacular catwalk shows for this season. In black, white, nude, pop colours and pastels, the colour palate for this trend is hugely varied, and when something so beautiful is this versatile, it can't help but make you want it! You can create an almost unlimited number of looks with just one sheer piece. How about teaming your sheer maxi skirt with an opaque blouse? Or mixing sheer with lace; there are no rules with this trend, so just experiment, be brave and have fun!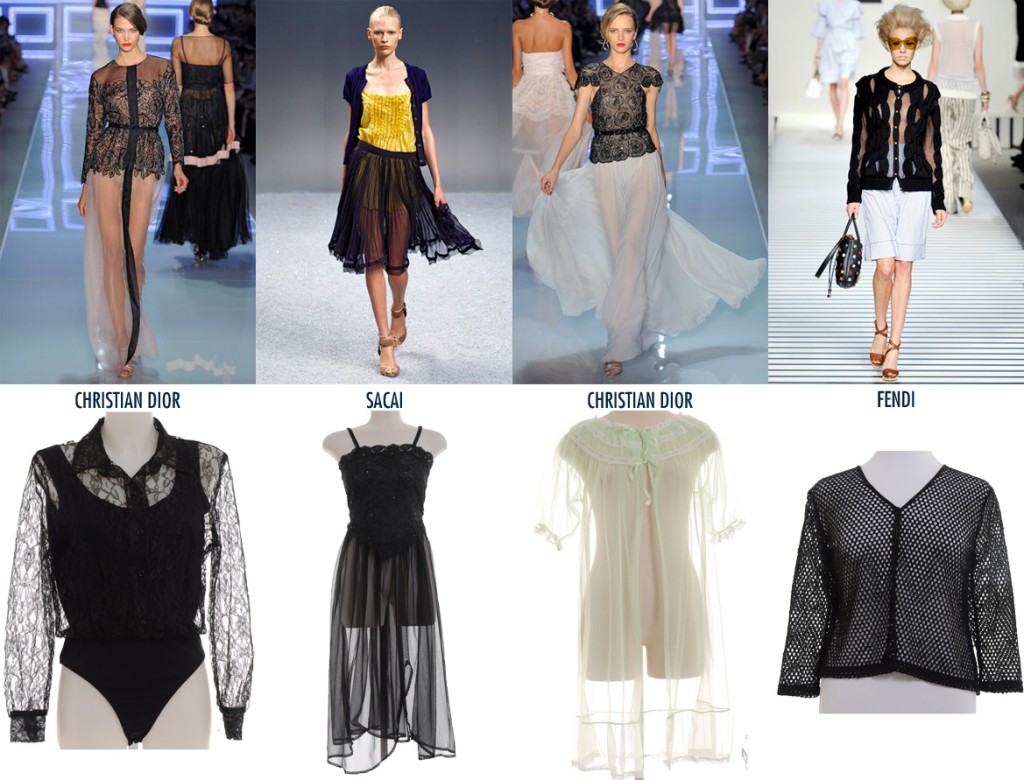 Beyond Retro Product:
Lace Leotard | Lace Babydoll | 1960s Bed Jacket | 1980s Cardigan
Bright & Beautiful
The
Bright and Beautiful
trend is all about making a statement - whether it be with a print or a bright '60s shade this is a look perfect for spring/summer! Milan and Paris shows had an abundance of colour and prints to wow the fashion crowd. D&G featured silks, in an array of bright paisleys that often clashed, while the bright and beautiful mood was spread to other shows like Marni's, with their vivid '60s daisy prints. Moschino Cheap and Chic transformed their runway into a grocery store, showing their collection amongst a fruit and vegetable extravaganza and they didn't disappoint, their clothes being equally as fun as their surroundings! Here at Beyond Retro, we can spoil you for choice, with vintage prints and '60s shades that are perfect for Bright and Beautiful fashion in Spring/Summer 2012!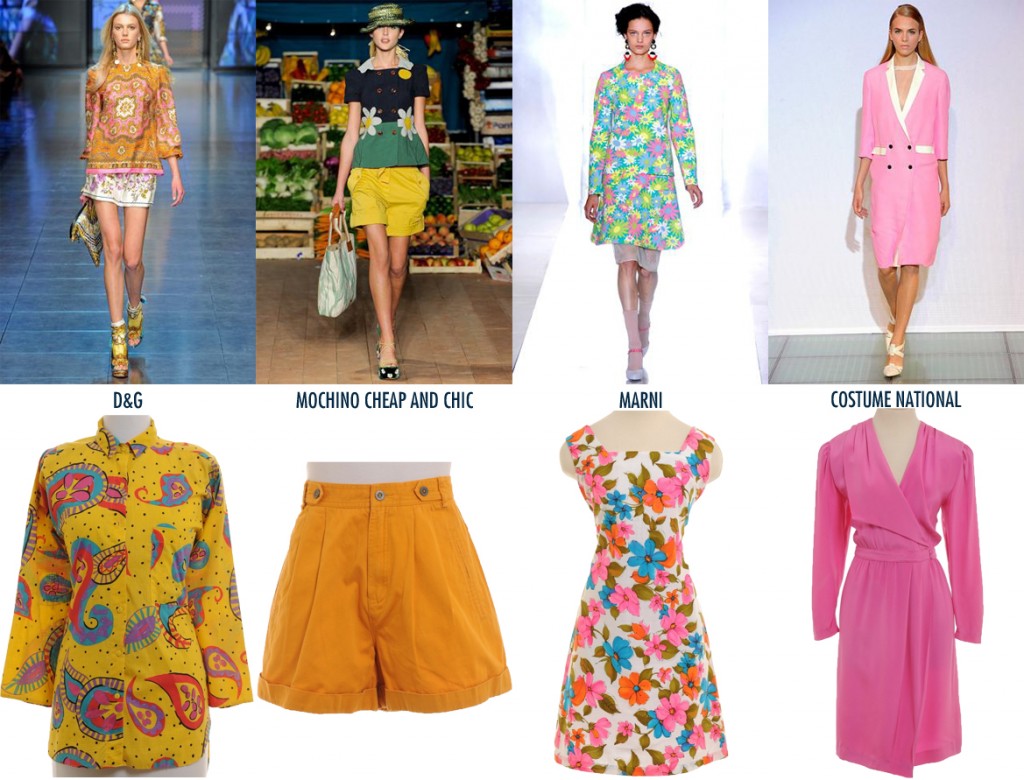 Beyond Retro Product:
Yellow Blouse | Yellow Shorts | 1960s Floral Print Dress | Pink Dress
Metallics
Calling all glitter and sparkle addicts! Even though Christmas will have passed, your glittery party gown should not be going anywhere - if Milan and Paris are anything to go by, metallics are set to be huge for Spring/Summer 2012. However, the metallic colours big for next season are not just traditional gold and silver - Louis Vuitton's collection was crisp and light, with icy metallic shades of pink, blue, and greys. We've seen sequins, jewels, embroidery and just about anything to catch a glimmer of a light embellished on skirts, cardigans, and dresses. Some outfits have even been eye-catching all over in full metallic paradise, whereas Balenciaga designed huge structured coats with metallic panelling. Dolce and Gabbana, Nina Ricci, Chanel and Roberto Cavali are in on this trend and here at Beyond Retro we have rails bursting full of beautiful vintage garments perfect to match this look!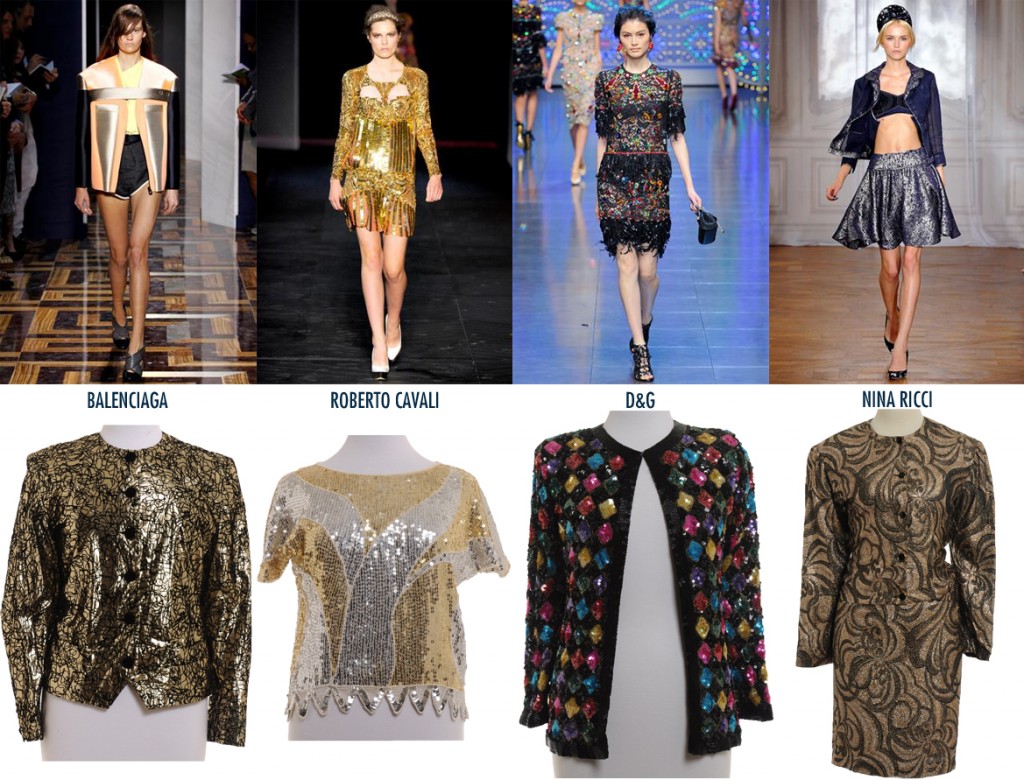 Beyond Retro Product:
Gold & Black Evening Jacket | Gold & Silver Evening Top | Sequinned Jacket | Lurex Skirt Suit