Meet the Team: Ashley Emerson, Field Trainer
Each week we interview inspiring people from a wide variety of industries, but recently we have turned to our very own Beyond Retro staff! We ain't your ordinary retailer, our stores are run by talented and creative individuals who have a passion for the sartorial splendors of times gone by. Ever wondered what these cool cats get up to after work? From stylists to photographers and everything in between, our staff lists read like a who's who of London creatives.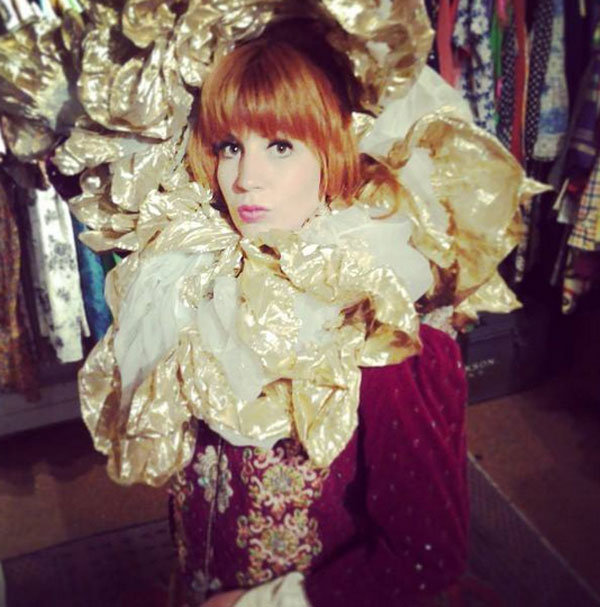 My name is Ashley but some people like to call me Tulula. I am the Field Trainer here at Beyond Retro. My job is to ensure staff are in the know on all things retro and able to ensure an enjoyable customer experience for anyone who might visit our four stores.
I'm a bit of a historian in my spare time and Mayoress of a virtual place called the History Village - you can find it on Facebook. I'm always recruiting new villagers... if you are interested in history you should definitely think about joining our humble town! I like to write about mad kings, jewel encrusted she-wolves and bizarre events spanning the depths of time… Ya can't beat a bit of historic scandal!
Where do you get your inspiration from?
I love unrepentant individualists, a pinch of decadence, flamboyancy and  bohemia. People from the past who were able to think outside the box and make a difference.  I try to capture their spirits in the History Village so they can inspire more people, it's fun to have somewhere to channel my findings.
Lord Leighton and Edward Linley Sambourne.... two Victorian artists who have kick-started my current love affair with English Victorian and Edwardian Aristocracy! Go to their houses in Kensington! Also, get a National Trust membership, it has revolutionised my days off.
My taste for interiors veers towards the Bloomsbury and Arts and Crafts movements, the mix of medieval and Victorian dark and opulent design is just perfection.
My clothing tends to be very 1970's inspired… i swing between country cow girl 'Dolly Parton' days and pre-raphaelite celestial 'Elizabeth Siddall' days!
Who are your fashion icons?
I quite often get obsessed with historical figures!! Recently;
- Nancy Cunard (her obsession for African art kickstarted the 'ethnic' fashion trend of the 1920s - wearing bracelets up to her armpits!)
- Henry Paget - The 5th Marquess of Anglesey (Would have dressed up as an Arabian Prince every day if he could).
- Those ladies on Advanced Style! AMAZING. Cannot wait to see the film. Diana Vreeland.
- 1970S Dolly Parton - I WILL ALWAYS LOVE YOU!
What is a must have in your own wardrobe?
Platform shoes! Polyester anything! Lurex! Velvet!  A bangin' print preferably with people on it!
Do you have a favourite decade of fashion?
I just love the 1970's; as a decade it was inspired by and encapsulates many of the same movements I love further back in time.
Barbara Hulanicki's projection of 1930s glamour for Biba, Tudor inspired big bell sleeves and massive collars … not forgetting amazing art deco prints! Southern Rock music really took off in this period too and love the affect country music had with its western influence on the decade. Not forgetting, Saturday Night Fever slinky D.I.S.C.O garbs. Hubba hubba!