White Fever are an Anglo-Scandinavian Dream-pop band based in east London. Their ethereal music creates atmospheric soundscapes which breathe Tarantino and Cocteau Twins.

Ida Jacobsson (vocals/guitar) and Josh Williams (drums) formed the band in the summer of 2013 after their paths had crossed while playing the same club nights with previous bands. Joe Bulley (bass/ backing vocals) then joined after getting to know Idavia Beyond Retro, where they both work, and after playing with a few different guitarists they found their fourth member in Sean O'Reilly (lead guitar/ backing vocals).
The band is due to release their debut single this autumn, and will be playing various gigs and festivals throughout the summer.
This week they are in the running to play the Strawberry Fields festival; you can vote for the band via https://a.pgtb.me/D8CCNM!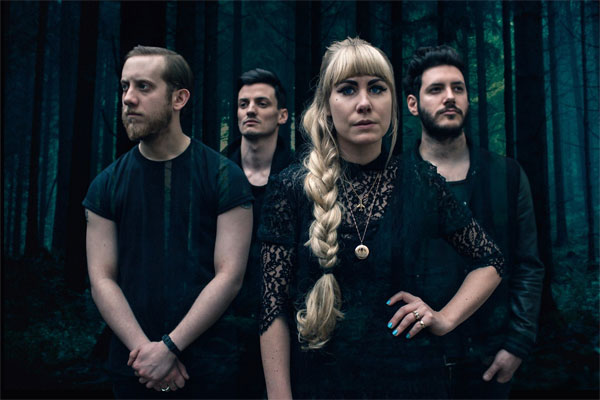 What inspires you?
Ida - David Lynch - there's nothing like a Twin Peaks marathon. The music is haunting and beautiful, just like the imagery, and Special Agent Cooper is such a dreamboat. One of my favourite scenes is Julee Cruise singing at The Road House, it's an epic performance.
Josh - I love photographing the wild and the idea of dark lost forests, Scandinavian folklore tales and forgotten creatures. I'm a cinematographer by trade and have created visuals playing throughout our live show that reflects this interest.
Joe - I've just finished reading The Death of Bunny Munro by Nick Cave, I've loved his music for years and the book was no exception. He's a brilliant and inspirational man and I'm very much looking forward to seeing his new 20,000 Days On Earth.
Sean - Good question, I'm obsessed with the Blade Runner soundtrack. It's ridiculous. Next question.
Who are your icons past present?
Josh - John Bonham of Led Zeppelin. There are plenty of amazing drummers in the world, but I really admire a drummer that writes as creatively as Bonham.
Joe - Josh Homme, not only a terrific musician but an excellent songwriter, absolutely demonstrating this on the last Queens' record.
Ida - I think PJ Harvey is an absolute goddess. She's still got that rawness about her but is at the same time really refined both as a performer and a songwriter.
Sean - Peter Green, where do I start... He was the forefront of the psychedelic movement. He also went mental.
What's your favourite decade of music? 
Josh - '90s cheese pop, Natalie Imbruglia rocks my world.
Joe - I'm really into '50s early rock and roll at the moment, all the sun records stuff is so great, but of course, in particular Elvis.
Ida - I'm always partial to a '60s girl group, especially The Ronettes. So many great pop tunes were written during that decade.
Sean - Wow… What to choose. I suppose if you were to put a gun to my head I would have to say the '80s. I'm really into bands like Cocteau Twins, Depeche Mode and Gary Numan, the darker side of the '80s shall we say. I'm also partial to a bit of '80s Bowie but then who isn't!
Video: Skeleton Disease by White Fever  https://www.youtube.com/watch?v=GK-bdrctsbM
Soundcloud: https://soundcloud.com/whitefever Website :http://whitefever.co.uk Twitter : https://twitter.com/weareWhiteFever Facebook: https://www.facebook.com/wearewhitefever Email :  wearewhitefever@gmail.com