My name is Wayne Chapman and I am currently tending bar for Jason Atherton at City Social (Tower 42, Bishopsgate E1). Previously headed up the bar at Underdog, (Bethnal Green Road, Shoreditch)  Brewdog's only cocktail bar to date.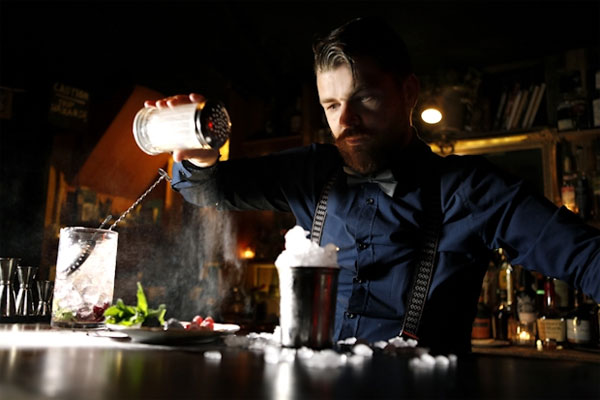 @brewdog
How did you you get into this business?
Long story short. When I left school I trained as a pastry chef and worked in some incredible kitchens. I then 'retired' and decided to gain an academic qualification and get a degree. During my degree I worked part time as a waiter. I loved it. After graduating I worked as a trainee probation officer for 3 months during which time I realised 9-5 Monday to Friday office doom was not for me. I quit and got a job at a decent gastro pub where I was thrown onto the bar in the middle of December. That was 3 years ago and I have loved every second of tending the bar since. My only wish is I had done it sooner!
What is the secret to a great cocktail and what is in your opinion the ultimate classic drink?
Great question! Ultimately it comes down to individual taste. What spirits you enjoy, what flavours you enjoy be it sweet, bitter, umami etc. and then marrying that with others to create something you'll enjoy. For me, my go to classic cocktail has to be a Manhattan. Two of my favourite spirits; rye whisky and vermouth the balance of these two when mixed well is very hard to beat.
On a night out at your bar what 3 drinks must we try?
A Manhattan! Off of the menu from my old bar I would suggest drinking the following Flip AB(14)out. AB:14, from our Abstrakt series, is an oak aged Imperial weizenbock. The beer boasts a big, bold mouth feel backed by some powerful banana and classic weizen notes. Think of the ultimate in banoffee pie and you're on the right track. We've used AB14 in this cocktail as a popcorn infused liquorice reduction...naturally. These rich, bold flavours are backed superbly by the Cardenal Cisneros PX sherry (one of the best in its field) which brings it all together. One night Stand... this drink is based on the classic Clover Club. It is in essence a gin sour. Lavender and raspberry match wonderfully with the 5am Saint's deep amber flavour. Tanqueray's leading botanicals of angelica root and coriander work beautifully with the lavender and raspberry elements contained in the sour shrub. This drink offers a subtle velvet finish with a hint of tartness and sweetness of raspberry. Don't be fooled by the look of this drink, its fun but packs a punch!
In my new work place I cannot currently reveal what drinks we will be serving but rest assured, like all of the bars in Jason Atherton's group they will be incredible!
Do you have a signature drink you have created?
Not really. I think all bar-tenders if they are honest adapt, steal and borrow ideas to twist and tweak drinks they have made, seen, tried, read about. I think it is very hard to claim a drink as being an original creation in the sense that you created it as inspiration comes from all of the above. That sounds woefully pretentious but it's like claiming you've invented a great accompaniment to go with roast beef. It's a crispy savoury soufflé with chopped herbs in the batter…..No pal it's a Yorkshire pudding with some herbs in it!
Where can people find you shaking and stirring up these fabulous creations?
I am now tending bar at City Social at Tower 42. You can find me here. http://www.citysociallondon.com/
Twitter: @underdogshored
Website: http://www.brewdog.com/blog-article/new-killer-cocktails-from-underdog