I am iZeMo, a Belgian visual artist and award-winning director, recently landed in London. I doodle, sculpt dreams and weave stories onto canvas, walls,  paper, vinyl, wood & screens.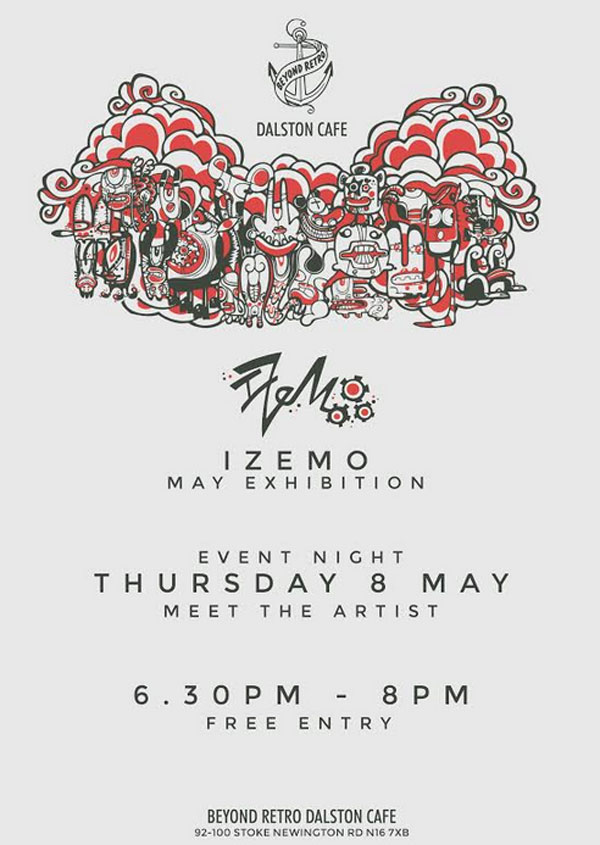 How did you get started and why did you want to pursue this career? 
I come from a background of animation and motion graphics. I worked in several animation studios and with brands such as Hugo Boss, Red Bull, the European Burning Man festival, Morning Gloryville and Belgian national TV, before going on to direct my own films and art direct commercials.  I began to feel that animation was quite rigid as a medium, often taking up to a year from concept to completion, so started to explore additional ways to get across my ideas and images. This lead me to sculpture, illustration, character and graphic design.
I fell in love with the idea that you can imagine everything into existence, the only limit being your own imagination. I love experimenting with shapes, colours and textures and the playfulness of just letting the pen glide across the paper, not knowing what's going to come out, like a stream of consciousness.
This freestyle approach couples well with my love of telling stories. I make sense of life by observing the world around me and encoding it into a language I understand - the language of images. My interpretation comes through in my animations, as I try to alternate serious films with humouristic ones. I let the concept dictate the style I work in, not the other way around.
Describe your style and where you get your influences from...
On the whole, I like stylising and simplifying reality.  For me hyper-realism doesn't add anything; reproducing reality is interesting when you pass it through the filter of your perception.
As for influences, every line, concept, shape or colour I've encountered and liked, I have assimilated into one big inspirational melting pot. On the one hand I love tribal art; the simple colour schemes and stylisations of native american tribal sculptures, the curls and swirls of mayan art and the simplified shapes of african masks…plus the classics like Modigliani, Klimt and Schiele, some of Paul Klee's work, Art Nouveau, the symbolists and the cubists. On the flip side, this inspiration is counterbalanced with some amazing cartoonists, caricaturists and illustrators like Steve Bell, Andre Carillo, Ralph Steadman, Carlos Nine, Hanco Kolk, Johnen Vasquez and Bill Waterson. And contemporary art and street art: Jon Burgerman, Takashi Murakami, Dave Cooper, Aryz. Animation-wise I draw upon the likes of Masaaki Yuasa, Pendleton Ward, John Kricfaluci and Jan Svankmayer, just to name a few. The list is endless...
Your work spans across various mediums, in what area do you prefer to work?
I think it's a very fine balance. I couldn't work in just one medium, as I get bored very easily. One counterbalances the other; animation allows me to bring more complex ideas across, but has me sitting in front of a computer most of the time. Equally, when I'm tired of working behind a screen, I need a piece of wood and some paint, or go wrestle some clay. I'm drawn towards the dynamics and spontaneity of live painting, because it allows you to work in a stream of consciousness; devoid of conceptual brooding and multiple decision-makers, I get hyper-focused. It's just me, the moment and my pen. Sculpting also allows me to create something physical and 3 dimensional, this direct physical contact, of creating with my hands brings me back to why I love art as a medium.
What is your ultimate ambition?
ULTIMATE ambition…phewww, sounds so final. For me making a living doing what I love to do is already a blessing. I would love to work more as a character designer, because it feels the most intuitive to me. In the short term, I'd like to have toys made out of my characters and get them on snow - and skateboards.  I am working on that.
I'm blessed to be involved with a lot of beautiful artistic side projects that won't make me a cent but allow me creative freedom. This is combined with more restricted commercial projects that help pay the rent. I could do with the best of both worlds; working on artistically interesting projects that make money. I hear they do exist, somewhere...
What piece of advice would you give to aspiring illustrators to either help them get noticed or find their style?
 No style is original, it is always a collage of the things you like. Without input you won't get output. Find out what tickles your inspiration, and draw! Draw till you drop. As for getting yourself noticed, wear something pink.
Where can we see your work? What collaborations or exhibitions have you got coming up?
Well, I launched the first cock-a-doodle-doo live painting at Morning Gloryville, the monthly sober early morning rave last Wednesday. Together with Ziebo, an amazing Polish artist, we did a live doodle-off in front of 800 ravers at 7am. We each had a colour and doodled our way towards each other. I curate this part of the event and am always looking for new artists to doodle. (Drop me a line if you want to get involved) I have a few other live paintings coming up, including one for Disaronno. And customised Izemo tshirts are now live and kicking online - check out www. izemo.exclusivetshirts.co.uk.
For the rest, my short film 'History of Pets' has been shortlisted for 38 festivals around the world and I was awarded 'best film' in the New York Animation Block Party, so I've been following it around this past year as much as I can. Here's a peak at the trailer:  http://vimeo.com/62777068 You can check www.izemo.be to find out when it's screening near you.  I am also nearing completion of my new upcoming short, 'He&Sea', which will be touring later this year.
Next up is a project with TAG (Turnpike Art Group) to put some street-art on the walls of Harringay, plus placing my art in billboards for their 'In The Frame' project.
Keep looped in with Izemo news via:
Facebook: www.facebook.com/SaladeMentale
Twitter:  @izemo_