Summarise who you are, what you do?
Style consultant and fashion stylist working in London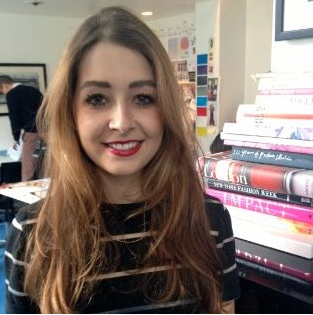 What made you decided to take this career path?
I love the ?nal product/image
Where do you get your inspiration from?
It depends on the day and the job, but I am always re-searching and reading  the latest fashion news. I also have an obsession with fashion history; it's my geeky side! I love knowing the facts and social agendas behind fashion, I am  currently reading a great book called MOD by Richard Weight!
What do you most enjoy about your area of work?
Everyday is different and has different obstacles. You are always learning.
What's the most interesting/unusual job you have worked on/ celeb worked with?
Most interesting - interviewing make up artist Peter Rob King for M.A.C, he was the most inspirational person I've ever spoken with. I wouldn't say unusual, but the most surreal would probably be styling the girls for X-Factor, I remember watching the show at university and so being back stage bumping into all the judges with rails of clothes seemed quite unreal!
What inspires you?
People, photographs and design.
What advice would you give to someone aspiring to work in your ?eld?
Work for people you aspire to, learn from the best.
Who is your favourite (person in your ?eld) and why?
This varies a lot because I go from styling editorial to styling clients, so I ?nd  inspirations in lots of different stylists. For consulting it would have to be Rachel Zoe: she started the celebrity styling industry. I also love Victoria Beckham: she has had two completely different careers and completely nailed both of them!
Describe your style
I try not to style too much. With editorial I love relaxed glamour, effortless style and natural beauty: always with a slight reference to 90's grunge. With celebrities it is about how a person can carry clothes effortlessly.
What drew you to beyond retro?
My sister. She's one of those effortlessly cool people, a Beyond Retro opened up in Brighton where she was studying, and after she told me where she was buying all her new clothes from I tried out the London stores - there's always something you can ?nd in there. Something to add to an out?t, makes it feel real. I always use the store to pull for editorials!
What's your one golden rule or piece of advice to make it in your line of work?
There is always someone somewhere in the industry who's working harder than you - so if you want the job, you have to be dedicated to learning the industry. Want to hear more from Holly? Come along to #RETROTALKS 5:30pm TONIGHT to hear industry talks by Holly, photographer Holly McGlynn and blogger Naomi of Two Shoes, One Pair. Be there of be square!
Website address: www.hollyounstead.com
Twitter: @HollyOunstead