Getting everyone in the mood at our Company magazine shopping night last week was this disco queen! She's a party popper personified; bringing a carnival feel to every gig she plays. Playing an eclectic mixture of her favourite disco & deep house whilst blending a clever mixture of all genres seamlessly to suit any occasion, whether its the World Economics Forum in Davos, Switzerland or a Calvin Klein launch on Brick Lane Deanne guarantees a full dance floor every time. We had a chat with the bubbly blonde herself...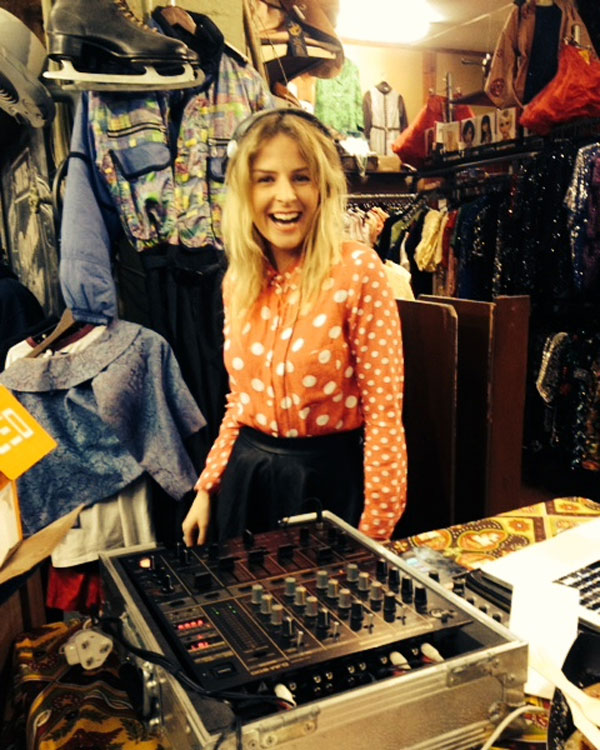 Takin us to funky town at Cheshire Street  
Hello, my name's Deanne Oliver-Evans and I'm a DJ, playing under the name of Blonde Ambition. I also run an events company, in which I organise and host music, fashion & charity events.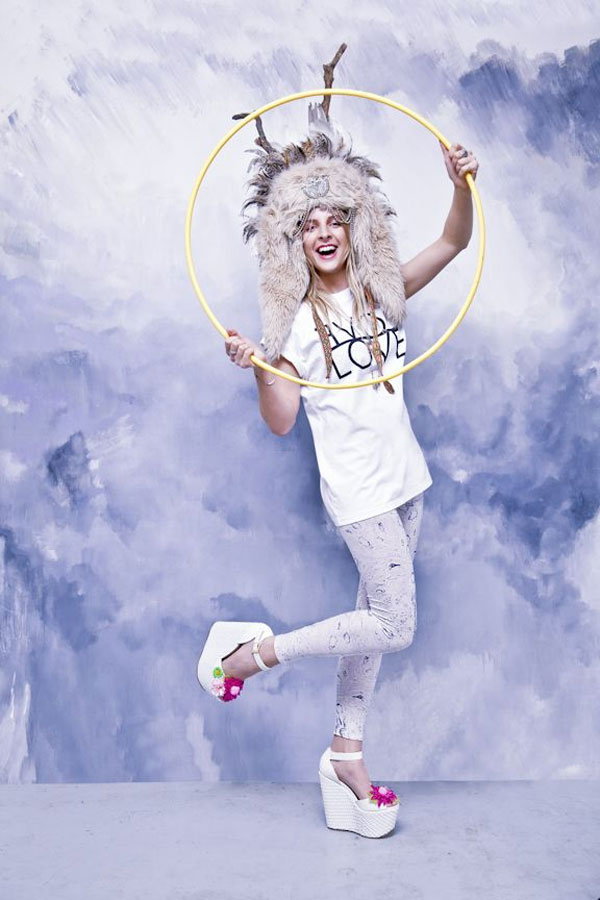 Fashion targets breast cancer & Velvet Johnstone 2013
Why and how did you start out as a DJ?
I used to host a radio show with a pal & we called it the Blonde Ambition Show...two blondes let loose on the airwaves, getting drunk, probing bands with questions & generally larking about playing all the tunes we wanted to play! Friends in a band called The RGB's came on the show & asked us to play their club night, we did, we loved it (although a lot of tequila was consumed and we played Girls Just Wanna Have Fun...twice), got asked to play another and it kinda started there. We were booked for the fact that we brought the fun, got rather merry & played all the high energy tunes we loved & people wanted to dance to. After a couple of gigs, I decided it was time to properly learn the skill of DJ'ing and was lucky enough to have two very patient DJ friends who taught me the basics (they're now my resident DJs at my party,Lovesick). Suffice to say girls being girl, we went our separate ways and I decided to carry on under the name, getting more & more gigs. I've changed my musical tastes a lot over the past 5 years and here I am today, having played a vast array of gigs...from high end fashion parties, late night clubs, street parties, an abundance of festivals worldwide, boats, fashion shows, events and hosted my own parties.
What is your career highlight thus far? Any weird and wonderful experiences...? 
Hmmm, well, playing last year on the Lake Stage in middle of the water to a load of dancing festival goers & friends at Secret Garden Party in the sunshine is a definite highlight. Playing to a beach full of ravers in Croatia last summer for Stop Making Sense was awesome too! I played the Global Fashion Awards at the V&A surrounded by statues, that was odd.
Top 5 fave tunes of all time? 
I Want Your Love, Chic
Baby I Can't Stop, Lindstrom (Idjut Boys)
The Hit, Crazy P
Earth Wind & Fire, September
What's Going On, Marvin Gaye
Do you have a favourite era for music and why?
I love DISCO. High energy, happy party music...what's there not to love?
What's a must-have item in any disco queen's wardrobe? 
I used to wear my multi-coloured sequin (very short) dress all the time, until every picture I saw was me in it...favourite moment was standing up on the decks in it in the Bollywood Tent at Bestival a few years ago & setting of confetti cannons at the end of my set to You Can Call Me Al, Paul Simon remixed by DJ Rebel!
At our Company mag event last week we talked tricky turban trends... when on the decks do you have fail-safe attire which you turn to or do you like to experiment?
Used to be the dress! I like feathers, anything sparkly & love hats (although rather hard to DJ in) My turban hasn't been seen in a while, must pop back to the shop & pick up a new one...had my eye on the gold shiner! I love short shorts, actually bought a pair from Beyond Retro about 3 years ago & have nearly worn them to death...
You're big on the East London scene, so where are your fave hang outs of a weekend?
I love all the markets! Columbia Road is my favourite and mooching the parks, little cafes like Violets on Wilton for cakes and Ivy's Mess Hall in Dalston are great.
What's your favourite era for vintage shopping? 
Oh god, I'm totally not down with my eras...but I love the little 60's mini dresses, love flamboyant floppy hats and big glasses, a la Audrey Hepburn.  
Website: www.blondeambition.org.uk
Twitter: @1blondeambition