1.) Briefly describe who you are and what you do

My name is Lydia L'Scabies, I'm anon-teen years old, I'm one of three that co-founded House Of Grand Parade, performer, writer, professional party flitter and organiser. Frequenter at your local clinic as well as a seasoned drinker, I have been described as a cockroach who will out-stand any disaster, and scuttle to build a new platform.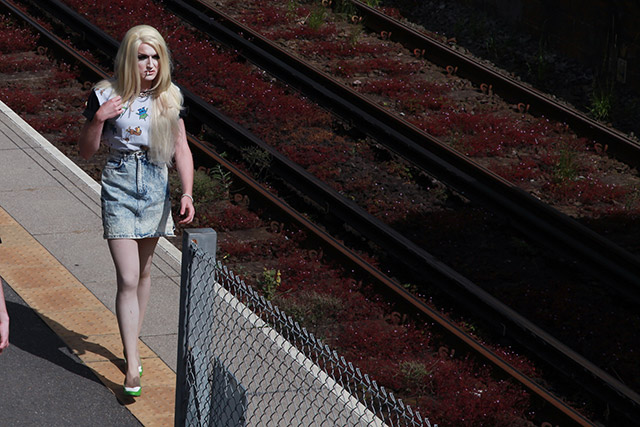 2.) How and when did you enter the wonderful world of drag? 

Initial interest began at University, (UoB forever, shout out to my TAVA sisters) I was interested in drag as an art form with a focus on American styles and seeing how the UK's drag scene hadn't really undergone the same metamorphosis. On top of studying the Club Kid movement, even earlier such as the Barbette years, I was drawn to where the 'Clown' and the 'Drag' met. On top of that I was interested in the performer persona, particularly in Cabaret with Drag as a focus, the idea of the introvert extrovert and how the alter-ego acts as a window to the beholder in someways. I wish more Drag Queens clocked this theory in regards to themselves. My tutor at the time was impressed with my insight and research and told me to give it a go, I said "They'll eat me alive." He said "So?" And that was that. The name Lydia was birthed April 4th last year.

3.) What was the inspiration behind Lydia?

It's just one of those names, I was going to be called Lydia if I was born a biological female, so that seemed apt. I grew tired of hearing all these would-be typical Queen names of false grandeur and thought it to be a bit dated. Although many have been scrutinised for their Drag being 'pedestrian', I feel that Lydia's inspiration was of current mainstream youth culture, and what is walking on the streets today. Watching things like Made in Chelsea, Geordie Shore, I was drawn to 'that type of girl' your mother would wince at. Doing nightlife research was always fun, I made mental notes at my local Oceana, even Coalition and the Haunt which was also insightful. I wanted her to be a representative of everything I found ridiculous about clique functions, and i tried to mirror this through the early stages; she was a 'Greebo', to a 'Miss Selfridge', to a 'Thrifter-Hipster'. L'Scabies was a last name inspired by would-be snooty girls from school with double-barrel names, Scabies says it all though. Not being hidden behind a sexualised pun, not rhyming, just in plain sight. She's dim, she's sweet, and a little hostile, she's also a mite-ridden skank.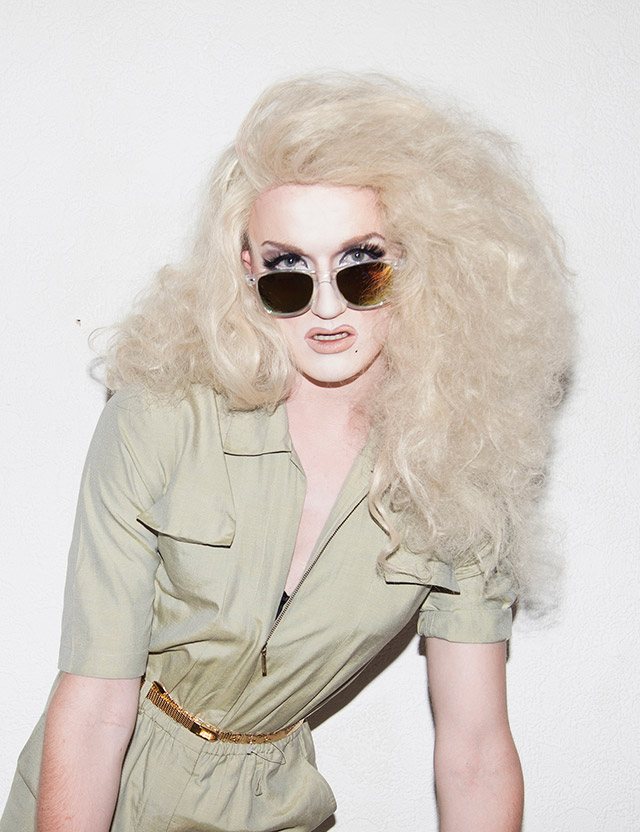 4.) Dialogue and exposure surrounding LGBT is on the rise, not least the fabulous life of drag!
Ho

w will you be celebrating pride this year? (Any events, projects and thoughts on pride 2014) Upcoming as a pre-pride do and my new thing I'm doing is a club night called 'MINE' which is launching on the 29th of this month at Sticky Mikes Frog Bar, the idea being that although the Drag scene is getting more consistent, there's not really a place to be a melting pot of awful music creativity and interaction, you'll have a token queen on a night out here and there, but how about a room full of them? This is what I want. Pride is always a mental one, HOGP hadn't even been doing stuff for 2 months and we were on the Pride Cabaret stage last year. This year me and my #1 Frump and Cavewoman of HOGP Rococo Chanel and Crystal Lubrikunt have a tent the Pride park where we will be hosting a three act show from 6:30-9:30, with many special appearances including the Grandmas of HOGP, our dear cousins from Familyyy Feirce Meth, Bourgeoisie, Rubyyy Jones, and Lily Snatchdragon, also the duo from Carboot Cabaret my darling Alfie Ordinary and Cherry Liquor, as well as local diva and Cabaret mother to HOGP Coco Deville, and Bitch of the East (London), and current reigning Miss Sink The Pink Rodent DeCay. Then on the Sunday we have a Powder Room show at Club Revenge supporting Willam Belli which will be sweet, by which time that's over I will be signing into the Betty Ford. To anyone who is a London/Brighton flitter as well do follow HOGP for updates about our new show

5.) What's your top beauty tip? 

My goodness, if there's anything I have to recommend it's a tangle teaser. Wigs and hair alike, all kinds of awful messes have been transformed by a mere three strokes of this miracle brush. That and avoiding Ketamin at all costs.

6.) Who's your Icon?

Jerry Hall of the 1980's. Everything.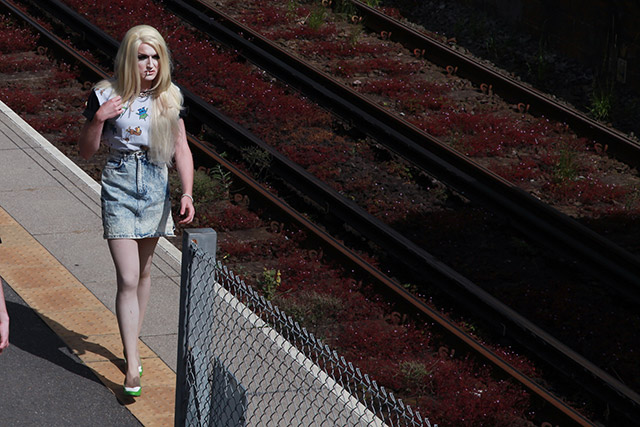 7.) Do you shop vintage? If so why? Any top tips? 

OF COURSE I shop vintage, there's something so alluring and exciting about buying a piece that you know you're the only one who has it in a certain mile radius. Vintage dress brings out a character and demeanour to yourself that no plain white T will ever give you. Not only can you count on BR to salvage all the good ones for your purchase, but raiding the most obscure and seemingly unwanted charity shops will always lead you to a cave of wonders. That and raiding peoples attics. (Sorry Nan) and I will always live by; If it's Lamé, then it stays.