When music meets fashion mayhem at the Isle of Wight's 'Bestival' this September, get ready for an out of this world experience. The festival, famed for its outlandish fancy dress edge, is gearing up for a space age theme. Cosmic inspiration comes from our Soho staff, who show you how to earn those style stars! Forget Princess Leia, everyone knows the first space age siren is 'Barbarella'. Reach for a retro swimsuit over tights, an armour style crop top, beat up gold belt and killer boots. [caption id="attachment_1694" align="alignnone" width="300" caption="Ida rocks as 'Barbarella'. "]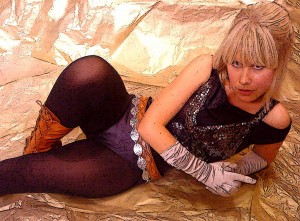 [/caption] Or why not let the '80s be your sci-fi guide and come over all 'Killer Klown from Outer Space'? If it's spooky, sinister or ridiculous, our clown suit collection is always a great summer spektacle. Just don't forget your space gun! (Fashioned from loo rolls of course!) [caption id="attachment_1699" align="alignnone" width="226" caption="Choose a clown costume form Beyond Retro's vast collection"]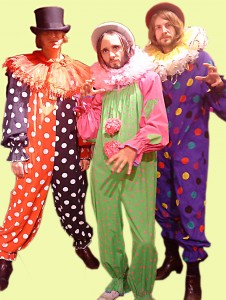 [/caption] Girls, if you are still overdosing on floral microprint tea dresses, you might want to try this instead. Focus on teaming the classic tulle skirt (available in both gold and silver at Beyond Retro) with a sparkly top. Start a sequin revolution! Your glittering star combo will cast a glamour spell over all festival land! [caption id="attachment_1701" align="alignnone" width="223" caption="Emily, shines like a star! All clothes Beyond Retro"]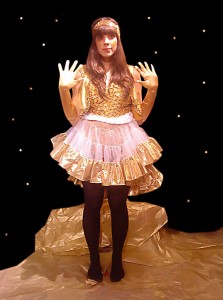 [/caption]
Your cosmic fashion crush should make you shine, but if you are still looking for inspiration, Soho suggest calling upon your inner super hero. By luck, the Beyond Retro crew always have her on side, so try this for a fantasy sashy through time. Become Super Woman! Unearth an 80s leotard from our collection, or just match a fuzzy blue top with some red shorts. And get ready to fly away!
[caption id="attachment_1697" align="alignnone" width="213" caption="Emma is Super Woman! All clothes Beyond Retro! "]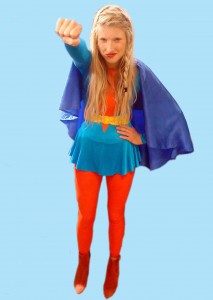 [/caption]
These outfit ideas are just a snip in the ocean (much like last years Bestival theme!). With a little imagination, some help from our friendly staff and of course, the best selection of vintage and second hand clothes in London, you will bag yourself one hell of a costume!