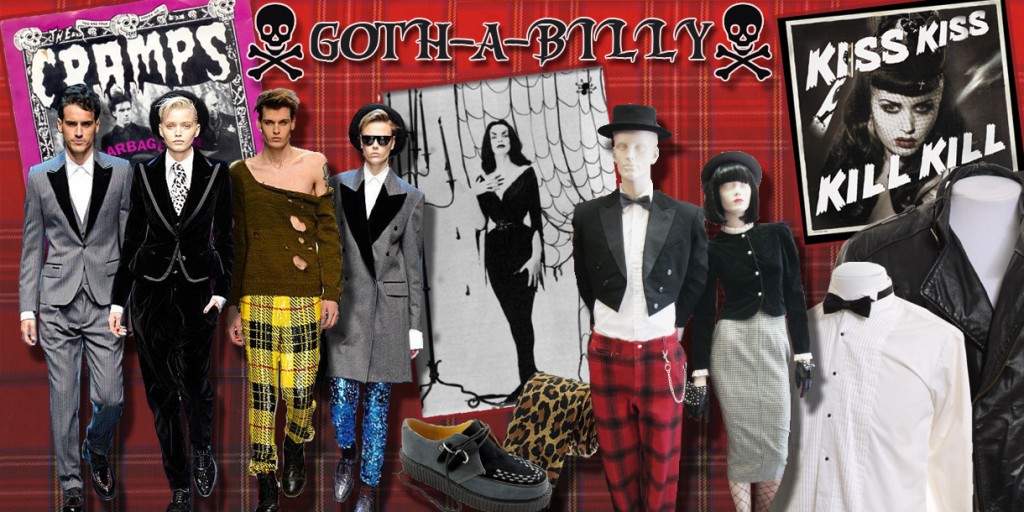 With the Indian Summer seemingly over and temperatures returning to Autumnal norms, we're excited to be able to present our flagship trend for Autumn/Winter 2011: Goth-A-Billy. Created from several of the underlying themes shown on the A/W '11 catwalks, this fusion style is a mix of hard knock bikers, skeleton spooks, goth girls and grunge punks. Seem like too many looks rolled into one? It doesn't matter: this style is all about breaking the rules and therein lies its unifying character: the rebel. Seemingly idiosyncratic details actually complement one another in a look that gives a gentle nod to Gothic rockers and a knowing wink to Teddy slackers. One of the key themes here is tartan, a trend that has spread into all areas of clothing for A/W '11 and has seen designers reinterpreting heritage pieces using different fabrics and modern shapes. From coloured checks to plain shapes, this look also incorporates classic white shirts and blouses which, paired with dapper jackets, form the basis of the dressier end of the style spectrum. It's in these jackets that the Teddy Boy element of Goth-A-Billy is channelled, taking the boxy silhouette of dinner suits, tux jackets and tail coats and wearing them in vivid colours or with interesting collar shapes, contrasting trims or pocket detailing. Less formal but equally important to the trend's outerwear is the classic biker jacket à la Johnny Depp in
Cry Baby.
Another key piece for women is the pencil skirt. Whether above or below the knee, this waist-pinching, hip-hugging style evokes a figurative femininity that lends itself perfectly to the look, especially with  added details like pocket flaps, back splits or pleats. Goth-A-Billy is as much about wearing down as it is dressing up, so a crucial characteristic is the grungy aesthetics of nineties slackers. Think black and washed out charcoals in baggy knits, leather and worn denim. And finally, accessories continue the stylistic mix of hard-edged rockabilly, punk overtones, western influences and '50s prints, with bootlace necklaces, leopard print details and brothel creepers being the order of the day. This is an incredibly strong look that's all about an unconventional clashing of styles to create a new, unexpected and modern silhouette. Take inspiration from the photos of our in-store displays below and read our guide to
how to get the look online
.