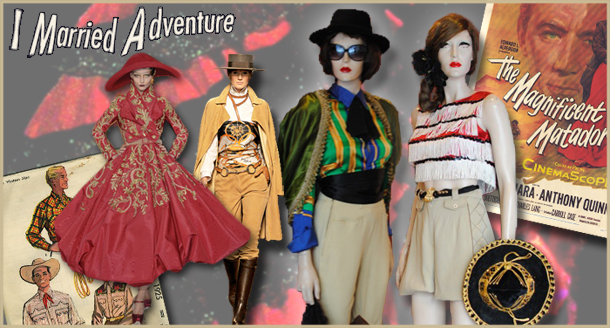 With the predictable return to grey skies and flooded pastures, it's lucky that we're waving goodbye to the English countryside as we make our way to warmer climes for our latest in-store theme, I Married Adventure. Where
English Heritage
celebrated rural refinement, this theme goes for all out exoticism and adventure. Our super-talented visual merchandisers have been hard at work combining two main influences: a revisited cowboy look and the traditional Spanish styles of flamenco and matadors. The resulting combination of flamenco dresses and cowboy attire is an androgynous look dominated by
trousers
,
western shirts
and
waistcoats
in brown, black and red all held together by plenty of accessorising with
belts
,
braces
,
hats
and gloves. Special mention this time goes to Kelly-Marie, Soho's VM extraordinaire -
keep an eye on her blog
to see where her inspiration for their displays came from. Whether you're herding bulls or fighting them, this is a visually spectacular theme and our last for the summer, so don't miss your chance to check it out in-store!