Like hot tubs? Like movies? Then you'll love this. Hot Tub Cinema is returning to rooftop screenings!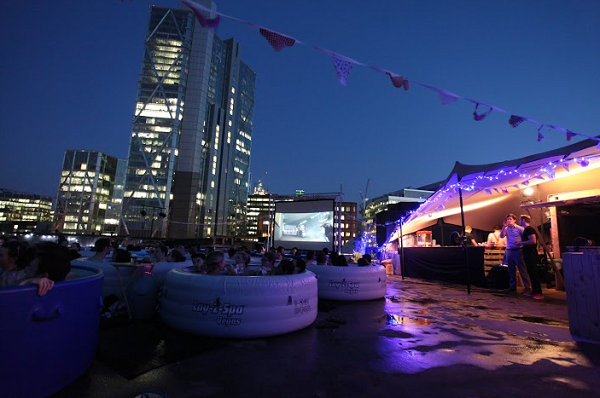 Hot Tub Cinema are back at their summer venue from last year, Rockwell House in the heart of Shoreditch. Twenty hot tubs, well-loved nostalgic movies from the 80s, waiter service from the bar, and an unbeatable view of the London skyline.
But wait, it gets better. We are the official outfit builders, providing the ideal destination for all your 80s fashion needs and offering a voucher for the 'Best Dressed'.  Think shoulder pads, leggings and sequins galore.
Get your tickets and shop online HERE or head to one of our treasure filled stores!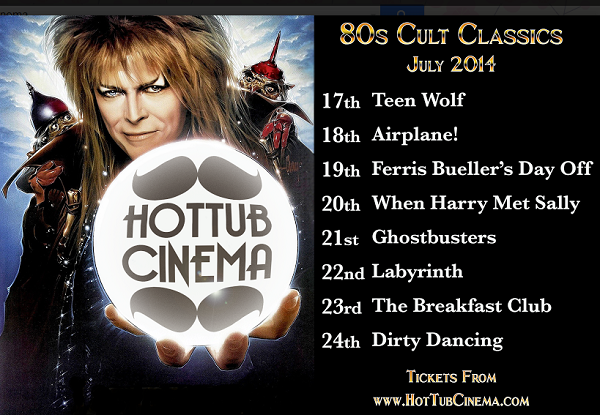 Tickets are on sale now - www.hottubcinema.com.
Rockwell House Rooftop - 80s Cult Classics Series
Thursday 17th July- Teen Wolf
Friday 18th July- Airplane!
Saturday 19th July- Ferris Bueller's Day Off
Sunday 20th July- When Harry Met Sally
Monday 21st July- Ghostbusters
Tuesday 22nd July- Labyrinth
Wednesday 23rd July- The Breakfast Club
Thursday 24th July- Dirty Dancing
Venue - Rockwell House Rooftop
10-14 Hewett Street
Shoreditch
London EC2A 3NN
Terms & Conditions:
Competition closes midnight Thursday 24th July 2014; winner will be announced soon after. The winner is decided by Hot Tub Cinema, Beyond Retro hold no decision. All entries must be ticket holders to the Hot Tub Cinema events during July 17th to July 24th 2014. The prize is one £25 Beyond Retro voucher - there is no cash or other alternative and the prize is non-transferable. The winner will be contacted by the email address provided at Hot Tub Cinema ticket purchase. If no response is received within 72 hours, Hot Tub Cinema reserve the right to pick an alternative winner.