Welcome to the Beyond Retro Horror High Halloween Hop!  Echoes of Ray Parker Jr. sweep through the store, ghoulish gowns hang from the rails and there's an indisputable eeriness mixed with excitement hanging in the air. All aboard the scaresome school bus, where your dreams of being crowned homecoming queen are turned into your worst nightmare.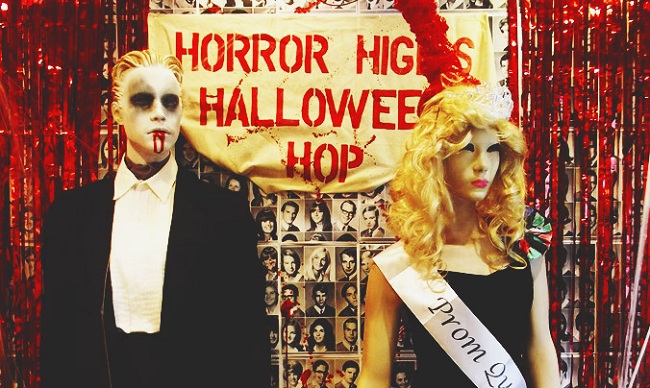 This year we've taken inspiration from some of our favourite iconic horror moments, including Horror High and that notorious prom night in Carrie. It's the love-child of Grease and Teen Wolf.  So bring your A-game in the costume stakes and sink your teeth into a vintage wonderworld of prom gear, cheerleader skirts and plenty more. Pom- poms optional. Plus, you can total wear this garb again and again till spring (varsity jacket, we're looking at you).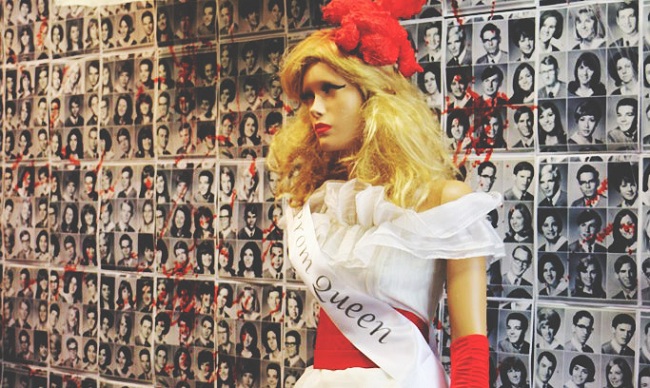 Let there be (fake) blood! *warning not for the fainthearted
Just for the spooky season we have launched our very own bespoke range of pre-gorified and blood-spattered clothing. The hand-crafted range, now available in-store, offers reworked one-of-a-kind pieces individually emblazoned with the oh-so-scary hue of the season. We're oozing with everything from zombie brides to Victoriana blouses so forget doin' it yourself, we've done the hard work for you. No more will your hands be stained for weeks to come. Phew.