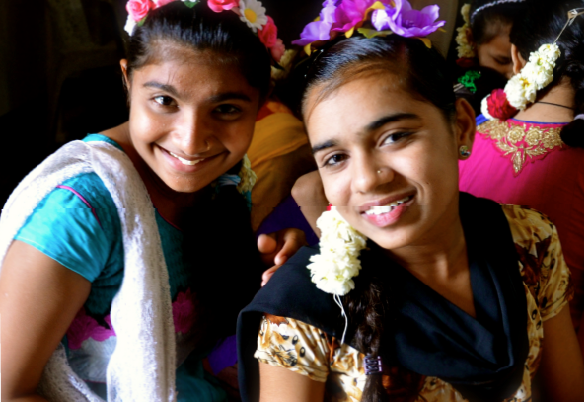 As regular readers of this blog will know, we're proud owners of the factory in India where Beyond Retro LABEL - our range of up-cycled clothing and accessories- are manufactured.
Click here if you you want to know more about our factory and our love affair with India.
India and its' people have given our business so much. It's impossible to imagine our working environment without this vital part of our Beyond Retro family. Shortly after setting up our factory we knew that we wanted to give back in some way. What even regular readers of this blog may not know is that we support orphanage in the Gujarat region of India. The Karuna Orphanage provides food, shelter, clothing and basic education for 50 girls and is supported by the local community.
We're committed to supporting Karuna to offer better quality education and increase the number of girls they can serve. Our parent company, Bank and Vogue, provides English lessons one day per week, as well as paying the grocery and power bills directly so that 100% of the funding goes directly to the girls' well being. Still, the building is overcrowded and we need to construct a shaded area over the existing roof under so that the girls can study.
To this end, our team in Canada are holding a musical fundraiser on Saturday Sept 17 to meet our goal of supporting the girls' education. Obviously we know that most of you will be unable to attend unless by some miracle you find yourselves in Ottawa, so we're asking (begging) you to (please please please) give anything that you can to support this project.
As boys are more often the future support of parents in old age and bring a spouse to the household to help with domestic chores, the abandonment of young girls is a massive problem in India. Any amount that you can give will make a huge difference and help our girls to thrive and make their way in the world. Education is power. If you are interesting in donating please follow the link below.
DONATE HERE