Halloween at Beyond Retro
This Halloween, prepare yourselves for two terror-filled weekends in our London, Brighton and Bristol stores for spooky makeovers, tarot reading, fortune-telling and more all for FREE! 
Plus you can shop 1000s of incredible vintage items perfect for this year's costume all whilst taking a sip on some mulled cider from Beard and Sabre Cider Company!
🎃FREE LONDON EVENTS🎃
Beyond Retro Soho
Tarot Reading with Jessia at Velvet Venus

When?
Friday 25th October 2pm - 5pm
Saturday 2nd November 1pm -3pm
Where?
Beyond Retro Soho 58-59 Great Marlborough St London W1F 7JY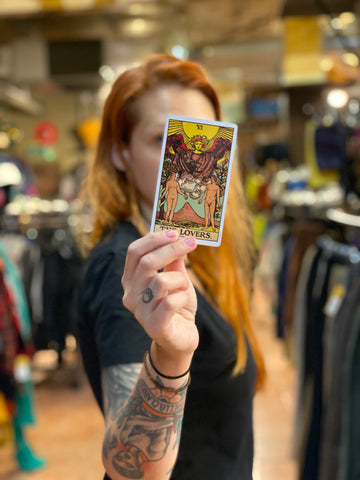 Jessica is a full-time Witch. Based in North London, she runs a small mystic business and works as a Tarot Reader and Psychoanalyst.
Her style is quite different from the typically known "Fortune Teller", as she uses her academic background in analytical psychology and astrology studies together with tarot as a personal tool for healing and development. 
Beyond Retro Brick Lane
Fortune Telling with Mystic Maryam
When?
Saturday 26th October 2pm - 5pm
Saturday 2nd November 2pm -5pm
Where?
Beyond Retro Brick Lane 110-112 Cheshire Street E2 6EJ
A psychic clairvoyant and a multidisciplinary artist, Maryam love's to help others in their life journey, providing in-person and distance readings to help with understanding life difficulties and challenges and moving through them.
Beyond Retro Dalston
Tarot Card Reading with Nico
When?
Saturday 26th October 2pm - 5pm
Where?
Beyond Retro Dalston 92 - 100 Stoke Newington Road N16 7XB
Nico is a witch, healing arts and sacred sexuality practitioner, passionate about story, embodiment, connection and transcendence. She loves creating temporary autonomous zones, breaches out of the ordinary, hubs of magical rewilding experiences, experimental containers for cultural alternatives and soulful sanctuaries where we can live life deeply, grow and transform, through meeting each other raw, from the heart; releasing what we are not, embracing the many expressions of what we are truly, and lovingly reparent our magical child within. 
She delights in gifting people with powerful insights and inspiration, facilitating the remembrance of soul and creator consciousness - with a twinkle of lightness and mischief, for a gentle rekindling of the joyful knowing within.
🎃FREE BRIGHTON EVENTS🎃
Halloween Make-over with Conor England
When?
Saturday 26th October 1pm - 4pm
Where?
Beyond Retro Brighton 42 Vine Street BN1 4AG
As well as our amazing Brighton team helping you to style out your costume, you can get your make-up look to match for FREE! Head instore from 1 - 4pm, it's a first come first served basis!
🎃FREE BRISTOL EVENTS🎃
Halloween Nail Art with Bad Girls Nail Club 
When?
Saturday 26th October 2pm - 6pm
Where?
Beyond Retro Bristol 20 Broadmead BS1 3HA 
Bad Girls Nail Club is my creative outlet where anything nail artsy goes! Behind the claws is me, Molly Pitt. I use all vegan and cruelty-free products to achieve the unique nail art and sparkly wonders that my clients come to me for. I'm so excited to be teaming up with Beyond Retro to celebrate my ultimate favourite holiday, HALLOWEEN! Let's get spooky! 
Halloween Make-over with Bayleigh Whereat 
When?
Saturday 2nd November 11am - 3pm
Tarot Card Reading with Rob Spookelow 
When?
Saturday 2nd November 2pm - 6pm
Where?
Beyond Retro Bristol 20 Broadmead BS1 3HA
An extra spooky treat for all Halloween fans, come and get your tarot cards read for free! Plus get your face expertly painted to finish off your ghoulish ensemble, perfect if you are heading off to this year's Zombie Walk!
All of our events are free, so head down early to avoid disappointment!
The Green Pumpkin Programme
Never sure what to do with your not so everyday Halloween costume after Halloween is over? You can now return your costumes in our stores with the Green Pumpkin Programme!
Return by the end of the year, and we'll give you a £5 discount voucher for your next in-store purchase.
Not only is this a sustainable alternative to throwing them in the bin, but it means your costume will have a new lease of life again next Halloween! 
Now for the boring but especially useful stuff:
- Only redeemable on Halloween costumes
- Costumes must be returned in clean, good condition
- Only one voucher per person
- Proof of purchase must be shown
- Voucher - minimum spend £25
- Valid until 31/12/2019
Need some more outfit inspiration for your costume this year? Check out our favourite dress up idea's for 2019 and get the party going with our Halloween get together 101.