To mark the 70th anniversary of the end of the Second World War, the Imperial War Museum has explored how fashion survived and even flourished during wartime. We've got a lot of Land Girl love for these 1940s cool cats. So much so that we are offering you the chance to win one hella cool prize…
- A pair of tickets to the new exhibition 'Fashion on the Ration: 1940s Street Style'
- A bag of vintage goodies
- Plus an overnight stay at the Grange Holborn Hotel for two
- Three runners up will also win a pair of tickets to the exhibition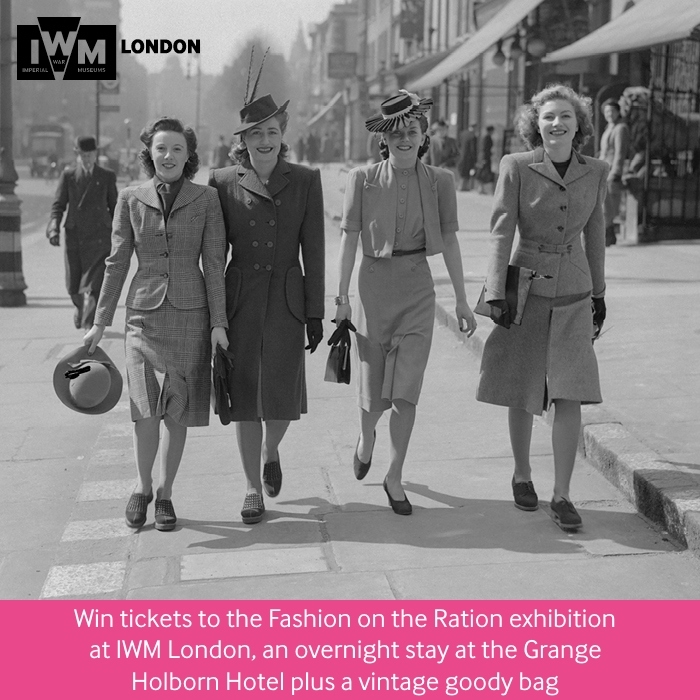 Before the dawn of fast fashion, Instagram selfies and shoefies (the latest craze in sartorially pleasing footwear snaps) street style was a little more make do and mend, but was it less creative? Oh hell no! Showcasing 300 exhibits of clothing, photographs, wartime letters and photographs Fashion on the Ration seeks to give you a taste of what it was really like in wartime Britain. Delve in for an exploration of what people wore, their sense of identity and how people dealt with the demands and deprivation of wartime restrictions and shortages.
"Clothes may be practical, but it is inexcusable for them to be dull," Vogue April 1942.
Fancy an overnight stay in one of London's leading independent hotels?  Ideally located in the heart of London's bustling West End, the 5-Star Grange Holborn offers bedrooms and suites that are spacious and inviting, whilst in-house dining areas offer a delectable choice of international cuisine, including an elegant lounge which serves traditional afternoon tea.
For your chance to win just answer the following question:
What was the slogan used to encourage women to make the most of what they had?
1- Make It and Mend It
2- Make Do and Mend
3- Make More and Spend It
Please email your answer to competition@beyondretro.com with 'Fashion on the Ration' in the subject header and your answer in the body of the email.
Entries must be received by Tuesday 11.59pm 17th March 2015.
For full terms and conditions please click here >> http://goo.gl/YKrupc
Words by Hannah Wilkinson