Are you as excited as we are about the release of the film 'Yves Saint Laurent'  this Friday? Suddenly we've found ourselves eyeing up androgynous tuxedo jackets whilst the film's trailer is playing on repeat in the office! Saint Laurent is of course known for his designs and the way they empowered women. Clearly one to be influenced by those around him, Saint Laurent had number of muses that greatly influenced his designs and creative vision.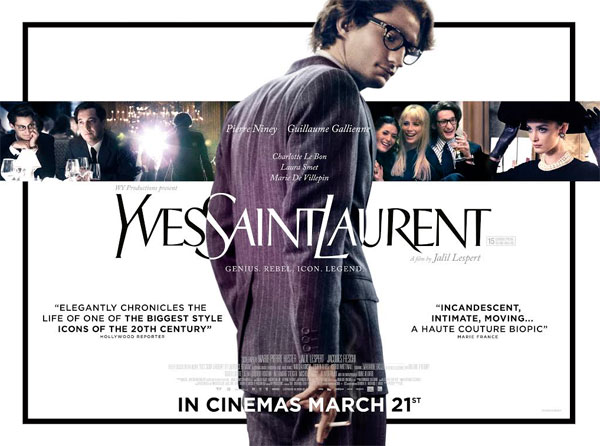 The first feature film to be made about Yves Saint Laurent charts his growth as a designer from his feminine silhouette designs of Dior's New Look in the Fifties to his introduction of Le Smoking - the first tuxedo ever designed for women - through to the Russian Collection in 1966. Inspired by his mother and sisters to become a designer when he was only a teenager, the film shows the women that inspired Yves at different points in his life…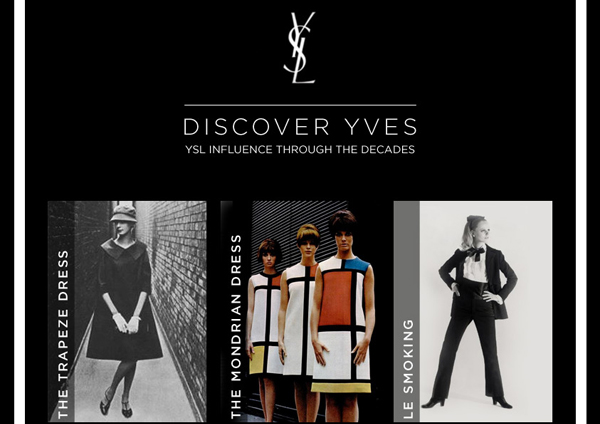 The 'Trapeze Dress' was a part of Saint Laurent's first collection for the House of Dior when Christian Dior died in 1957. Taking inspiration from his beautiful friend and muse Victoire Doutreleau Saint Laurent designed the 'Trapeze Dress', which in contrast to the tight waisted dresses with full bodied skirts from other labels, was light, affordable and comfortable. The dress represented a feeling of freedom for women and the design sprung him immediately to international stardom.
Another one of Saint Laurent's muses was Loulou de La Falaise who inspired many of his colourful couture collections, in particular his Russian Collection of 1976. Known for donning knotted scarf head pieces with impeccable style and grace, La Falaise is also credited for inspiring the Saint Laurent's love of turbans, which still feature as a design signature in the label's collections today.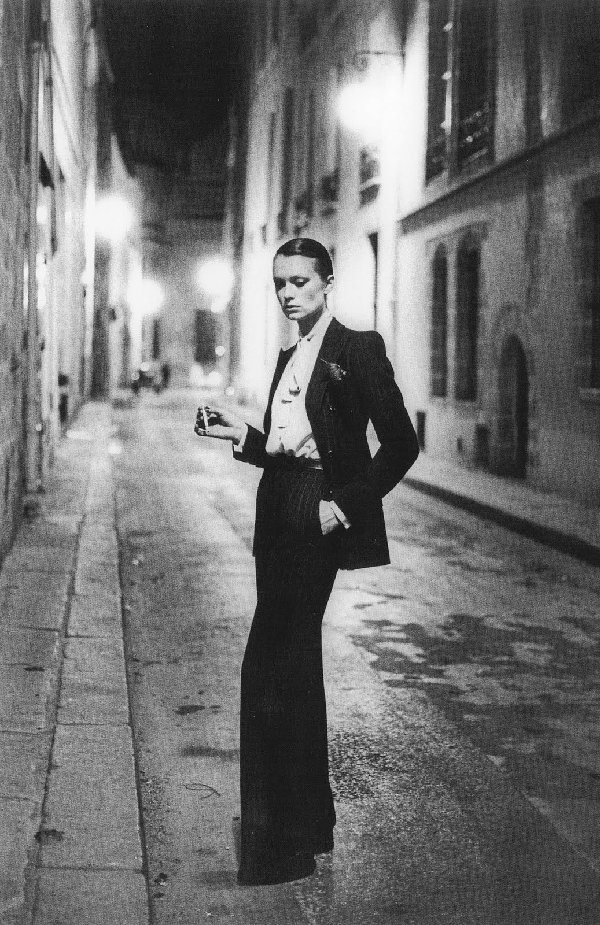 But it's Saint Laurent's 'Le Smoking' jacket of 1966 that perhaps had the biggest impact. Inspired by his friend and muse Betty Catroux, this tuxedo suit was the first of its kind to earn attention in the fashion world and in popular culture. It pioneered long, minimalist, androgynous styles for women whilst maintaining a chic elegance and sex appeal. Worn with a white T, or simply nothing underneath, Saint Laurent designed a suit for women that emphasised their curves and looked killer with a pair of stiletto heels! As Saint Laurent said himself, "A woman dressed as a man must be at the height of her femininity to fight against a costume that isn't hers". The timing of 'Le Smoking' was perfect: it spoke to the desires of the nervy young woman who was just then gaining access to birth control, political power, and an executive career. The tuxedo jacket became her badge.
#DISCOVERYSL: So, for all those fashion film lovers out there, we have 2 tickets to see the film at the Curzon Mayfair in London, as well as a limited edition film poster to give away! We want to see how YOU would add a unique twist to the classic smoking jacket with one key piece or accessory!
In order to win, upload a picture of what you would style with 'Le Smoking' creation! Just add #DiscoverYSL onto Twitter or Instagram before the 28th March and you're in it to win it!
Terms and Conditions
Competition will close on Friday 28th March 2014
Entries must include #DiscoverYSL to be eligible to win
Open to UK participants only
Prize for the main winner is 1 x limited edition Yves Saint Laurent film poster, 2 x cinema ticket vouchers to see Yves Saint Laurent at Curzon Mafair in London.
Travel and accommodation is not included
In the unlikely event the prize style has discontinued a similar model to the same value will be provided
There is no cash or other alternative to the prize stated and the prize is not transferable and no part or parts of the prize may be substituted for other benefits, items or additions.
Winners will be picked at random and contacted by the site
The Editor's decision is final and binding on the entrants. No correspondence will be entered into.