Oh, looky here! What have we found on the bookshelf? If you're holding a spooky soiree this year then we have found just the ticket. Forget apple bobbin' and pin the nose on the witch, Dennison's Bogie Book is a 1920s guide filled with crafty tips, party games and a couple of ghost stories come midnight too. It's the Holy Grail of vintage party planning.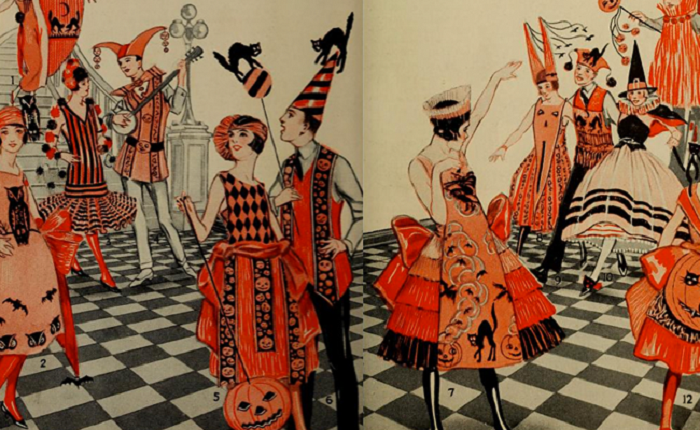 Dennison's Paper Company first published this little gem to help promote their paper sales and boy oh boy did they hit the nail on the head. According to Dennison's book, the spooky season is 'the one time of all the year when witches, ghosts and elves hold gay revels'- get us an invite to this partay! The night of October 31st is thought to have been an opportunity to look to the future and chose your fate for the coming twelve months. So think on kids...
Need some outfit inspo? Look no further than the weird and wonderful creations made from crepe paper!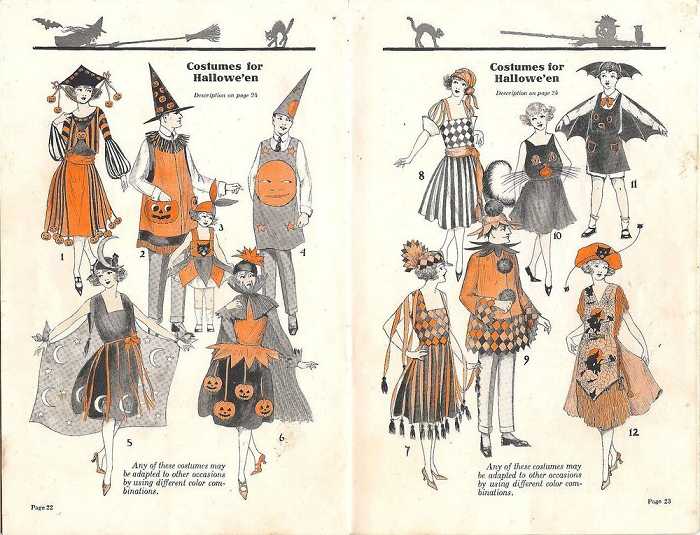 Here's two of our fave games taken straight from the 1920's party guide so you can do-it-like-Dennison. Play along if dare!
'The Cup of Fate'
Place three saucers on the table. Half fill one with water, another with milk and the third with vinegar. Let each person, blindfolded, dip a finger into a cup.
Milk= Married life will be happy
Vinegar= Ones future wife or husband will have a sour disposition
Water= Single blessedness is in store
'A Calendar of Events'
Pass pencil and piece of paper with the months of the year. Each guest must write their name against the month and state what they would like to do that month. They will then fold it and pass it along. The host will then read what each one will do the coming year.
Those 1920's folk sure knew how to through party!